To Know Peace — Your Weekly Reflection from CMMB
By CMMB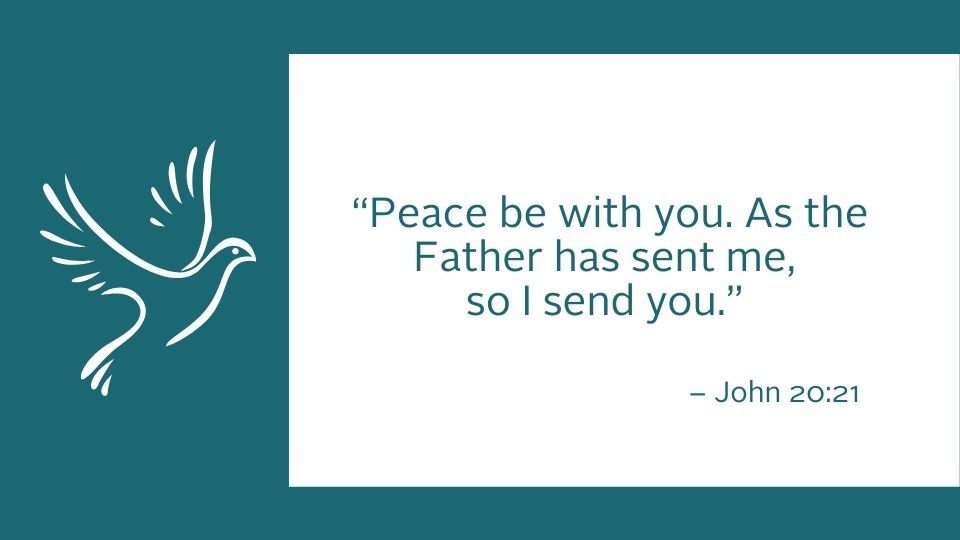 Subscribe to CMMB Weekly Reflection podcast on Apple podcasts and Spotify — and please leave us a rating and review. Sign up here to receive reflections straight to your inbox.
On this final Sunday of Easter, we celebrate the feast of Pentecost. Our reading is once again from John's Gospel and marks an important moment in our faith.
In today's Gospel, we find the disciples hiding behind locked doors. Following Jesus' persecution and death, the disciples lived in fear. It's here where the resurrected Jesus came to them.
Jesus greeted the disciples with words of peace and showed them his scars. Realizing it was truly Jesus before them, the disciples rejoiced. But Jesus came to them with an important duty—a duty that we continue today as members of the church community.
He said, "Receive the holy Spirit. Whose sins you forgive are forgiven them, and whose sins you retain are retained."
With these words, Jesus sent his disciples out into the world to bring peace through reconciliation, forgiveness, and prayer.
Today, peace has many meanings. Peace can be happiness, comfort, or love. Peace can be a feeling, a person, or even a place. For those of us who are lucky enough to know peace, it's easy to lose sight of just how special it is.
During one celebration of International Peace Day, a moment where many people in South Sudan were experiencing peace for the very first time, we asked some of the children we serve to tell us what peace means to them.
Here are just a few of the beautiful things they shared with us:
Peace is feeling safe at school.
Peace means better medical care.
Peace feels like expressing yourself freely.
We will conclude this week's reflection with the words of Eduardo Hiiboro Kussala, the Catholic bishop of Tombura-Yambio diocese in South Sudan. We look to his actions often, as there are few who have advocated for peace so fervently.
"We have to have peace. If you have peace, you have development. If you have development, you have peace."
For Bishop Eduardo, peace is many things. But among them, peace is development, peace is opportunity, and peace is safety for all children—everywhere.
What does peace mean in your life?
If you're interested in seeing what else the children of South Sudan had to say about peace, you can do so by clicking HERE.
In grace and peace,
CMMB