Anger in the Time of Cholera
August 5, 2016 •
Brittany Jonap •
Haiti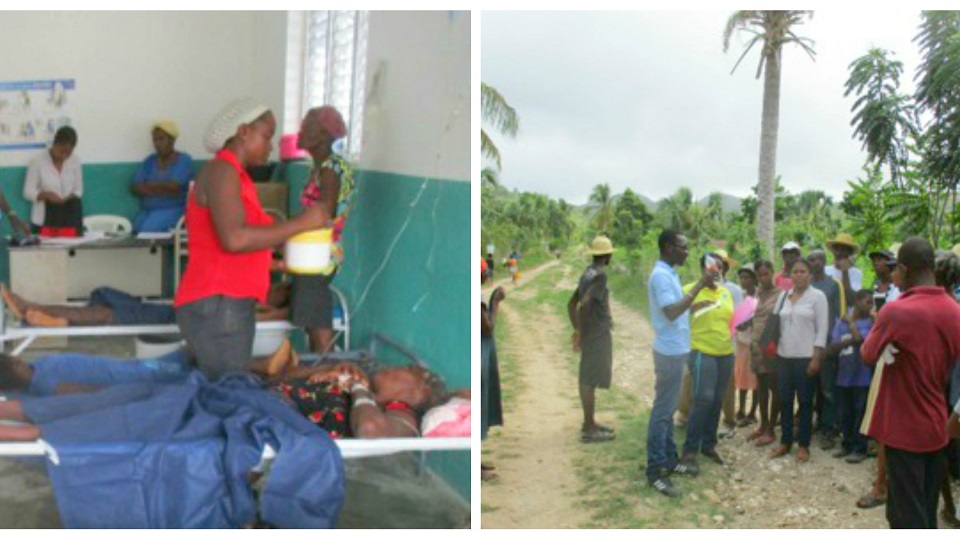 Brittany Jonap moved to Haiti in June to begin volunteering as a pharmacist. Here, she writes about the recent outbreak of cholera in Côtes-de-Fer and why she is angry.
In 1854, John Snow became a famous pioneer in the world of Public Health when he published his work tracing a cholera outbreak in London to a contaminated water source. 162 years later, last Friday to be exact, CMMB's Haiti team reported a cholera outbreak in Côtes-de-Fer and traced it back to a specific contaminated water source.
And this makes me mad.
I'm mad because cholera is easily preventable. I'm mad because cholera is easily treatable. I'm mad because cholera shouldn't exist 162 years later.
But it does.
It exists in countries like Haiti – countries where access to safe water and sanitation aren't guaranteed. It's not right and it's not fair.
On Friday, I did what I could to play my small part in stopping the spread of the infection. My day started with a frantic email asking me to get quotes on emergency supplies ASAP. At home in Memphis, TN I would have picked up the telephone, made a few calls and would have come up with answers.
But that is not how things work in Haiti. After several hours of driving through Port-au-Prince with Robin Maddox, hopping in and out of the car, struggling through phone calls in Kreyol (the Haitian Creole language), and asking for help from every department in the office, we were able to acquire 10,000 water purifying tablets, 1,200 sachets of oral rehydration salts, a blood pressure cuff and 200 cannulas needed to start IVs. By 2pm, our CMMB driver had the car loaded and was driving the supplies to Côtes-de-Fer. It was an excellent display of teamwork and dedication to health.
I spent my Saturday morning attempting to figure out the strength of the Clorox solution necessary to decontaminate the water reservoir. I made six calls to the manufacturing company, several times being told that they couldn't help me as I was calling from Haiti.
I called five different countries.
On my last phone call, I kindly apologized and then proclaimed "This is a medical emergency and people will die if you don't give me this information now!" Thankfully, that worked, and after three hours of effort I was able to report that information to the team in Côtes-de-Fer.
What started on Friday as 11 patients had doubled by Saturday morning to 24 patients.
That's how quickly cholera spreads.
By Monday morning, thank goodness, the outbreak had been controlled. But imagine if no one had immediately responded. Imagine if that number of patients presenting every day continued to double. The efforts of the CMMB team and our partners in Côtes-de-Fer are certainly to be commended for their rapid response to this public health emergency.
What we need is to prevent such outbreaks from occurring, but also to be ready for the possibility of another one. That's where you can help. Through your generosity, we can continue providing training about building healthy homes, educating about the importance of clean hands, safe water and sanitation. We can also help clinics stock up on necessary medical equipment, supplies and medication so that should it happen again, we have what it takes to stop things before they spiral out of control.
---
Feeling angry like Brittany? Help us prevent further cholera outbreaks today.
Inspired by Brittany's work? Help her reach her fundraising goal or consider volunteering with us.