Stepping In: Dr. James Peck in Sudan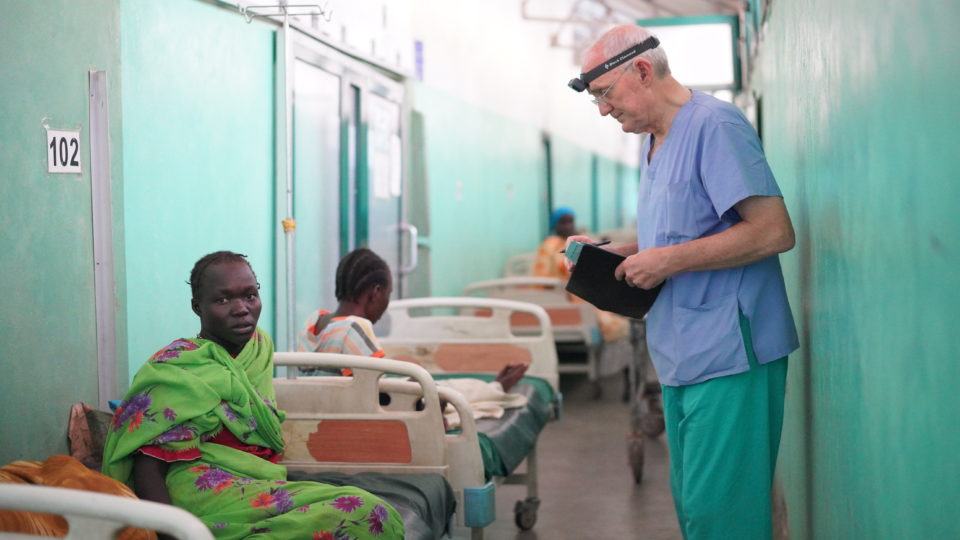 Meet Dr. James Peck. He is a general surgeon and adjunct professor of surgery at Oregon Health and Science University. He is also a humanitarian. Earlier this year, this 72-year-old husband, father, and surgeon traveled to the Nuba Mountains in Sudan – one of the most remote and poor places on the planet  – where he filled in for Dr. Tom Catena, one of our longest serving medical volunteers.
Finding a doctor to replace Dr. Tom is no small feat, but the remarkable Dr. James Peck did it with dignity, grace, and compassion. Learn more about Dr. "Jim" and what motivates him to serve where few are willing to go. 
---
My name is Dr. Jim Peck, I am 72 years. Dr. Tom asked me to cover for him while he attended the Aurora Prize Ceremony in early June. Leaving the Nuba Mountains without a surgeon to replace him was out of the question for Dr. Tom. This was the second time for me serving at Mother of Mercy Hospital in the Nuba Mountains.
I was born in San Diego, and I did both my undergraduate and medical degrees at the University of California at San Francisco (UCSF). I moved on to complete my general surgery residency and vascular fellowship at Los Angeles County – University of Southern California Medical Center (LAC-USC). This is a large trauma hospital. After I finished school, I settled in Portland Oregon, and have been practicing there since 1981. I was an adjunct professor of surgery in the departments of vascular surgery, critical care, and trauma at Oregon Health and Science University (OHSU).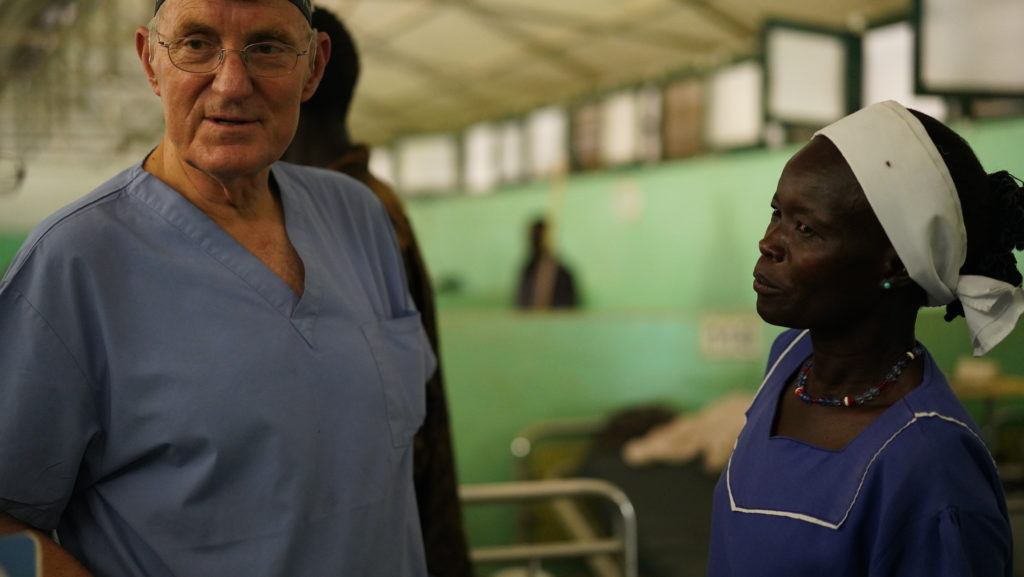 I found out about the opportunity to volunteer in the Nuba Mountains in 2015 when I read an article by Nicholas Kristof titled "He's Jesus Christ" – written about Dr. Tom. I ended up attending a talk given by Kristof at The Oregon Health and Science University on Global Health. I happened to be sitting next to Kristof's mother and got the chance to speak with Nicholas directly after the talk. He said, "You should get in touch with Tom. I know he could use the help of someone like you." So, I decided to reach out.
In the past, I participated on several missions with Doctors Without Borders, and felt as though I was both qualified and prepared to step in for Dr. Tom. The work has proved to be very challenging. But, I have really enjoyed my time serving in the Nuba Mountains.
Can you tell us about Dr. Tom and his work in the Nuba Mountains?
Well, Tom is one of the finest human beings I've ever met. He is as close to a "saint" as they come. He loves the Nuba people. I don't think he will ever leave them without proper medical care. Tom has tremendous perseverance, he never gives up. He is extremely committed to giving the best possible care to every patient.
Tom does between ten to eighteen surgeries every elective surgical day, and that does not include the many emergency operations. He truly is a remarkable person. I've always found him very calm, a good listener, and never without a sense of humor. All I can say is, I wish I was more like him.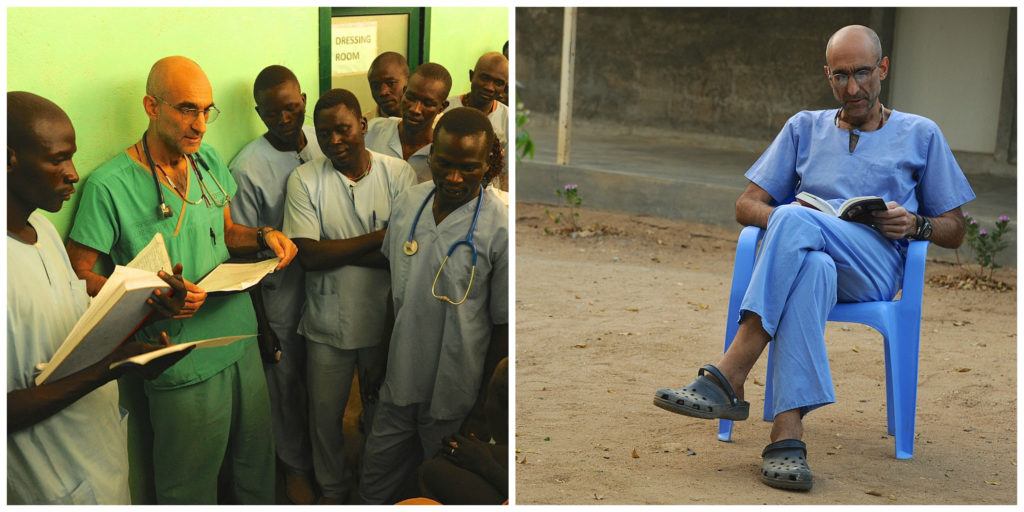 What other type of mission work have you done in the past?
In the past, I've worked for Doctors Without Borders in armed conflict zones. I have participated on a faith-based mission with people in the Dominican Republic. I have done two missions in Cameroon and recently in Cox Bazar, Bangladesh with Medical Teams International. So, I have some experience doing this kind of work. Most of my missions are 6 weeks to three months long.
What inspired you to begin mission work?
I was lucky to have strong role models in my life. My father was a general practitioner, and he volunteered his services to orphanages at the San Diego Mission and in Tijuana. During World War II there were a lot of children that were left as orphans in San Diego.
Another role model was my Aunt Mavis. She spent some time working for Mother Teresa, and she actually once walked with Mother Teresa from Los Angeles to Tijuana for a fundraiser. She was a remarkable person. My father and mother unfortunately died very young, so Mavis became a huge influence in my life.
I remember I had not just begun my surgical internships, when my Aunt Mavis started asking me, "When are you going to start giving back?" I would say "Aunt Mavis, I'm working with indigent patients at a county hospital, I've got four kids and I need to get them educated. But, once I get that done I will start giving back". And, just as I told my Aunt Mavis, when my last child was done with schooling, I went to Liberia in 2002 during their civil war.
Overall, I appreciate how grateful all the patients I work with are. I witness the good we can do. So, that continues to inspire me to do mission work.
I figure, just like Tom says – I've been given a skill, and I should be able to use it for others. It is true, that my life is very easy in Portland. I have been fortunate to be successful as a surgeon, so I could easily spend my time vacationing with my wife, or seeing my grandchildren. But, witnessing what the real world looks like is something I find very important. I've actually brought my two oldest grandchildren to Africa. I wanted them to see what most of the world lives like. Two-thirds of the world live under the poverty line, and I want them to know that the way we live is not the norm. In the scope of the entire world, it's the exception. We live in "Disneyland" by comparison.
How have your mission experiences changed you?
I think initially, one of the things that changes you, is your return home. When you return, you have what is called "reverse culture shock". You can't put up with anyone complaining because everyone you see has so much. Even when you do simple things like listen to the radio – you hear all the complaining. You realize how unwarranted so many of our complaints are.
In a way, it makes you appreciate how wonderful these Nuba people really are. You come to understand how much energy they need to just survive. I just appreciate them, and I'm always a much better person when I return from a mission. I come home humbled.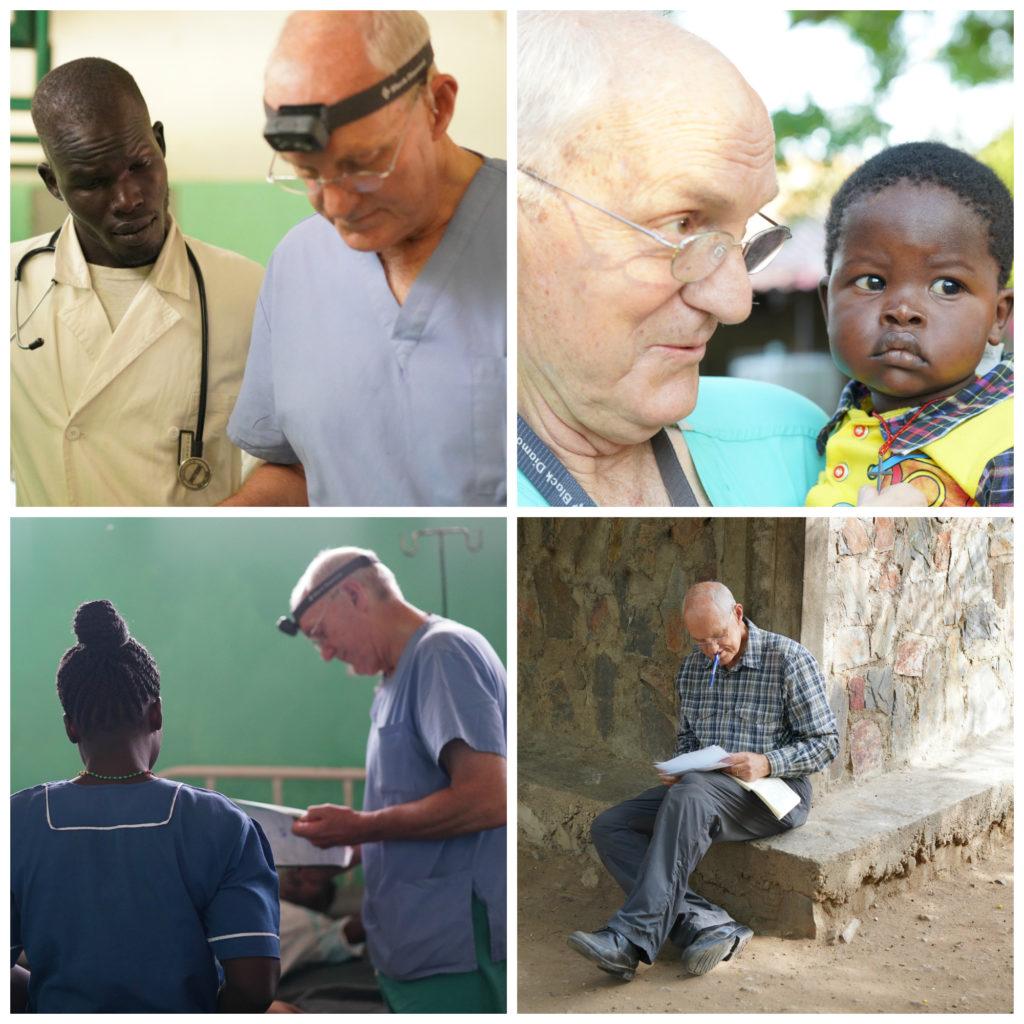 How has your wife responded to your mission work?
My wife Joan, is a very independent person. We got married just out of college. When she graduated, I had just started medical school. During medical school and residency you're gone quite a bit. Especially during my residency, general surgery residents were on call every third night. I think that independence is very important for someone who is married to a surgeon. That being said, I think Joan understands how important this work is to me. Sometimes when I do two mission trips back to back, she jokes "Happy days are here again!" I think she jokes with me to make me feel better about being away for so long. I appreciate that and I know how lucky I am that she's my wife.
Could you offer a few thoughts to other physicians who may be contemplating mission work?
This kind of work is probably the most gratifying thing I have ever done. But more importantly, there is such a great need for it around the world. There are so many people that would benefit from your skills and your training. And to me, I think it is really important at any stage in your career, to give back when you have the opportunity to give back. Because believe me, the people you will serve need it, and they are very grateful for it.
Also, I have found that I learn more than I actually teach. I go on these missions to teach and train people. But, end up learning more because there is always some illness, or some disease that I've never seen before. Even with illnesses that I know, I often have to get creative and be flexible because I don't have the same equipment I have back home. It's really amazing what you can learn when you have to be flexible.
I remember one girl who came in with an ectopic pregnancy. She was in shock, and she had virtually no blood pressure. The nurse anesthetist somehow started an IV and I got the bleeding under control. We very quickly had to get her in and out of surgery. Later that morning, we discovered that she needed dialyses. She had acute tubular necrosis – a condition that follows after your body goes into shock. I knew that if I could dialyze her we might save her. But I thought we lacked the equipment to do so. I ended up using my cellphone to call my hospital in Portland, Oregon, and asking how to do a peritoneal dialyses. The kidney doctor (nephrologist) on call was able tell me how to do it with the resources I had in Liberia. I mean, the patient was only 16 years old, we just needed to give her half a chance to survive. Luckily she did.
There are many other examples of times we had to be flexible – just trying to figure out a way to get what needed to be done, done. But like I said before, I learn much more than I teach.
Who is an inspiration to you?  
For one, Dr. Tom inspires me. But, there are many people that inspire me. There are many people that I have worked with through Doctors Without Borders, who are absolutely committed worldwide to helping people long term, people who will stay for years, just as Tom has. When you travel with Doctors Without Borders you are pretty much alone – no other surgeons travel with you. I'd say that is one of the harder things, not having anyone to talk to, not having someone to say, "hey, what do you think about this?' So, these people who dedicate their lives to service are all very inspirational to me.
One surgeon that comes to mind is Jim Brown, an inspiration I met in Cameroon. Jim was just so committed to taking care of patients – committed to wound care, committed to teaching African surgeons so that they would stay in Africa to practice. His general residency in Cameroon was as good as any other residency I've seen in USA. He had his residents read chapters from Sabiston's 'The Textbook of Surgery,' and every Friday they would be tested. Rounds were just like rounds in the United States. Pan African Academy of Christian Surgeons (PAACS) has now trained more than 44 residents, all of whom have stayed in Africa. Jim emphasizes with his general surgery residents from the very beginning that they are not being trained to go to the United States, but that they are being trained to stay in Africa. That they serve their people in their country. He is just an incredible person.
And finally, my father. He was my white knight. He remains an incredible inspiration to me.
You have worked with so many people, the women, the men, all of the staff. What is your hope for Nuba and for the Nuba people?
Well, I hope for the same thing that all of us hope for. That they are no longer persecuted by the government. That they can begin to till their land, and begin making a life for themselves. That we, Tom, and whoever is willing, can come and help – can teach all of the nurses, all of the clinical officers, and all of the medical doctors to take care of their own people at a high level.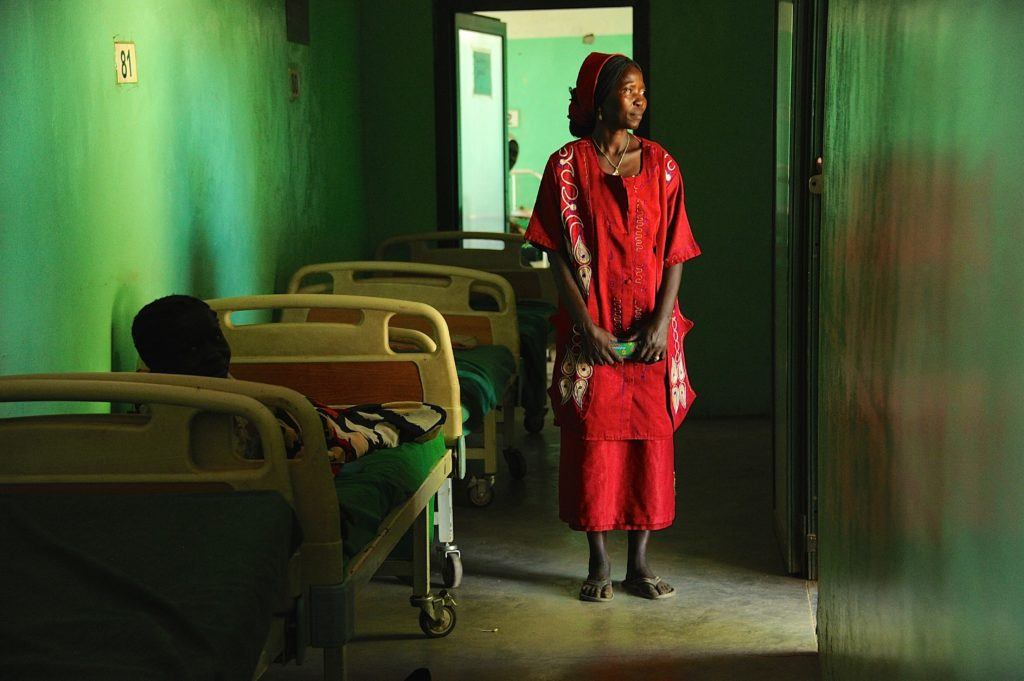 I believe that this is going to happen, but it's not going to be easy. I truly appreciate CMMB's work towards making these hopes come true – developing protocols, developing better instrumentation to help these people learn. I find that the clinical officers I teach are very enthusiastic, they really do want to learn, they just need some help along the way. Similarly, I find that the nurses really care about their patients, and they just need some guidance on how to get things done.
It's a long term project, it's not a sprint, it's a marathon. But, it is possible and I think it can happen.
Sign up to receive our volunteer newsletter!