Show Me: Stephanie Summa's Volunteer Story
October 19, 2017 •
Stephanie Summa •
Zambia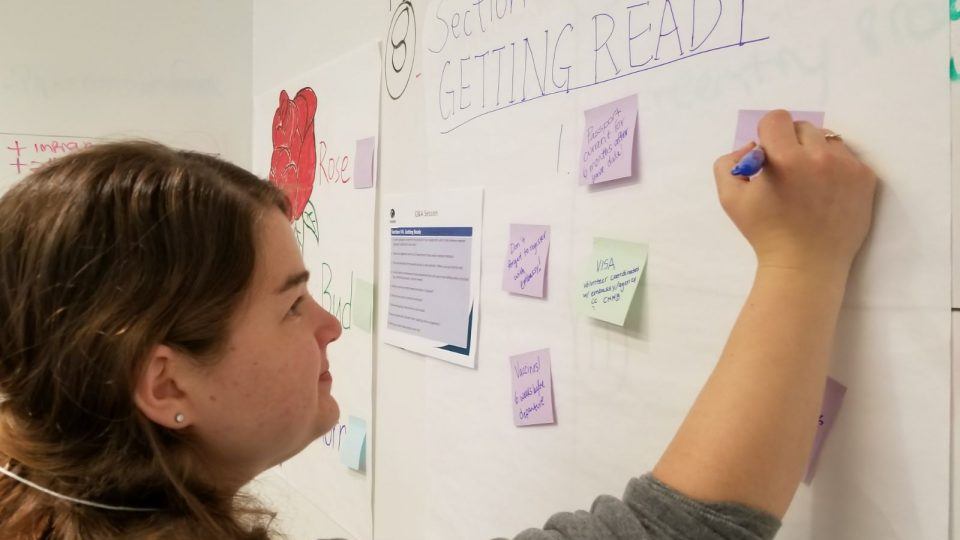 And so, my perilous journey into the world of storytelling begins!
My first task: to share my volunteer story.
Sounds like a simple task, right? There has to be a simple explanation for why, all of a sudden, I thought it was a good idea to leave my wonderful family and friends, a steady job with coworkers who feel more like family than colleagues, and activities that I find so much joy in to go to a remote area with new people, culture, and challenges. And I guess the answer is yes there is a simple explanation!
My Fair Lady
It all started off as one small loving action and, if you know me well, this second part won't surprise you – it also began with a song.
So, if you haven't guessed, I am a little bit of a Broadway buff. Spontaneous singing and dancing is part of a typical day for me and can happen unexpectedly, much to the general entertainment of my coworkers and the chagrin of my close family; who after 25 years, is no longer impressed. But I digress.
One of my favorite musicals is My Fair Lady.
If you have never had the opportunity to see this classic on stage, you are in luck. It's available in movie form starring the wonderful Audrey Hepburn. I think I enjoy this movie so much because I relate to the energy and spunk of the protagonist Eliza Doolittle as she transforms, with the help of the impeccable Professor Higgins, from a Cockney flower girl to a high class lady.
Her general frustrations, specifically with the lack action,  come to life in the song "Show Me" as she tells her gentleman caller, "please don't explain, show me!" The entire song is a perfect call to action. We can talk all we want, but if we never turn this talk into action we may end up losing out on "the girl", or in a broader sense, an opportunity.
About Me
I am pretty fortunate. I was blessed with a family who taught me that sitting back wasn't an option. My desire to move and act seems innate or inherited. Don't get me wrong, these Polish-Italians are certainly talkers, but they are also doers, and I think I was raised with the same attitude.
On my mother's side there were 11 siblings that were raised working on a family farm. Each worked hard to put themselves through college. On my father's side was my Grandpa who never sat still. If he wasn't working on a "do-it yourself" project around the house, he was cooking, baking, or entertaining – sometimes all three at once!
Surrounded by these amazing examples, I had the opportunity to grow up in western New York with my two sisters. We spent part of our summers on the farm picking cherries and the other half on wonderful family vacations where we were always encouraged to learn more and discover the beauty around us.
If my family wasn't enough of a motivation, I also had a wonderful church community. From a young age, my parents instilled in me the importance of faith and the knowledge of God's love for me and each and every person in this world. Once or twice a year, missionaries would come to our parish. I was always inspired by their stories about the work they were doing in developing countries. This spirit of sharing time, talents, and treasures with those too often lacking was prevalent every week by the members of the parish community, whether it was buying gifts for the less fortunate around Christmas time or forming groups who would volunteer at local shelters. There was always a spirit of action in service to others.
And then what happened?
After a wonderful childhood, it was time to figure out what was next. I knew I wanted to help and work with people, but I also wanted a profession that would challenge me. I wanted to do the type of work where I could frequently problem solve and be a critical thinker.
This led me into the field of medicine. After completing the Physician Assistant program at the Rochester Institute of Technology, I found a job at a local hospital. It was here that I became comfortable and confident as a member of a team. I was working with a wonderful mix of colleagues who helped celebrate the successes and who made the challenging days bearable. During my free time, I went swing dancing which brought me joy and a delightful group of new friends.
But…
Despite everything working out so well for me, there was something inside me – a voice – telling me there was more to be done. When I listened to the news, the messages were too often ones of suffering and loss.
Working at a hospital meant that I was often witnessing patient's suffering, and family members struggling as they watched their loved ones suffer through illness. Then I would go home and turn on the television or read my news feeds and they were filled with stories of war, poverty, and politics. So many images of people tearing each other down instead of trying to build each other up. And just so many negative words!
This past fall especially, I felt overwhelmed by all the words! So many people, myself included, seemed to have a lot of words about what was wrong in the world, but we didn't seem to be doing anything about it! As Eliza Doolittle put it "Words, Words, Words! I'm so sick of words…is that all you blighters can do!"
So, ironically I sought solace in the exact thing that was driving me crazy – words; specifically, the one Word that has never steered me wrong. The word of Jesus in the Gospels.  I realized that that was what made Jesus such a revolutionary figure, he did not just use his words – he acted on them. He not only instructed his followers to "Love your neighbor as yourself" (Mark 12:31), but he fed 3,000 and healed those who had been ostracized and suffering for years!
I was inspired.
Instead of being depressed by the suffering in the world, I decided to do something. I was tired of the talk, I wanted to take action! But I was easily intimidated.
What could I offer the world?
I was not a movie stair with the resources to start my own foundation. I was not a lawyer who could go plead cases for refugees, and I certainly had limited political sway.
But luckily there was a woman who felt like me and had already come up with a solution. I had Eliza Doolittle singing "Show Me" in one ear and Mother Teresa whispering in the other telling me, "It's OK Stephanie – you don't have to do anything grandiose, just "Do small things with great love" to help alleviate some of the suffering in the world.
And so that is what I did.
When working with patients, I tried to listen not only to find out their medical history, but with love. I gave my undivided attention, allowing them time to talk a little more about something besides their medical problems. I tried to be friendlier to the cashiers at the grocery store. I started to volunteer at a local refugee center (all I did was sort clothes, but it was something!)
But I wanted to do more, this small action business was tricky – once I started, I couldn't stop! And so I started looking into a medical trip overseas.
Finding CMMB
Now, the thought of working overseas did not just suddenly appear.
It all started as a small 'seed' when I heard those missionaries share their experiences at my church years and years earlier.
While it sat dormant for many years as I great up, it was always there. Waiting. Then, after I became a physician assistant I realized I had specific medical knowledge and skills to share – something that could be of use to the underserved and marginalized.
For the past three years I had been making excuses:
"No, not this year as I've only worked at the hospital for one year"
"No, I wanted to take a trip this summer."
The excuses were many.
But finally, I ran out of excuses and wanted less words and more action. I wanted to "Show me now!"
And so I googled "Catholic medical mission" and guess what came up!?
Some people would call it luck, but I like to think that it was God intervening. But it was good old google that helped me to find CMMB (Catholic Medical Mission Board). I perused their website and was hooked. Here was an organization with a vision I could stand behind, "A world in which every human life is valued, and health and human dignity are shared by all." They had numerous programs to help women, children, and men to help create sustainable health solutions. And they had a volunteer program! So after about three more months of procrastination (I know this is contradictory to my theme of action, but I am only human!) I finally sat down in front of my computer and I applied to serve.
Ready, set, action!
To be honest, I wasn't sure how far I would get in the application process.  I was a physician assistant, which makes placement a little trickier. Physician assistants (PA) is a newer category of career and its equivalent is not present in many countries. Doctors without Borders unfortunately does not even accept PAs.  I had also never done anything like this before and wasn't sure exactly what sort of experience was required.
The initial interview was slightly intimidating and I was little nervous about some of my answers.
Have you ever been in a developing country before? No…but I grew up working on a farm and am used to adapting to limited resources!
Have you ever written a blog? No…but I have this internal dialogue going on in my head that I could share! (OK, I didn't really say that).
But I was honest, and I was passionate about wanting this opportunity. I want to make a difference. I want to try and help women, children, and men who live in environments where the closest access to medicine can be more than 30 miles away. I want to work in places where people currently don't have access to a primary care physician but where they are susceptible to major health risks. Things like chronic diarrhea, infections, malnutrition, and HIV/AIDS.
Luckily, that same passion that Eliza Doolittle displayed in her interactions with Professor Higgins must have been apparent during my interview (and no I did not spontaneously burst into song) because after a background check and a few additional questions I was accepted. And here I am sharing this story about how I got into this exciting, life-changing opportunity!
Leaving Soon
As my departure date approaches, I'm starting to get a little nervous. I am scared I won't know the exact procedure or have the exact medication needed to save a life. I am nervous I will not be able to help the Zambian people in as many ways as I would like.
But then, I just have to remember to start small.
Loving action can extend past all language barriers. It is funny how something small and seemingly inconsequential, if done with great love, can in itself have a ripple effect.
I alone cannot change the world, but I can cast a stone across the waters to create many ripples. – Mother Teresa
Months ago, I took one small action, and now here I am taking a giant leap across an ocean!  What started off as one song and small actions has been transformed into the start of a journey that I suspect will change my life in so many ways.
So be careful! Your sons, daughters, nieces, nephews, grandchildren, neighbors, or friends are always watching. You may think what you are doing is small, but there is power in the smallest of actions when done with love. These actions can inspire someone else, support someone else, or even motivate yourself.
When you do small things with great love, you can be led down paths you weren't expecting and have a greater impact than you could dare imagine.
Support a Volunteer