"Follow Me" – Your Catholic Weekly Reflection from cmmb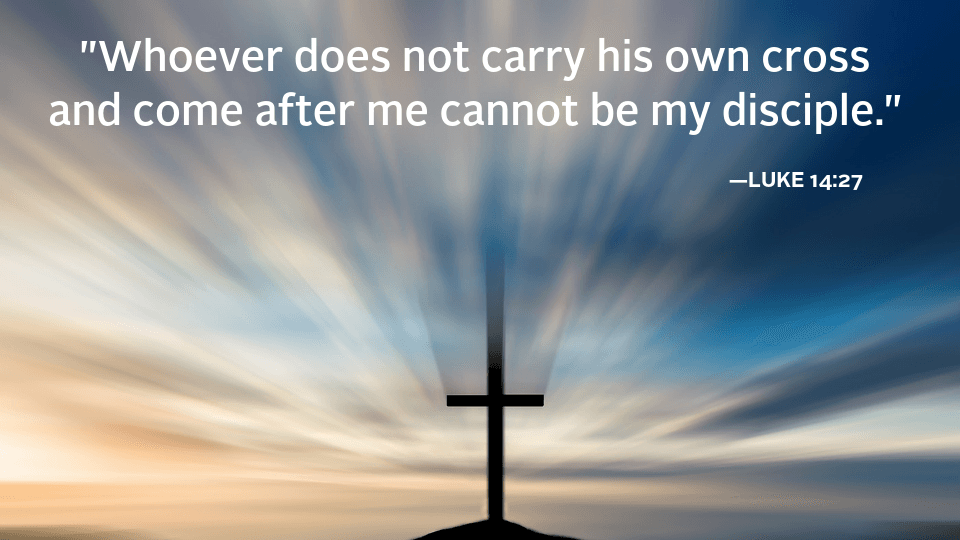 In this Sunday's gospel, Jesus talks about the demands of discipleship. To be a true disciple, we need to make Jesus our number-one priority and be willing to put him above everything else. Jesus uses two parables to illustrate how we must embark on this path: in the first Jesus tells us that a person constructing a tower must calculate the cost; in the second we hear how a king marching into battle must count his troops. Both make a clear point—don't start what you cannot finish.
Our commitment to follow Christ cannot be taken lightly. We can't be good Christians some days but forget on others. There will be times when putting Jesus first will mean making sacrifices, difficult decisions; changing the way we do things; letting go of things that are dear to us. If we want what Jesus is offering us, we need to make him our priority always.
Dr. Harry Owens Jr. has dedicated his life to living simply and serving others. He has spent many years working in family and emergency medicine and international health, first in the Alaskan Arctic and then extensively overseas in remote, developing countries, from the Brazilian Amazon to Africa. He credits his Jesuit education for influencing his career decisions.
"In my junior year at Loyola High School, I really started to think about going into the priesthood. After a year of pre-med, my parents gave me their blessing to go into the seminary. But then I realized that the education I received had solidified for me a strong spiritual connection, one I could still have as a physician. So, I left the seminary and made treating the whole person a part of my medical practice." 
At the age of 35, Dr. Harry closed his family practice in Palmer, Alaska, and began traveling the world with nonprofit healthcare organizations. He has made it his life's mission to bring hope, healing, and compassion to those less fortunate. Dr. Harry joined CMMB as a medical volunteer in 2017. He first served with our team in South Sudan at St. Therese Hospital and later went on to spend three months in the Nuba Mountains of Sudan, where he temporarily replaced our longest serving volunteer, Dr. Tom Catena, at the Mother of Mercy Hospital.
"Some people ask me how I do it—how I can travel so often and so far from modern comforts. I tell them I have the perfect temperament for it. I love the outdoors, I'm not scared to stray two feet off the pavement, and I love taking care of people. My way of life is more of a reward than a sacrifice." 
For several years he was the lead physician at McMurdo Station, a National Science Foundation research center located in Antarctica. He would bundle up and spend seven months a year caring for the station's 1,100 scientists and support staff at a three-bed hospital and clinic. 
"I am grateful for the opportunity to serve in areas that need assistance, and for my personal good health that allows me to do this. Every day is a day to be thankful for." 
Working in remote locations for extended periods of time can be challenging. Dr. Harry has a "game plan" for this. It includes being able to deal with ambiguity and adapting to change, being creative, developing the skills of cross-cultural communication, maintaining respect and integrity and a strong spiritual connection, and always being open and willing to learn.
"I don't need much to get by. This approach helps me feel at home no matter where I go. Whether I'm in the jungle or the mountains or in the Nuba Mountains in war-torn Sudan, I'm not daunted by the remoteness of an area. I am invigorated by it. In most of my work, a little effort goes a long way since many of these areas are so desperate for better health."
When not practicing in Antarctica, Africa, or the Amazon, Dr. Harry spends time in his little cabin on the McKenzie River in Oregon. "I use what little money I make to cover basic costs, the rest goes to charity."
Being a disciple is not easy, but that is what we do when we commit ourselves to Christ. Whatever sacrifices we make will be richly compensated. Some of the gifts we will receive now in the form of peace and joy in our hearts, others we will receive in heaven. Let us pray for the willingness and strength to commit ourselves to Jesus today.
In grace and peace,
CMMB/Healthier Lives Worldwide