Restoring Hope: Khulani's Story
By Kathleen Hartmann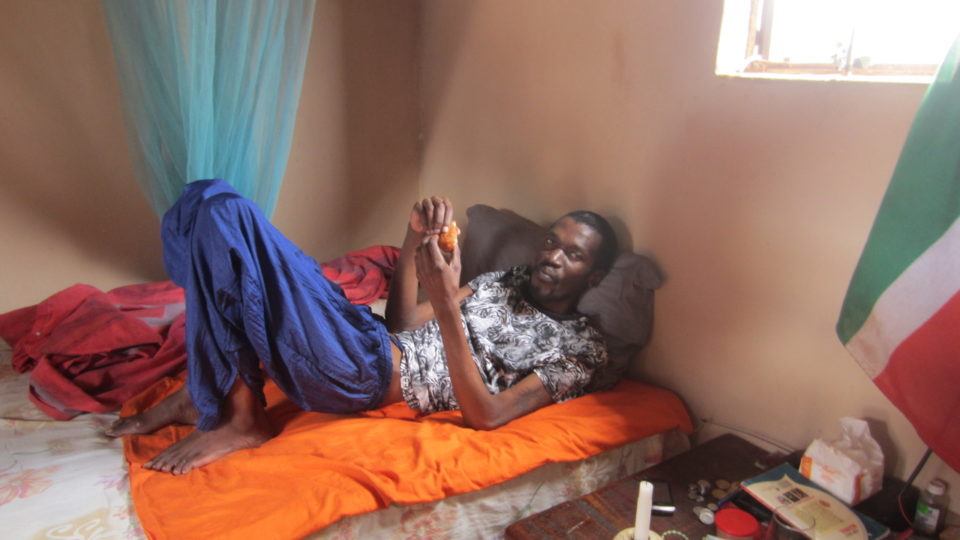 Kathleen and Al Hartmann have been working together with a dedicated team from the Good Shepherd Mission Hospital, to administer home-based care to the sick and the elderly. In this story, Kathleen reflects on how a very creative intervention changed the life of an individual they serve.
---
This is the story of Khulani Khatwane. If you met Khulani five years ago, you would have met a 39-year-old man with a smile on his face. As the owner of a little community shop, Khulani made his living restoring shoes and selling small household items. He faced challenges, but he was proud of the life he worked hard to build. But then things changed.
At 43-years-old, Khyulani's health deteriorated, causing him to become home bound. He has a condition known as, Hidradenitis Suppurativa, a complication from HIV/AIDS. As a result, he has been unable to sit upright for more than three years and lives alone in a small one-room flat.
We have been visiting Khulani for a long time and have sent him to the government hospital on many occasions. Unfortunately, there does not seem to be any hope for a cure. He suffers from open wounds that drain and are sometimes foul smelling. He feels stigmatized and rarely goes outside. He can walk, but usually only leaves to go to the toilet at his Mom's house. If people are around, he will wait until they are gone.
Lately, we have been worrying about his mental state because he says he struggles with his thoughts and is losing hope. We have been bringing books to help him focus on something other than his condition, but it has only been a temporary fix.
One day we were brainstorming about designing some kind of structure where he could be upright, with no pressure on his wounds, giving him the ability to do something. We work closely with Operation Hope, an NGO offering non-medical interventions. Andrew Woollard, a very creative EMT from Australia, built a stand that supports Khulani's knees and chest.
He built a front attachment where he rest his books or papers, allowing him to read or work more comfortably. We brought it and Khulani was elated. We also brought him an adult washable undergarment which is waterproof.
Khulani said he can now return to repairing shoes and selling small items in his little shop. We are hopeful that this will be a turning point for him, and that he returns to a better quality of life and brighter outlook about his future.