Celebrating Amos on International Day of Persons With Disabilities
By CMMB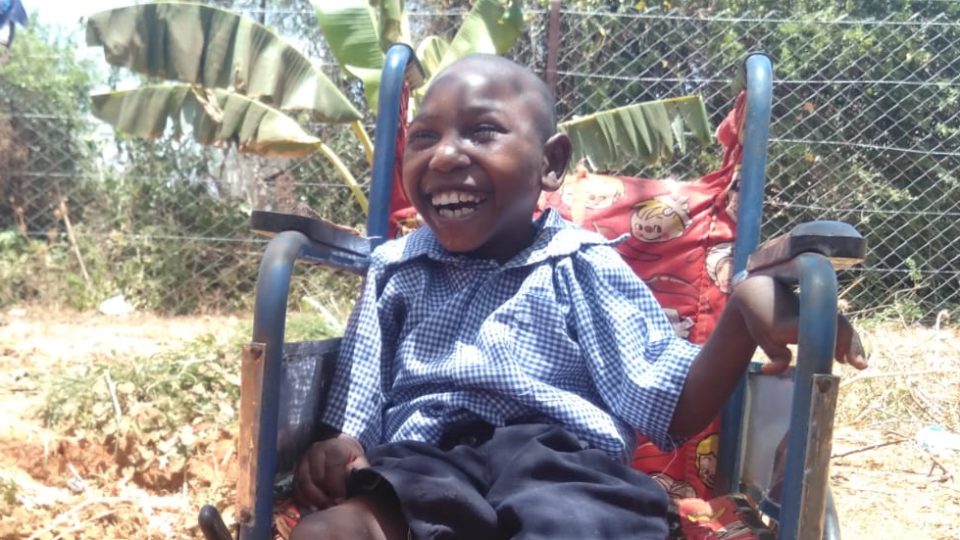 This story was originally published in April 2019. We are re-sharing this story today, December 3rd, for International Day of Persons With Disabilities, a day to promote the rights and well-being of persons with disabilities in all spheres of society and development.
Our work at CMMB brings us to some of the most under-resourced communities around the world. For individuals living with disabilities in these communities, a challenging life is made even more difficult. Life-saving medicines, treatments, and resources are scarce, and the stigma takes a toll on everyone, straining relationships with neighbors, friends, and even family.
At CMMB, we envision a world in which every human life is valued, and health and human dignity are shared by all. This is why we work so hard to make sure that all community members, including those living with disabilities, have access to the care, support, and medical resources they deserve.
Today, we celebrate Amos, a young boy enrolled in our Angel Investor Program in Kenya. 
---
Meet Amos
When Mary found out she was pregnant, she couldn't wait to welcome her first child into the world. When her baby, Amos was born, he seemed like a healthy and happy baby boy. However, at six months old, Amos' health took a turn for the worse. Amos had constant high fevers and wouldn't stop crying. He couldn't sleep through the night. Mary didn't know what was happening with Amos—but she knew something was terribly wrong. She felt scared for her baby.
Amos and his family live in a very poor, rural community in Kenya. The closest health center is a full day's walk away—Mary worried about how this long journey would affect her sick baby. She also worried what would happen if she didn't go to the hospital. Mary had seen so many young children in her village get sick and die because their parents didn't take them to the hospital in time. Mary decided to bring Amos for care. She walked through the night until she reached the clinic.
When they arrived, the staff worked to diagnose what was making baby Amos so sick. Amos was diagnosed with Meningitis and suffered irreversible damage to his spinal cord and brain. As a result, Amos has limited control of his movement—he is unable to walk or speak. He requires around the clock assistance.
"It has been a journey of sorrow with Amos. Only God knows what the future holds for him." – Mary, 2017
When Mary returned home from the hospital, she was heartbroken. She knew she would never be able to afford the specialized care or schooling Amos needed to live a healthy, happy life. To make matters even more difficult, it was a constant struggle to provide enough food and clean water for Amos.
Amos spent his days on a blanket on the ground or in his mother's arms. When Mary had to walk to the market or to gather water, she was often forced to leave Amos at home alone inside their single-room, mud-thatched home.
A Wheelchair and Hope for Amos
We first met Amos in the fall of 2017.  We were struck by his bright, beautiful smile. We spoke to his mother and learned about the many challenges they faced. Despite the seemingly endless struggles, Amos always smiled.
We shared Amos' story with our generous community and Thomas from Ohio saw this smiling child and decided to become Amos' Angel Investor. Thomas' monthly support allowed our team to immediately organize for Amos to get his first wheelchair, making life much more comfortable for him and easier for Mary. Amos laughed as the team pushed him in his new chair; Mary couldn't contain her tears of joy.
Though his wheelchair was making an incredible difference, our social worker, Joseph, felt like Amos was capable of more. He deserved to go to school like all the other kids in the community. Joseph worked tirelessly, researching schools for children with special needs in Kenya. After a few long months of looking for the right place for Amos, Joseph found one that was accepting new students. He helped Amos' family apply and everyone prayed to hear back soon.
Amos was accepted into the boarding school for children with special needs in the summer of 2018. In September 2018,  for the first time in his life, Amos went to school. When you saw Amos, you not only saw a smile, you saw pride, hope, and dignity.
Amos and his (Many) New Friends
Today, Amos is one of the most loved children at school, among both teachers and students. Amos has around-the-clock care, specialized therapy, and goes to lessons with his classmates. His teacher, Madam Ann, is committed to his development and is walking with him on this journey.
"Amos is pure joy. We all love him." – Madam Ann
Amos also benefits from the care of a nurse, David, who helps take care of him at school. For the medically complex children at school, like Amos, nurses provide 24-hour assistance to make life more comfortable and dignified.
Amos now spends his time with his many friends at school! The children at his school have a wide variety of special needs but all are treated with respect and love. After a recent visit, Joseph commented on how all of Amos' classmates like to push his wheelchair from classroom to classroom. These students, too often outcast by their families and communities, are like family to each other.
Amos is making incredible progress at school with the support of his teachers, nurse, and friends. He is learning to feed himself, communicate more effectively, and ultimately, live a much happier life. Amos' journey is only possible because of the love and support of a whole team of people, starting with his Angel Investor, Thomas.
When Mary brought Amos home from the hospital, after learning of the challenges he would face for the rest of his life, she never dreamed he would go to school, have friends, and be so embraced by his community. Today, Amos and Mary live life with hope and joy.
"I am so proud of what my boy has become." – Mary