A Picture Speaks a Thousand Words. A Smile Says a Million.
ByCMMB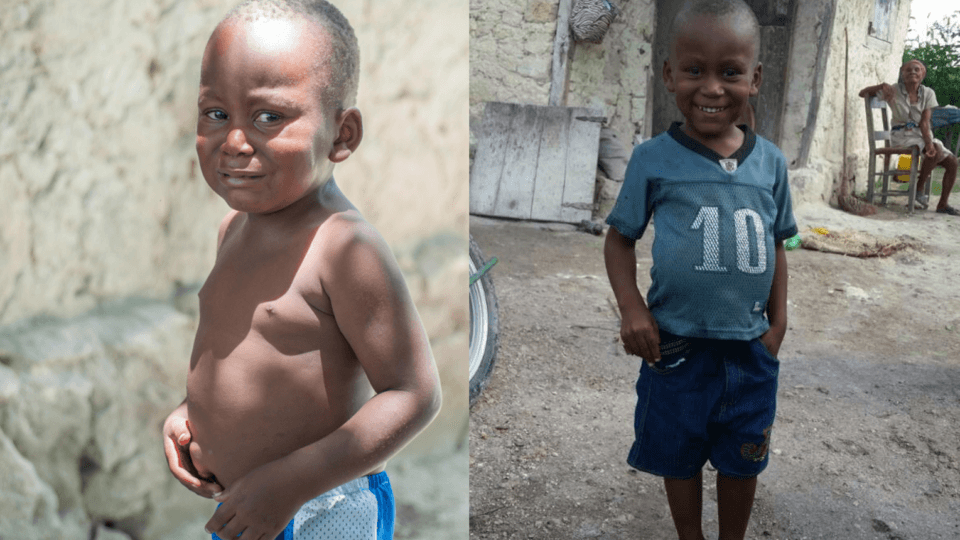 Progress in Our Community of Angels
CMMB launched the Angel Investor program in October 2016 because we learned that within our CHAMPS communities, there were children so vulnerable that they could not even access the services we provided. Many of these children had sick parents, lived with elderly grandparents, or had their own physical or cognitive disabilities. Donors choose to support a child's school fees, healthcare, or food and water needs. Over the past 18 months, the generosity of our Angel Investors has transformed the lives of hundreds of children and their families. Below we're sharing some of their stories. We hope you're as inspired and encouraged by their journeys as we are. 
---
Meet Charverline
Haiti
When we first met Charverline, her parents struggled to put even one meal on the table each day. This little girl was quickly becoming malnourished. Today, Charverline is supported by Mary Ann from Idaho with food and water every month. She is no longer malnourished and attends preschool!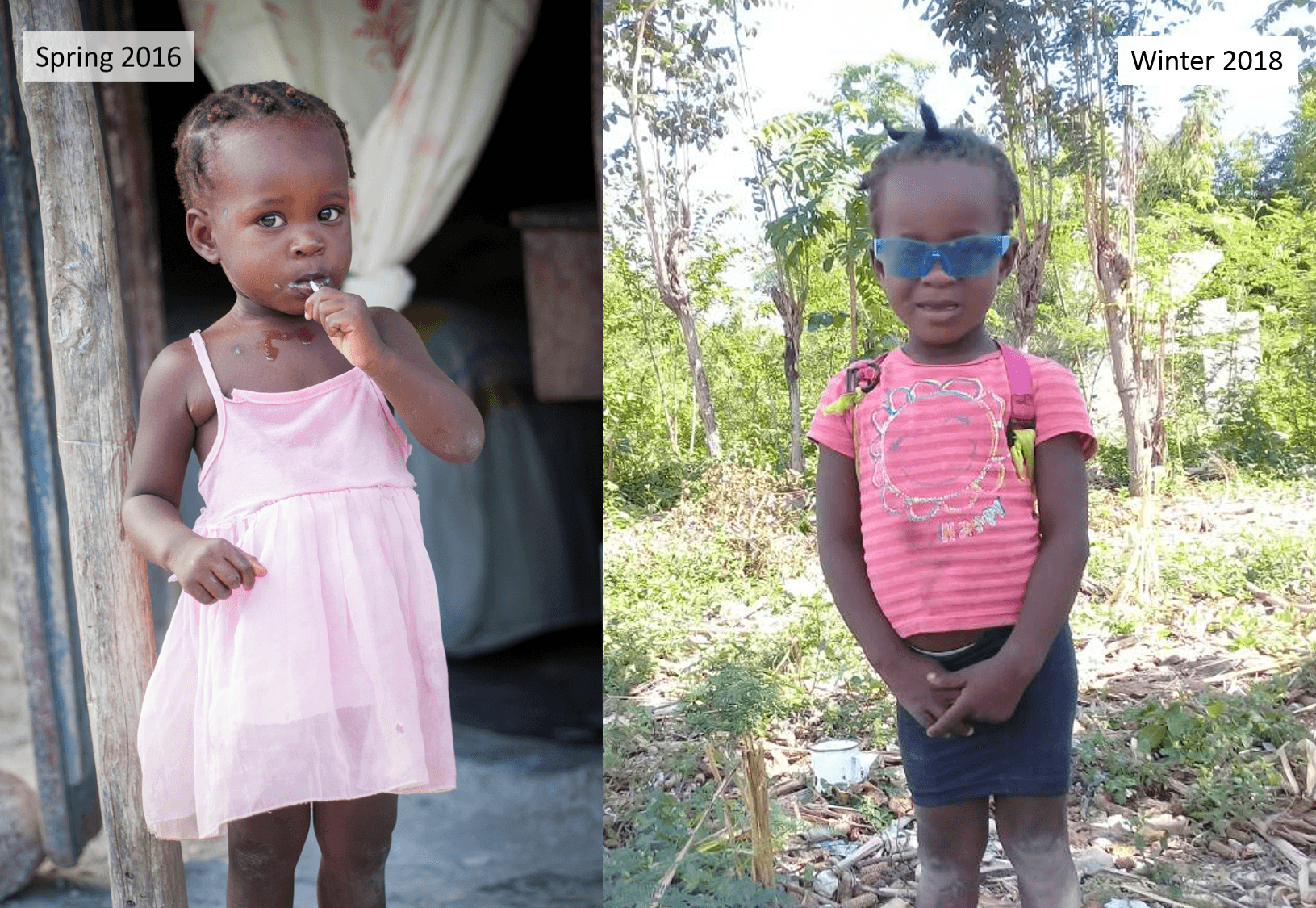 Meet Daniel
Kenya
In May 2016, we met Ruth and her son Daniel. Ruth told us that she never had the chance to finish school and how she dreamed about a future in which her children woke up and attended school every day. Ruth's dream became a reality thanks to Charles from New York. Daniel is in nursery school and stands proudly in his school uniform and first pair of shoes.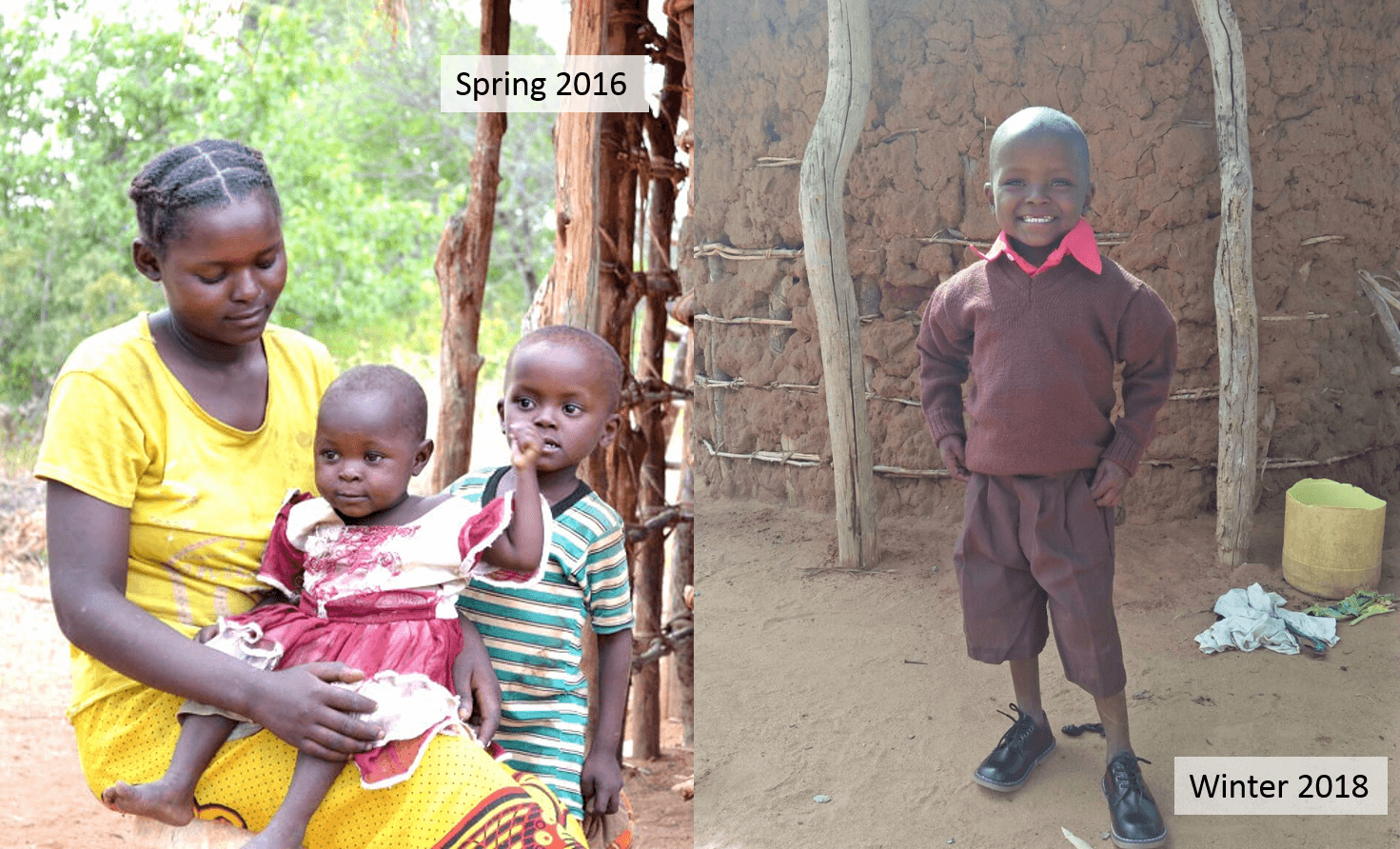 Meet Elizabeth
Kenya
When we first met Elizabeth, she was weak from a childhood marked by hunger and thirst. Today, Jenifer from New Hampshire supports Elizabeth's family with food and water every month, and Elizabeth is thriving. Every time we visit Elizabeth's home, she is full of energy and with a constant smile on her face.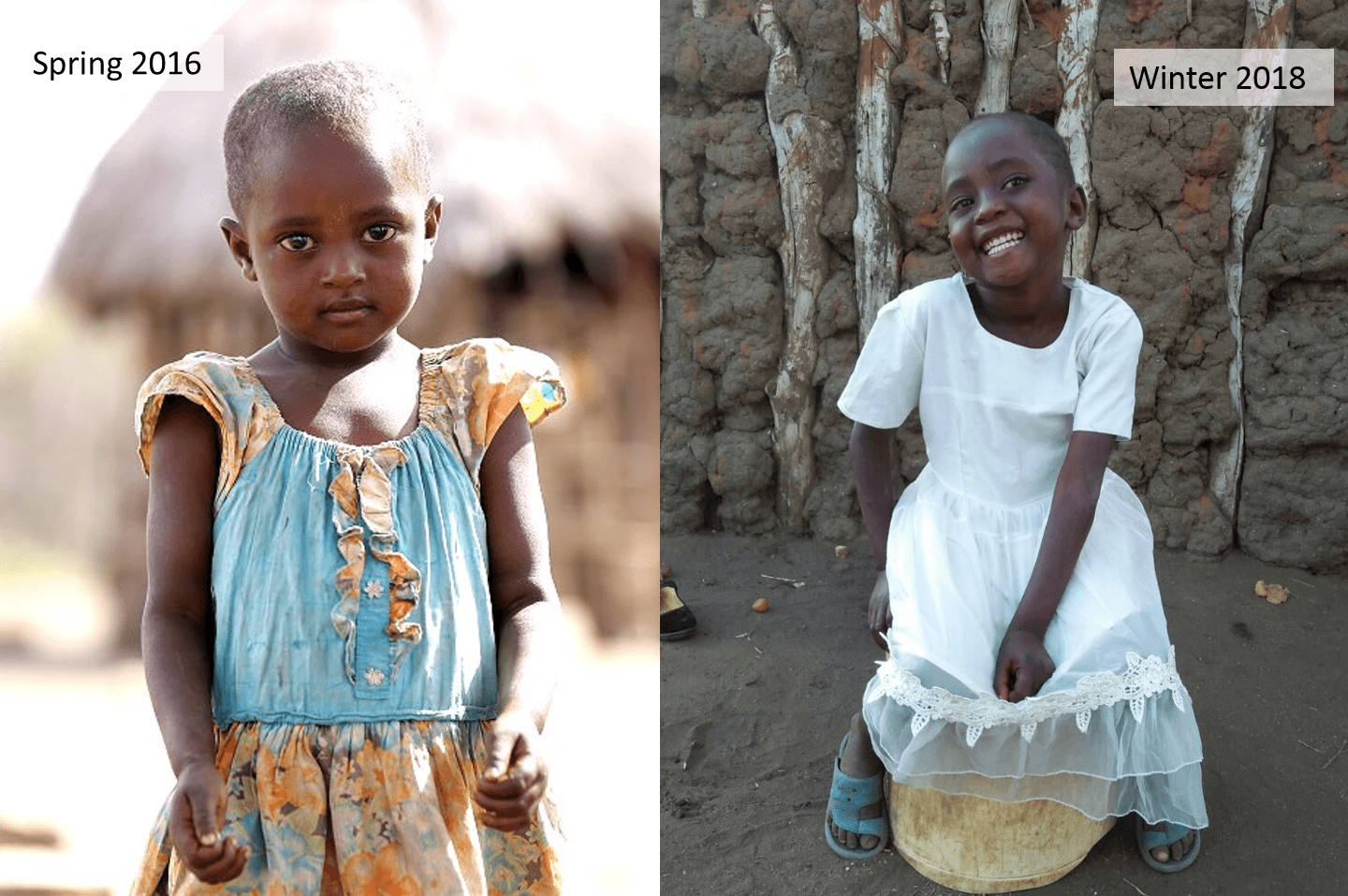 Meet Ismaidens
Haiti
When we met Ismaidens, he was living in a tent with his family. His health was weak and he had rashes all over his body. With the support of his Angel Investor, Tina from Florida, Ismaidens and his family moved out of their tent and into a permanent home. Ismaidens is healthy and receives regular care from our nurses in his community.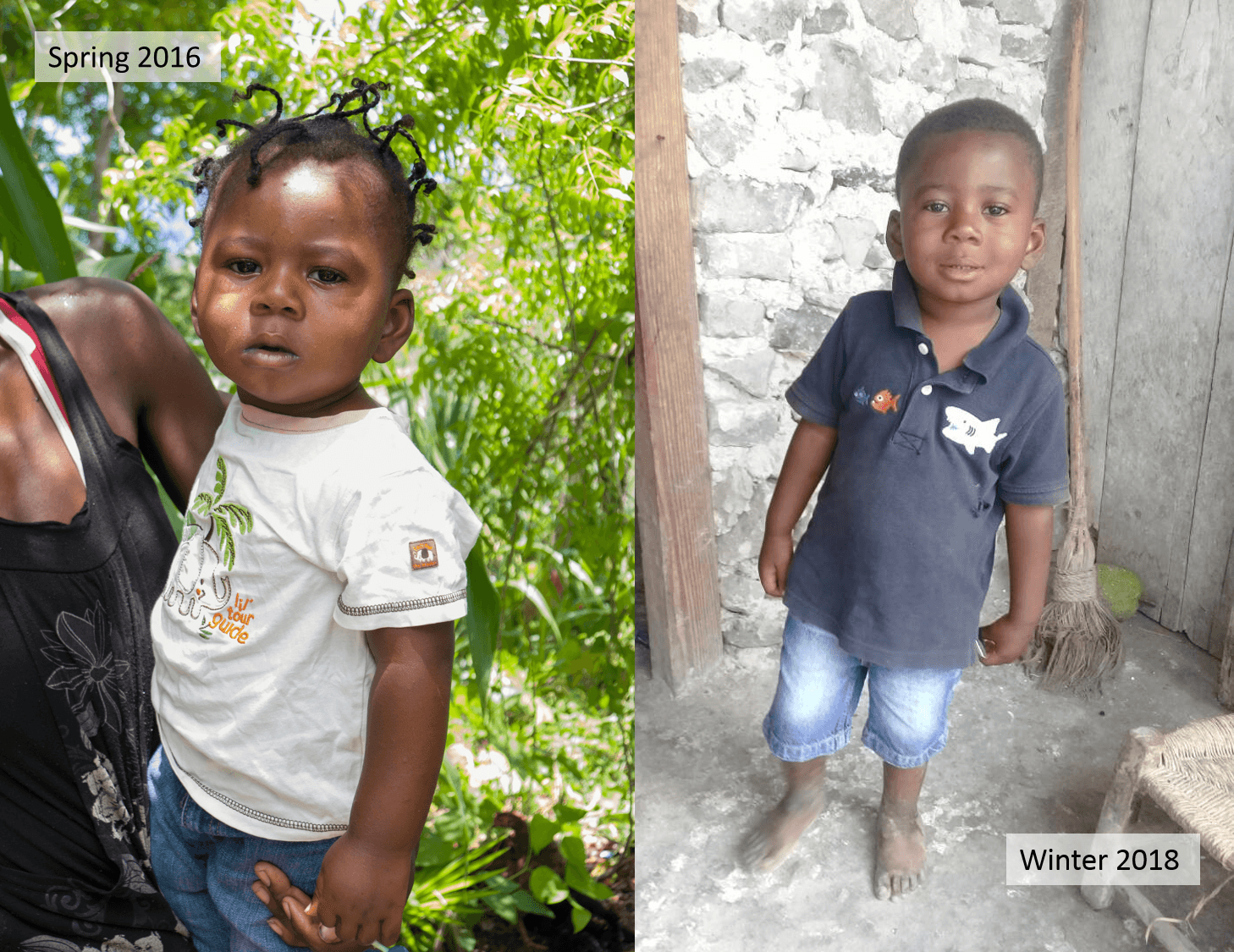 Meet Gloria
Kenya
Gloria was just a few weeks old when we met her family. Like all newborns, Gloria needed to go to the doctor for check-ups, vaccinations, and monitoring, but her mom could not afford any healthcare. Luckily, Norbert from Massachusetts covers the cost of her family's health insurance so Gloria and her siblings can all get care, whenever they need it. Today, Gloria is healthy and growing up strong.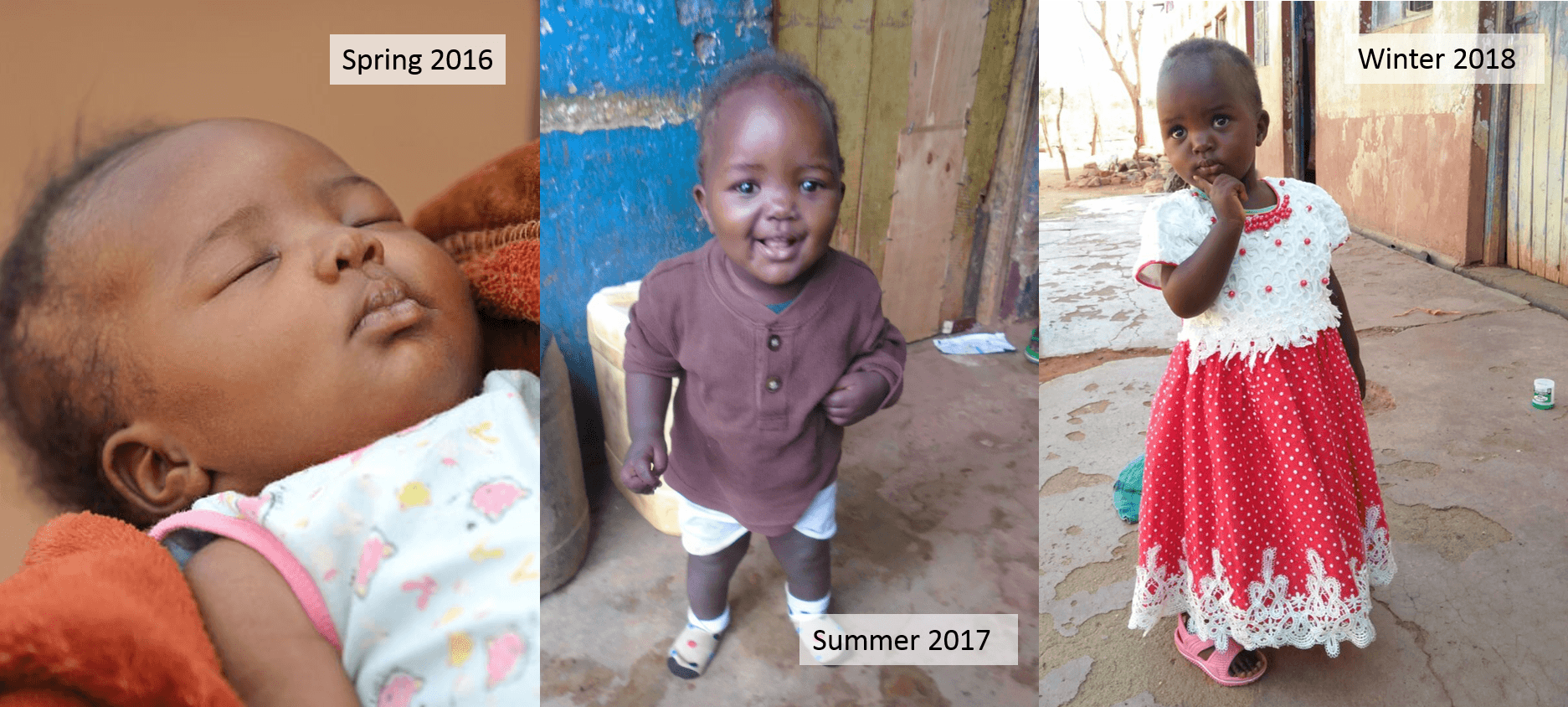 Kenya
Gedion's case was brought to our attention in spring 2016. His mother tragically passed away during his birth, and his heartbroken father had no money to buy infant formula. Everyone worried that Gedion would not survive. Thankfully, Trisha from New York heard his story and was inspired to support Gedion with formula. Today, Gedion is a happy baby boy, adored by his family and his Angel Investor!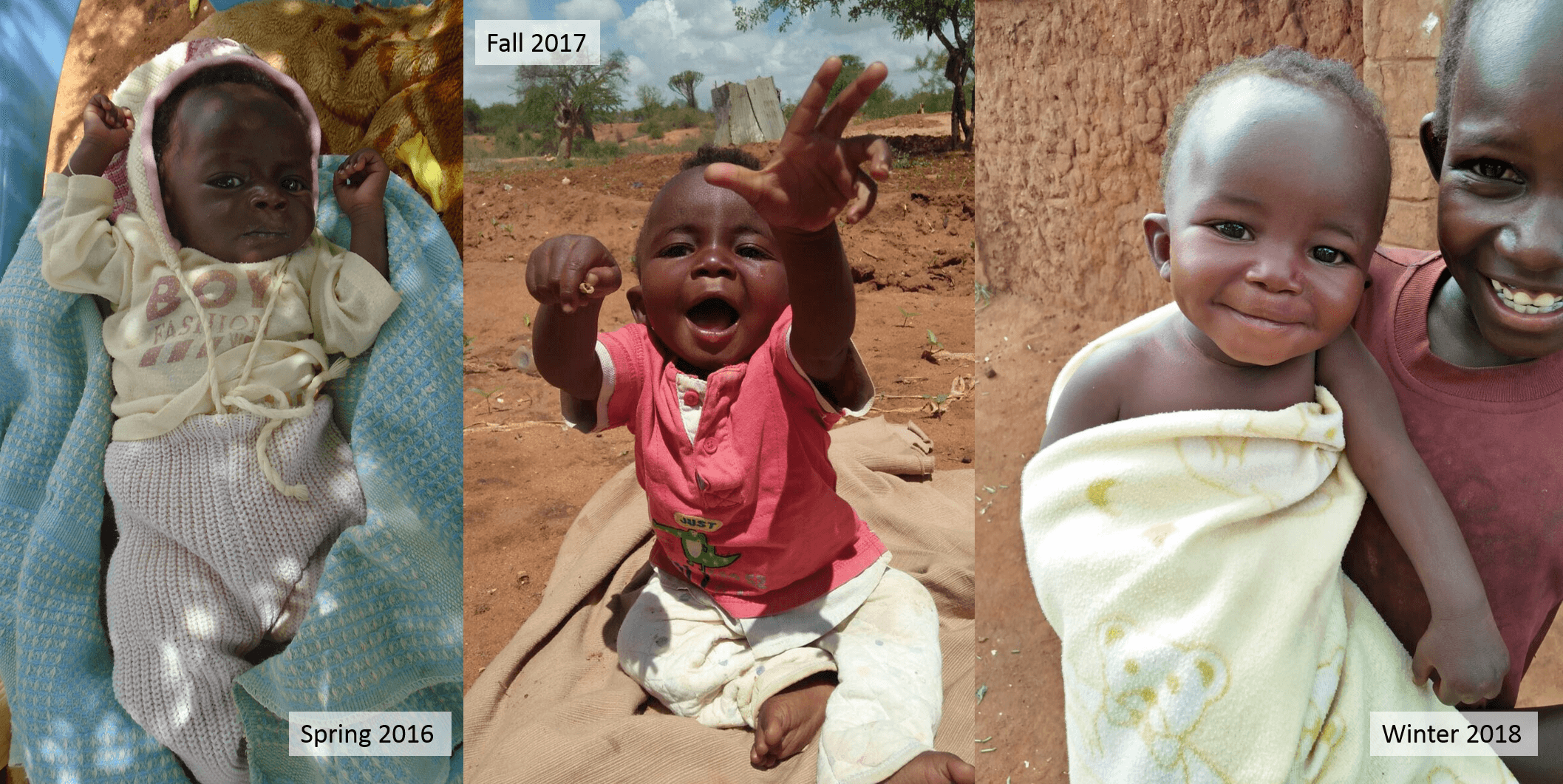 Meet Fedlina
Haiti
Fedlina's family struggled to get enough to eat and had no easy access to safe water when we first met them. To make matters more challenging, Fedlina was born with Down Syndrome and her mother never believed that her daughter would learn to talk or go to school. Jennifer from Sweden read Fedlina's story and was moved to support this beautiful child and her family with food and water. As a result, Fedlina's mom was able to save enough money to send Fedlina to school. Today, Fedlina has defied all expectations. She is talking and loves going to school.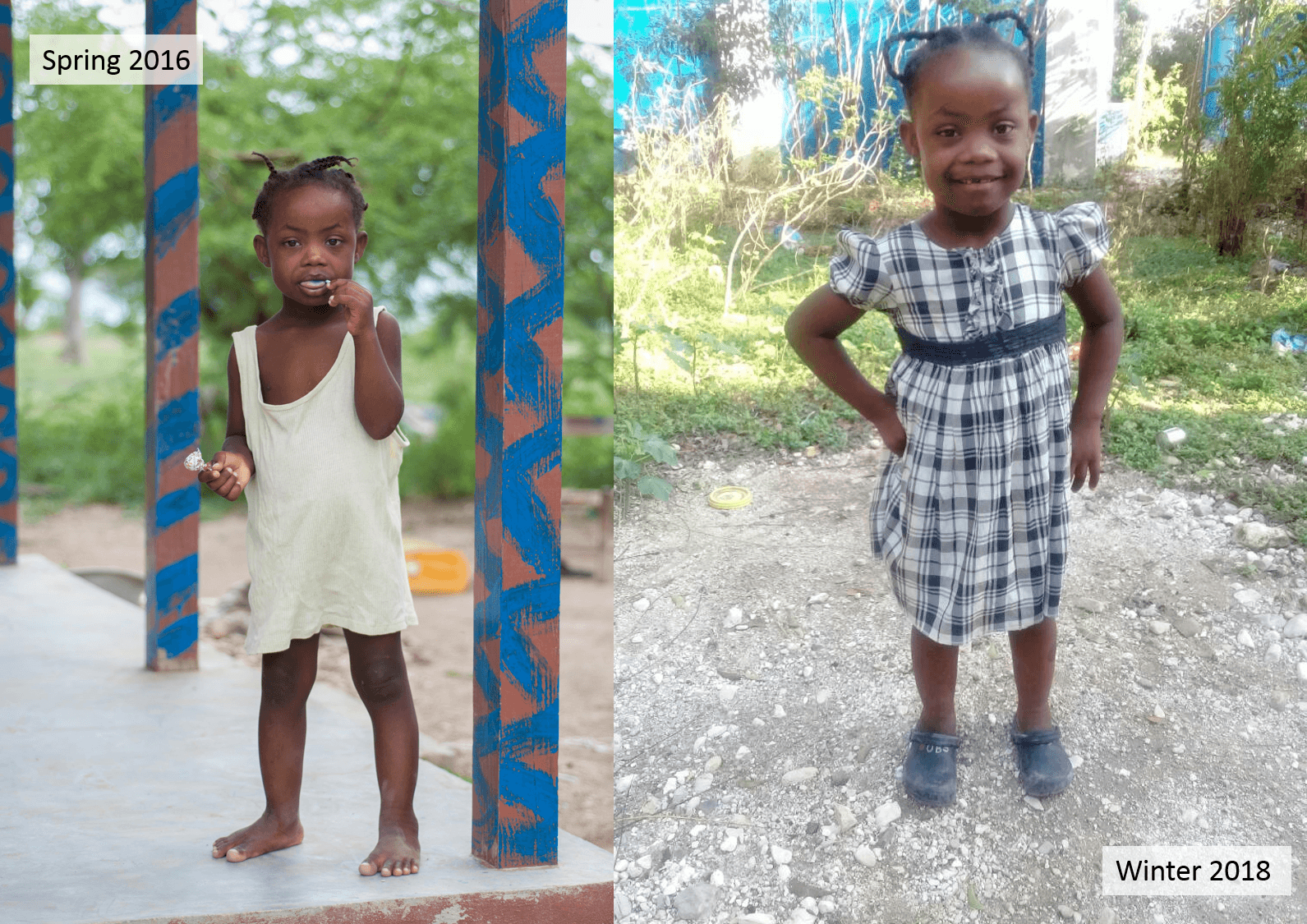 Meet Faith
Kenya
Faith's mother had just passed away when we met her in spring 2016. Faith and her siblings were found alone with their mother's body by their grandmother, several days after she had died. The situation broke our hearts. Faith's story touched Bruce from Connecticut too, and he decided to get involved. Bruce and his wife, Linda, support Faith's family with food and water. With help from an Angel Investor, Faith does not go hungry and has even started pre-K!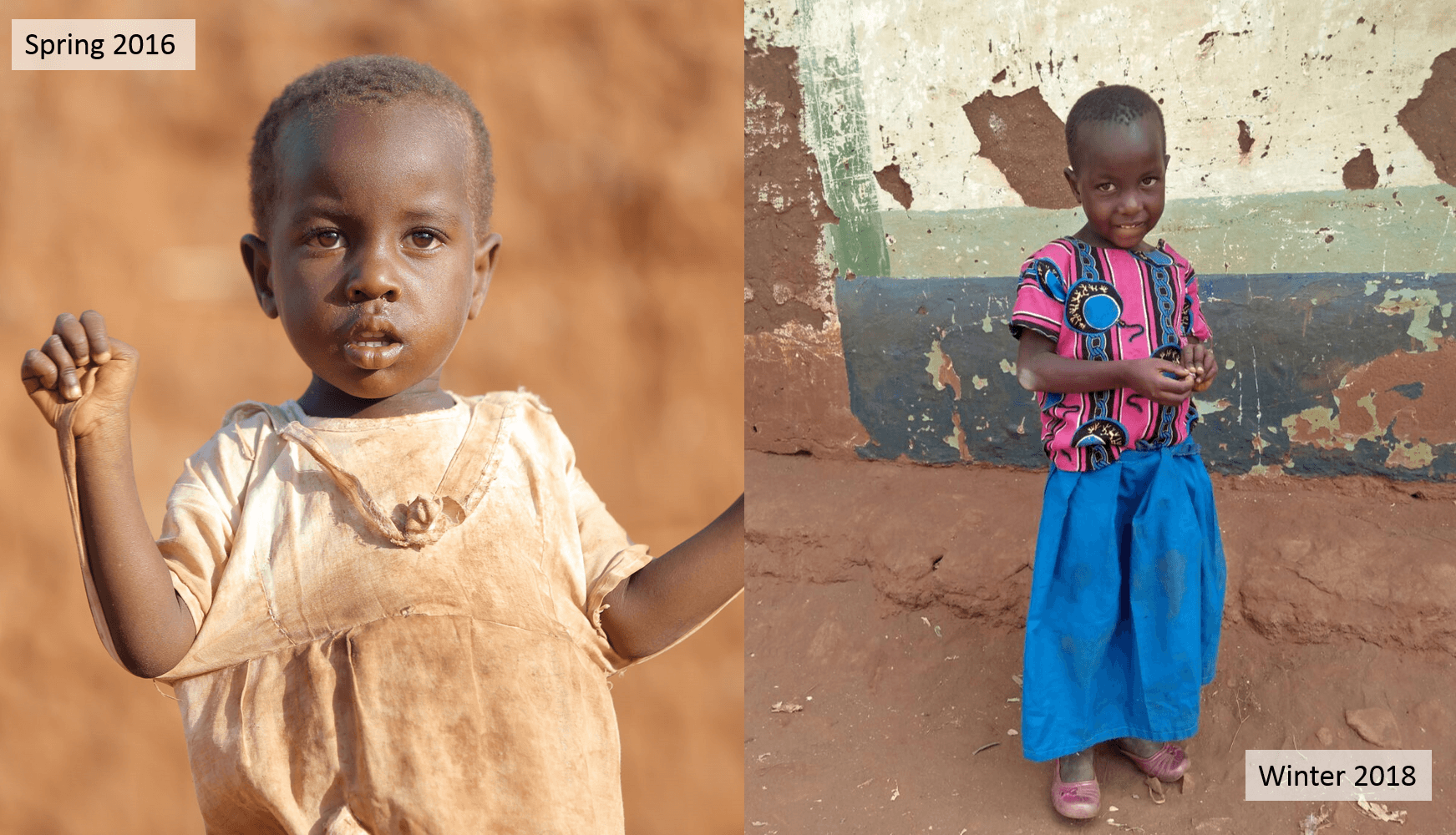 Kenya
Mary's case came to us in summer 2017. Mary was born with cerebral palsy and suffered terrible abuse at the hands of some members of her community. She used to spend all of her time either carried by her mother, or on a blanket on the ground, unable to move around comfortably. Today, thanks to the generosity of Katherine from Indiana, Mary has a wheelchair and access to specialized healthcare. Her beautiful smile says it all.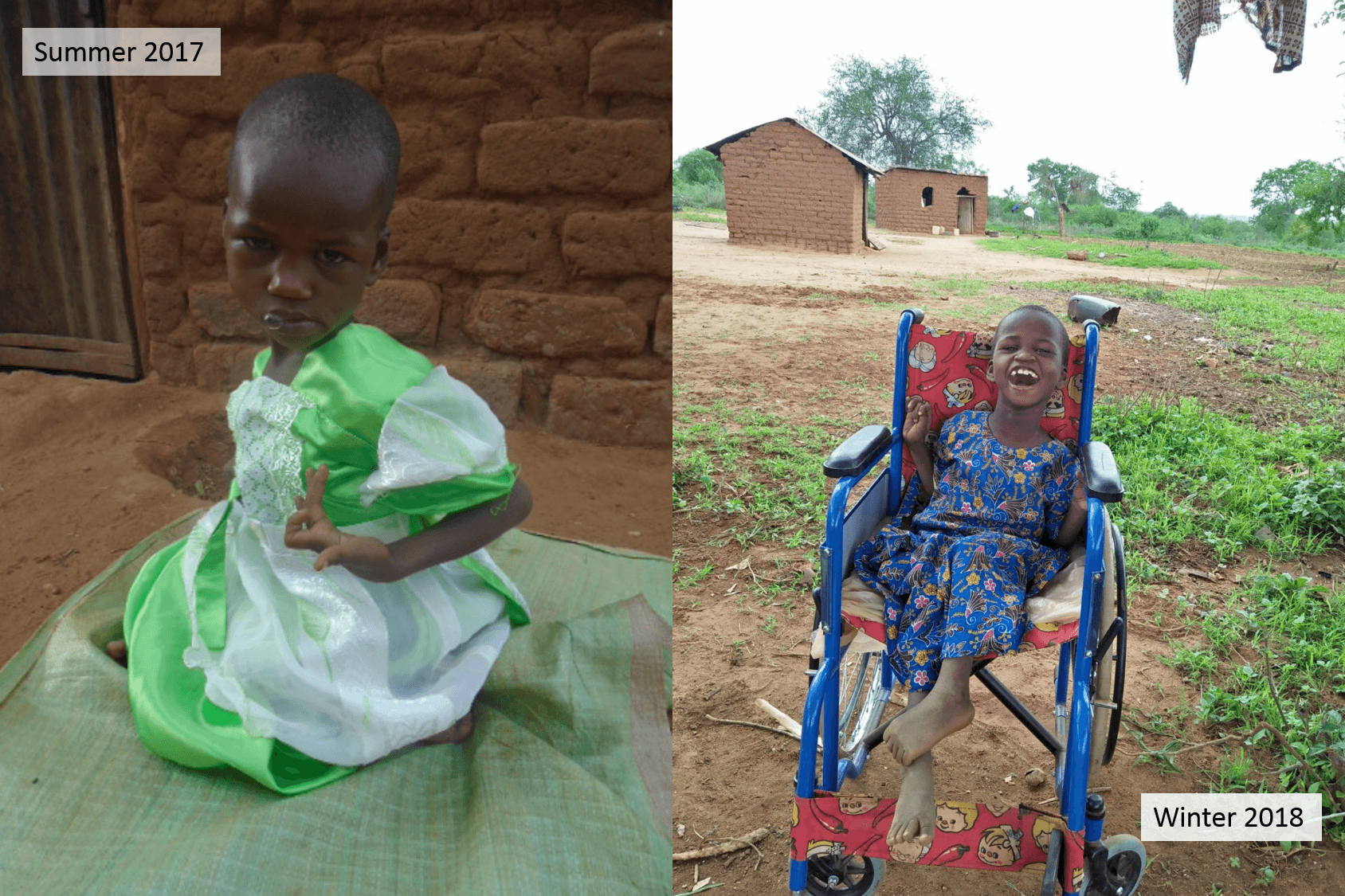 Meet Kiema
Kenya
When we met Kiema, his parents could not afford even one meal per day for their children. Everyone was suffering from malnutrition. Kiema dreamed of going to school but believed it would never happen. Today, Kiema is in Grade 1 and is one of the top students in his class. He is being supported by Rita from New Jersey.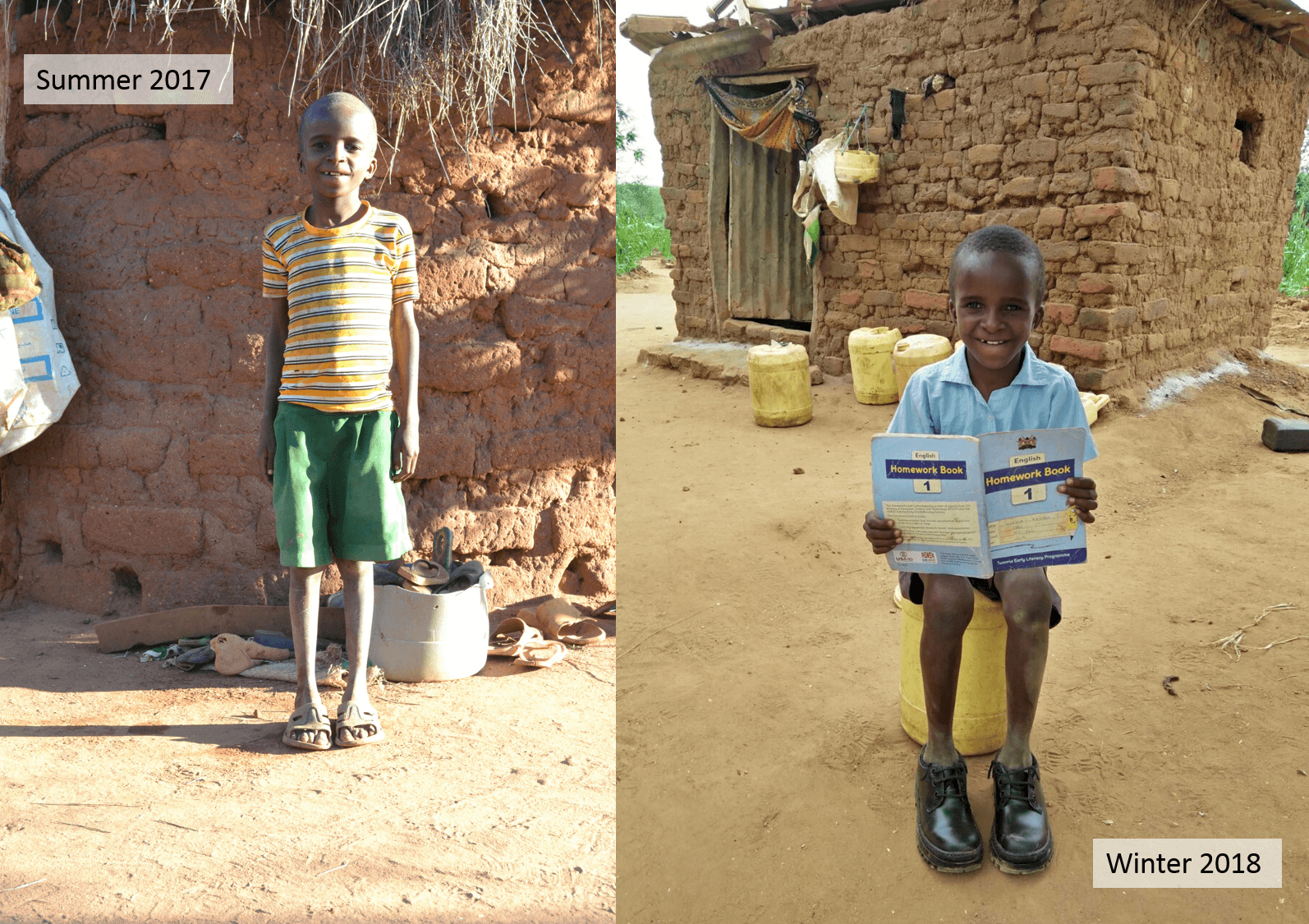 Meet Kevin
Haiti
The first time we Kevin, his situation was heartbreaking. He lost his mother during childbirth, and his grandmother was taking care of him. Sadly, she had very little to give Kevin, and his health was failing. Today, Kevin is almost four years old and is in great health.  For the past 18 months, Darryl from New Jersey has compassionately and generously supported Kevin's healthcare needs.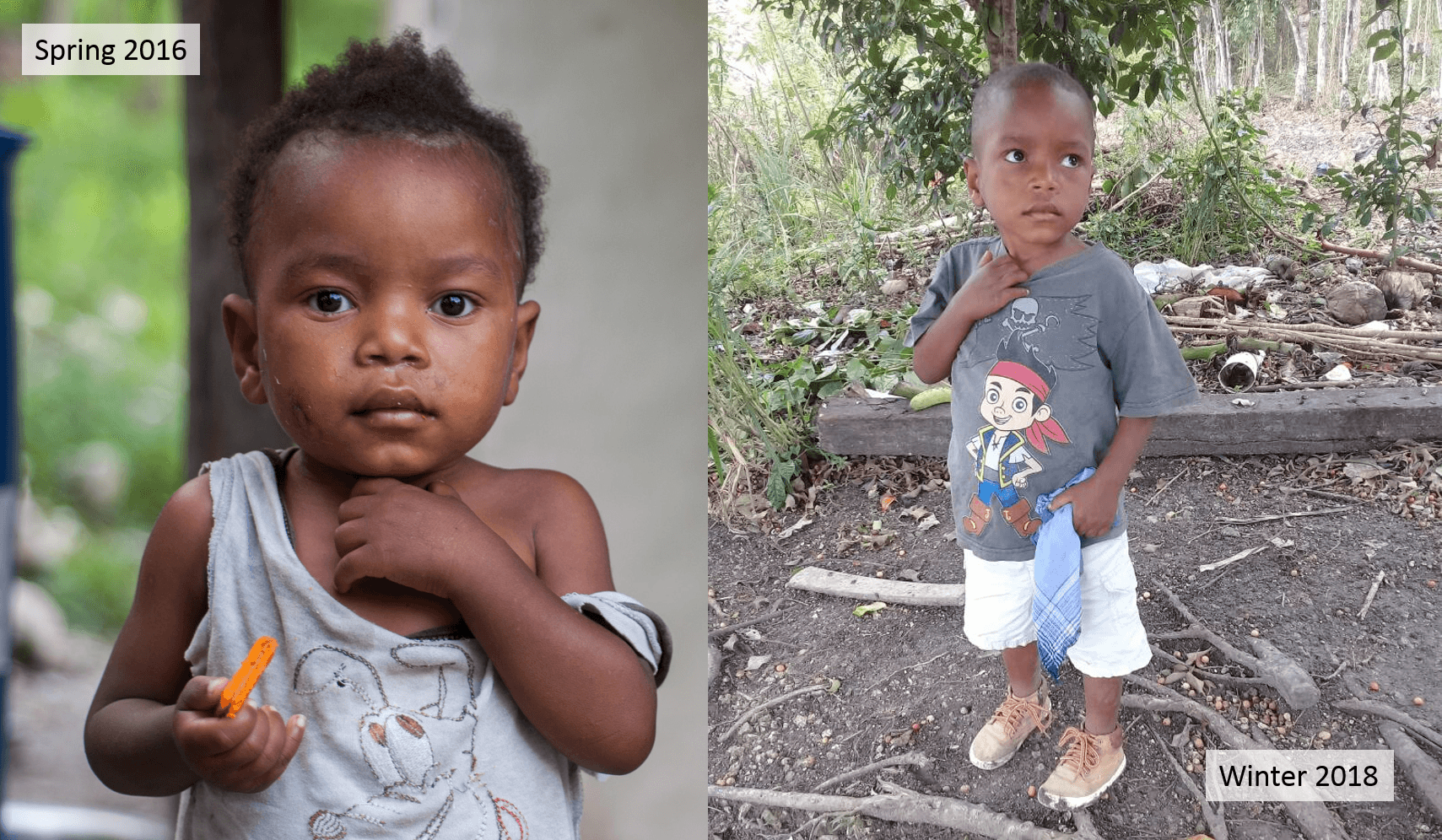 Meet Kensley
Haiti
Kensley could not stop crying when we first met him because he had so much stomach pain. His belly was swollen and his family could not afford to take him to the hospital. Touched by Kensley's story, Paul from Oklahoma started supporting his healthcare. With Paul's support, Kensley was able to go to the hospital, get a definite diagnosis, and undergo surgery to alleviate his rare condition. Today, Kensley is free of pain and full of love.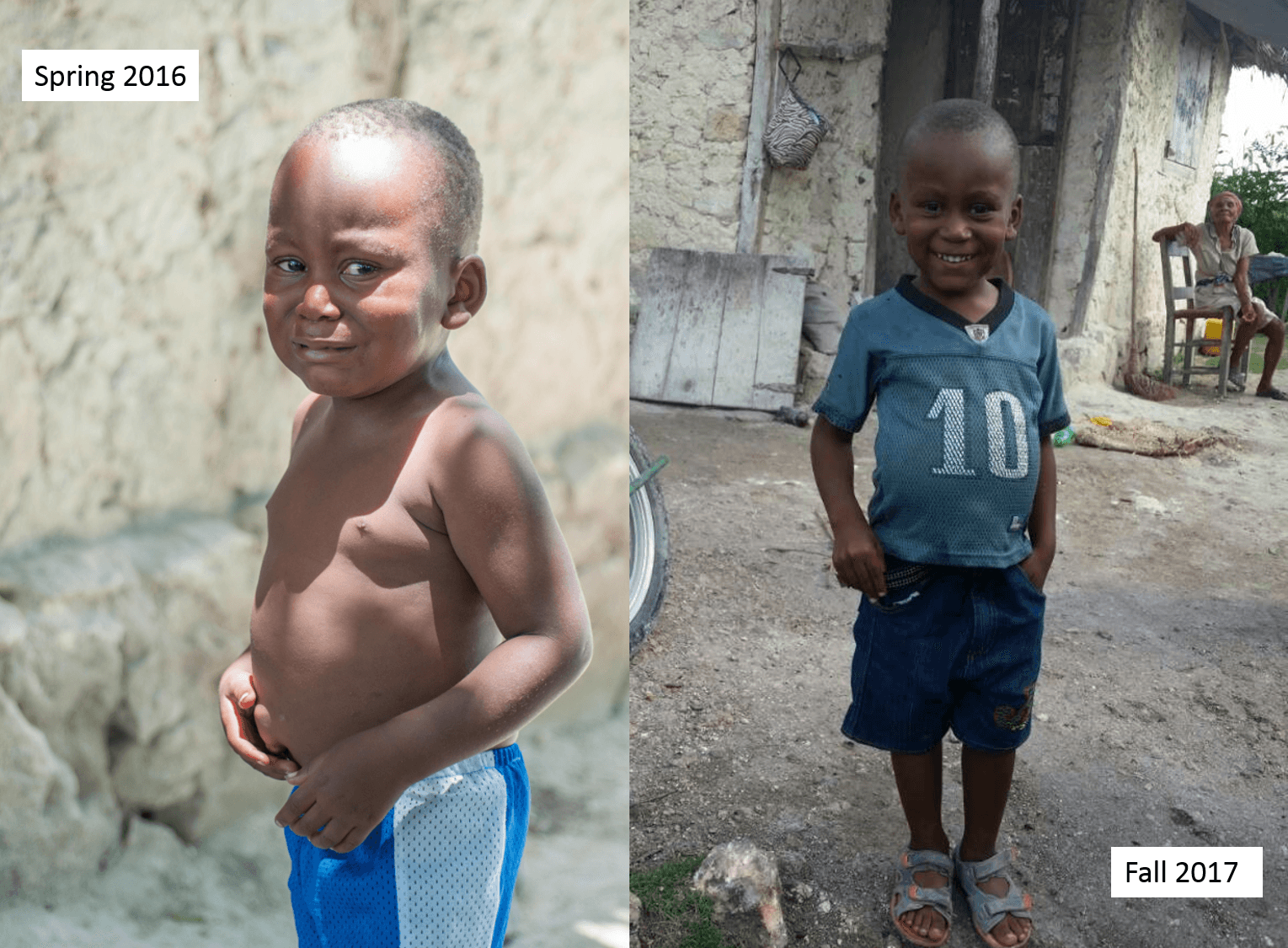 Meet Keisha
Haiti
Keisha was born with Down Syndrome and suffered from constant stomach pain when we first met her. She did not speak but her mother knew that her baby was not healthy. Moved by her situation, Carrie and Joe from Massachusetts decided to get involved. They support her healthcare costs and Keisha no longer suffers from stomach aches and illness. Today, Keisha also attends school. For Keisha and her mother, it's a dream come true.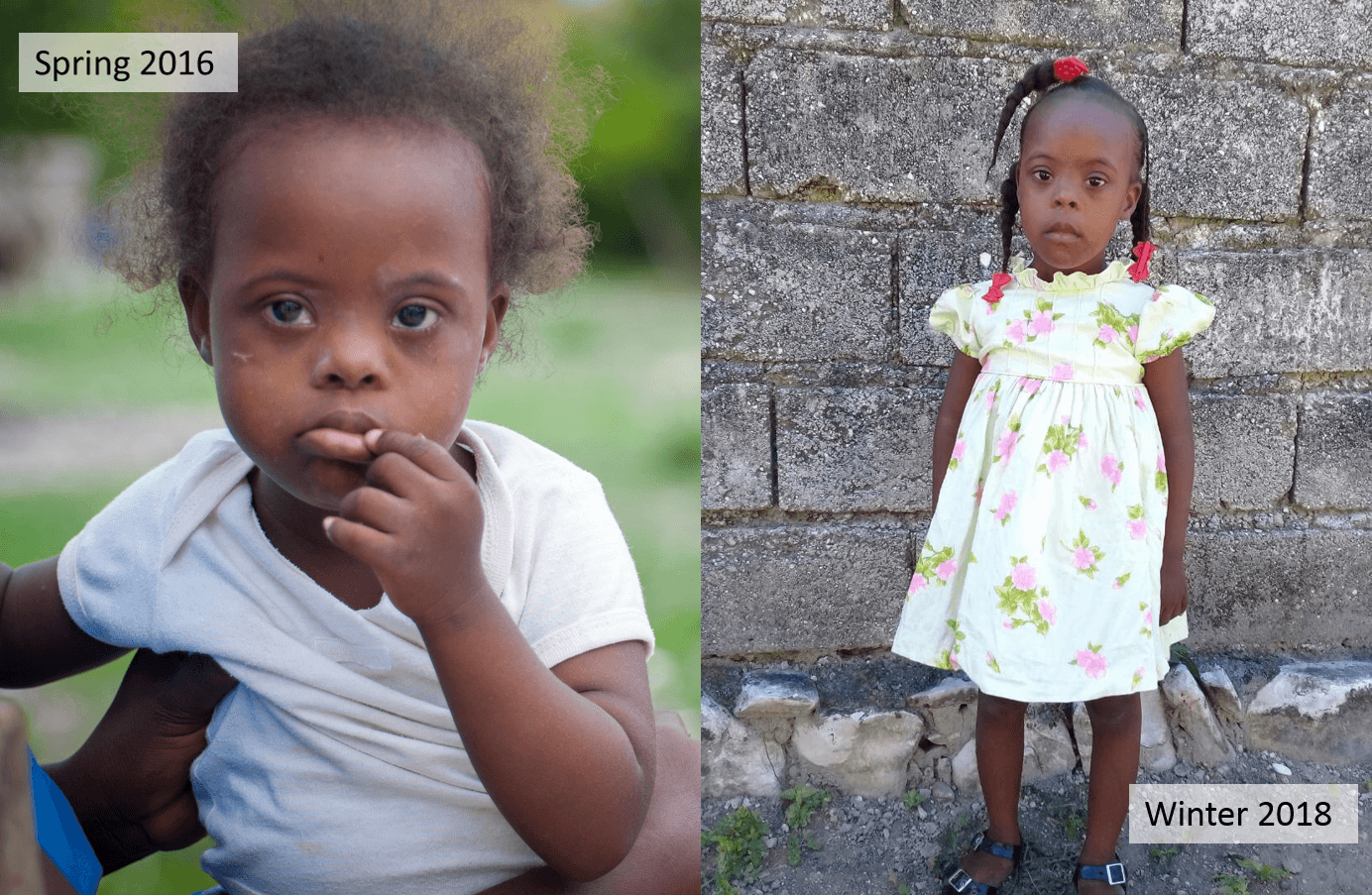 Meet Kabuku
Kenya
In spring 2017, we met Kabuku at her home and were shocked by her family's situation. Her mom has a cognitive disability and her dad spends most of the day away from home, working to support his family. They had almost nothing to eat and Kabuku was suffering from a severe respiratory infection. When we shared Kabuku's story with Thong from Georgia, he decided to get involved. He began supporting Kabuku and her family's healthcare needs and today, they have health insurance and regular access to care. Kabuku is so much happier.

Meet Mishileine
Haiti
We met Mishileine at her home two years ago and we found her malnourished and without hope. Her story inspired Carina from the Philippines to join our community of Angel Investors. Mishileine is excelling in school. She loves to sing and dance – and she spreads joy wherever she goes. Our community health worker told us, "Mishileine really deserves this opportunity and I am truly happy for her."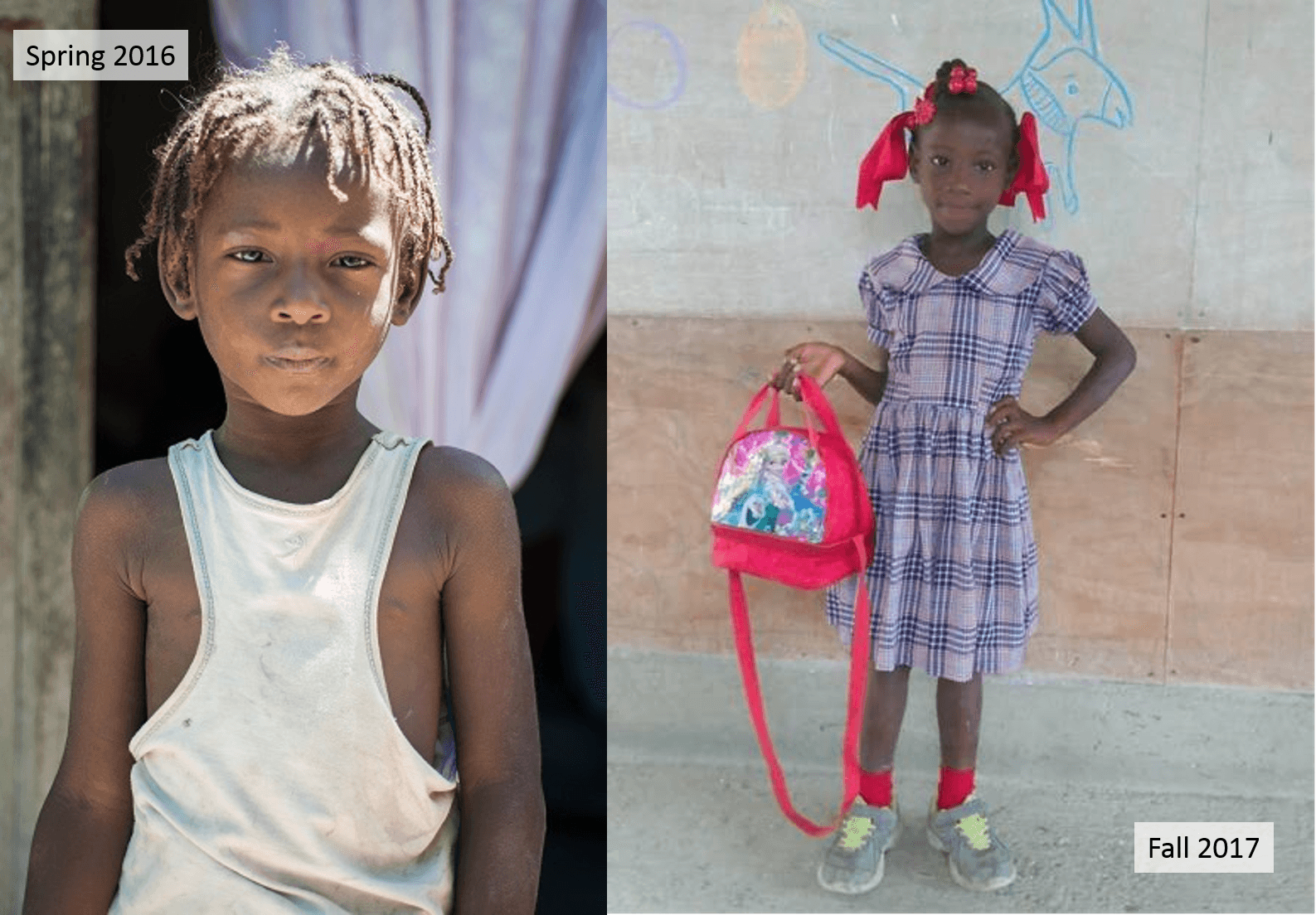 Meet August Lina
Haiti
August Lina has been supported by Nancy from Washington for over a year now! In that year she has transformed from a toddler without enough food or access to clean water into a very smiley preschool student. August Lina is a joyful child. She really loves having her picture taken!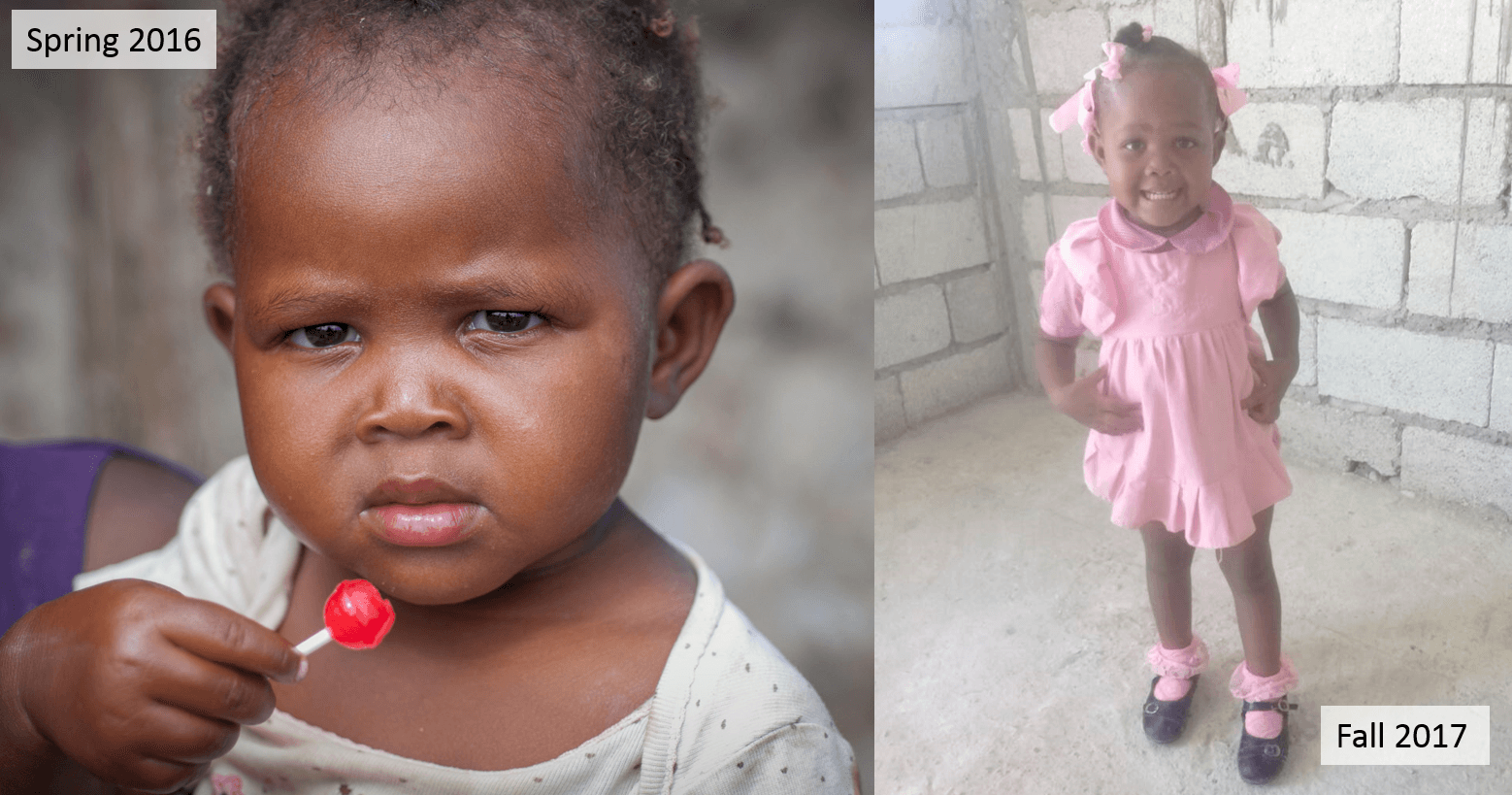 Meet MyLove
Haiti
Mylove and her family never used to know where their next meal was coming from. She lived with her mom and her grandma in a tiny mud home almost two hours from the closest safe water point.Her health was in jeopardy and she needed support. A commitment from Angel Investor, Chandra, has allowed Mylove to grow into a beautiful, vibrant little girl. She also has a new baby brother who is also benefiting from Chandra's generosity!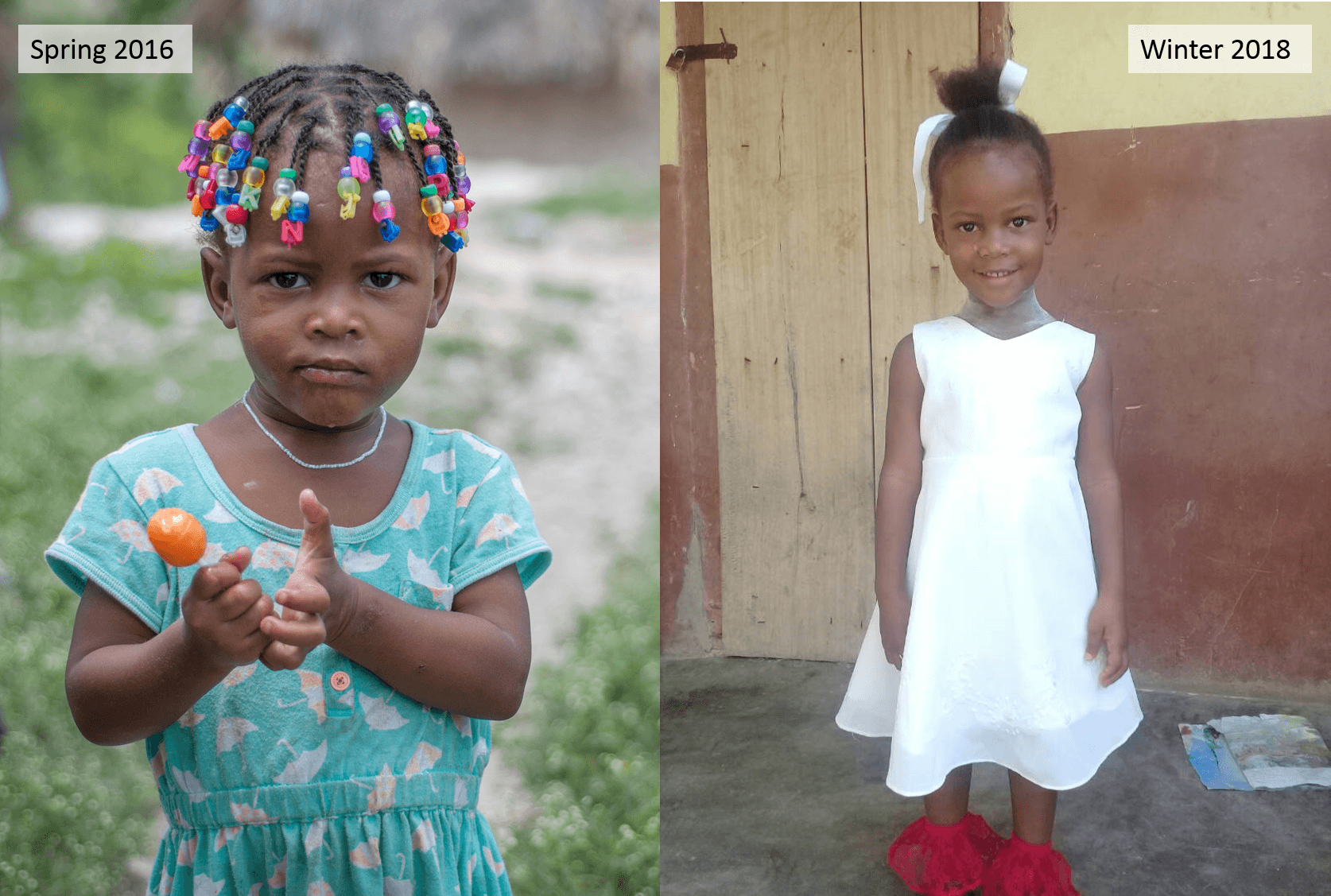 Haiti
Megina was born with a rare condition that prevented her arms from fully forming. In her community, children with disabilities are subject to terrible discrimination and are not welcome at local schools. Today, Megina is supported by two donors, Jody and Mary, whose support allows Megina to attend a boarding school for children with special needs. She is learning how to write with her feet and making many new friends. Megina would never have had an opportunity to reach her potential without the support of her Angel Investors.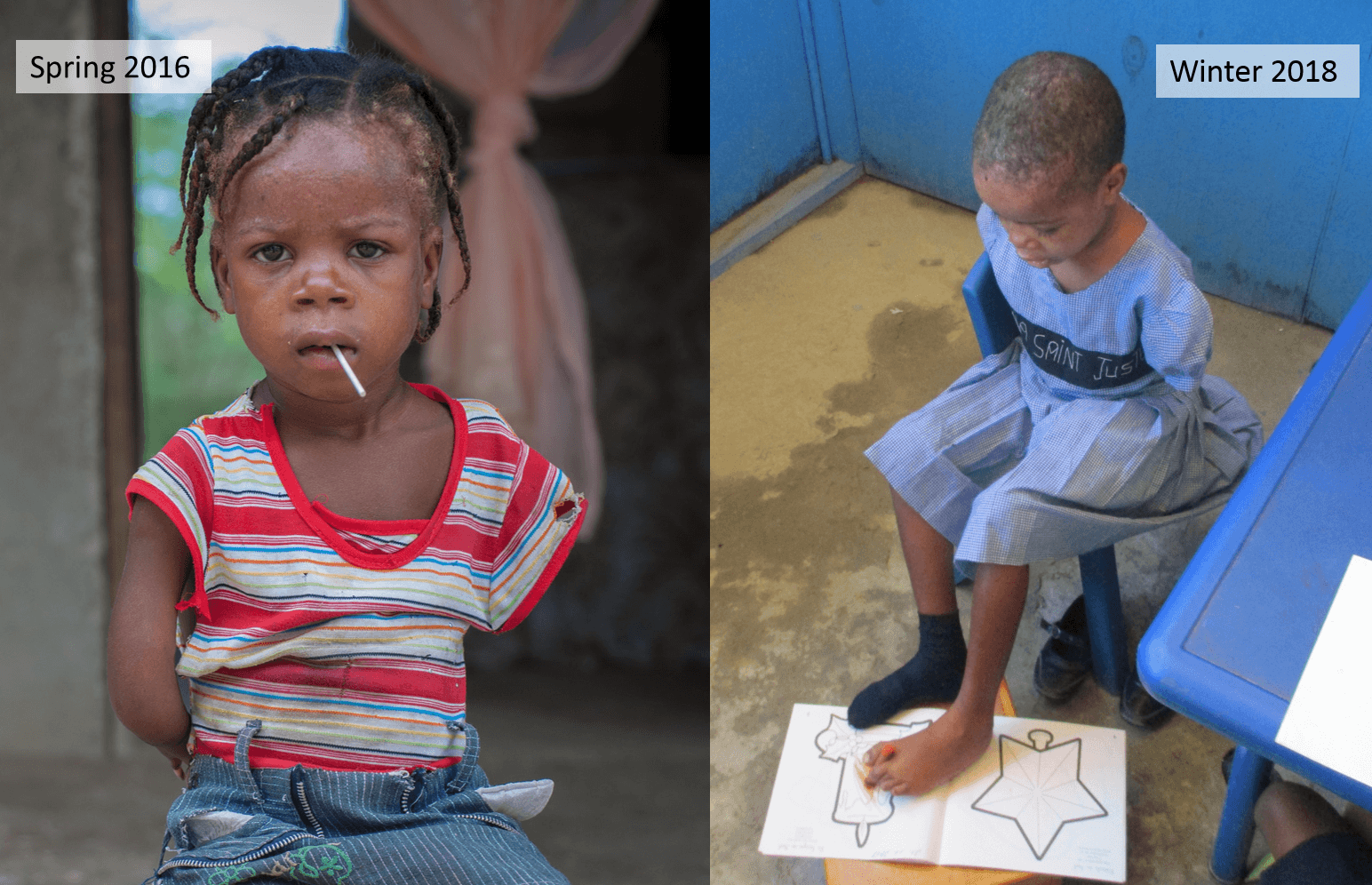 Meet Mateso
Kenya
Mateso family was extremely vulnerable when we met them. Both of his parents were very ill and had trouble feeding and clothing their children. Mateso really wanted to go to school but his parents could never afford it. Nick from Pennsylvania read Mateso's story and wanted to give him a chance. Today, Mateso loves school and his new uniform. He told us, "I want to be a teacher when I grow up."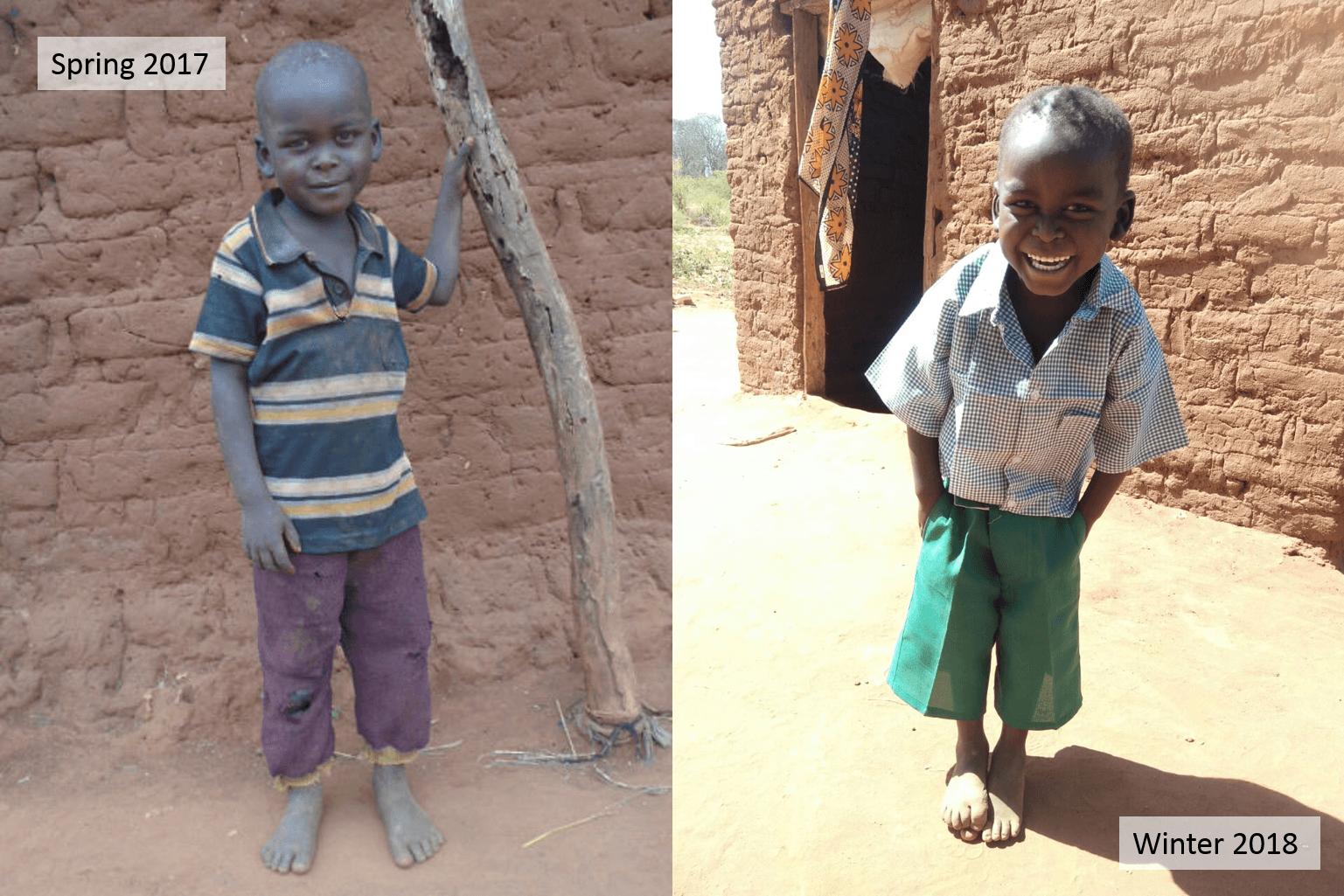 Meet Rosemanette
Haiti
When we met Rosemanette last spring, she was seriously ill. She lay in her mother's arms with almost no energy, and when she sat up, she could not stop crying. Today, thanks to her Angel Investor Pilar from Spain, Rosemanette is not only healthy but going to school. She has lots of energy and has exceeded everyone's expectations, returning to good health in a very a short period of time.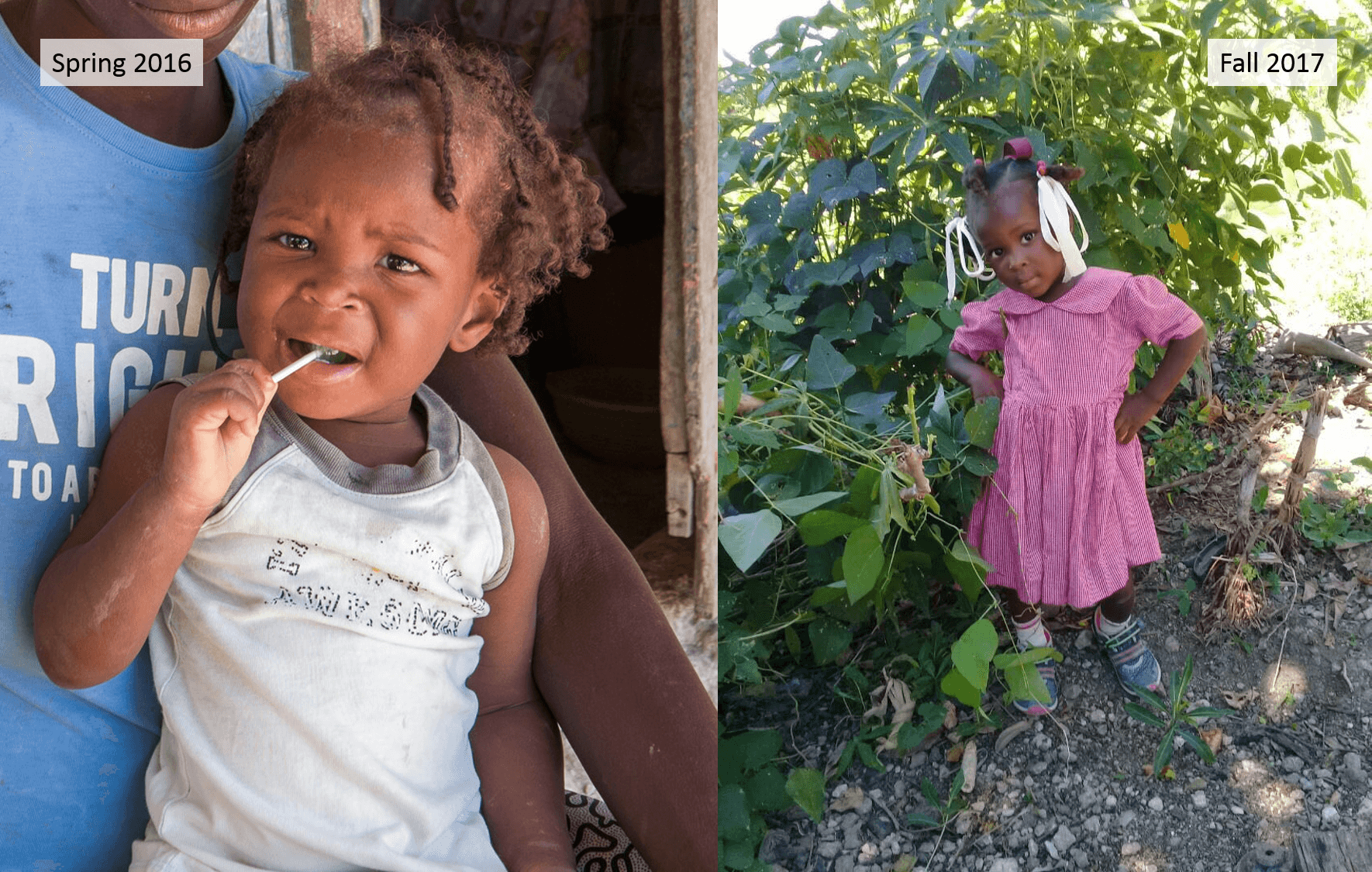 There are so many children who still need your help.