Mother to Mother: Reflections on World Down Syndrome Day
By Méabh Gilbert and Anna Guzmán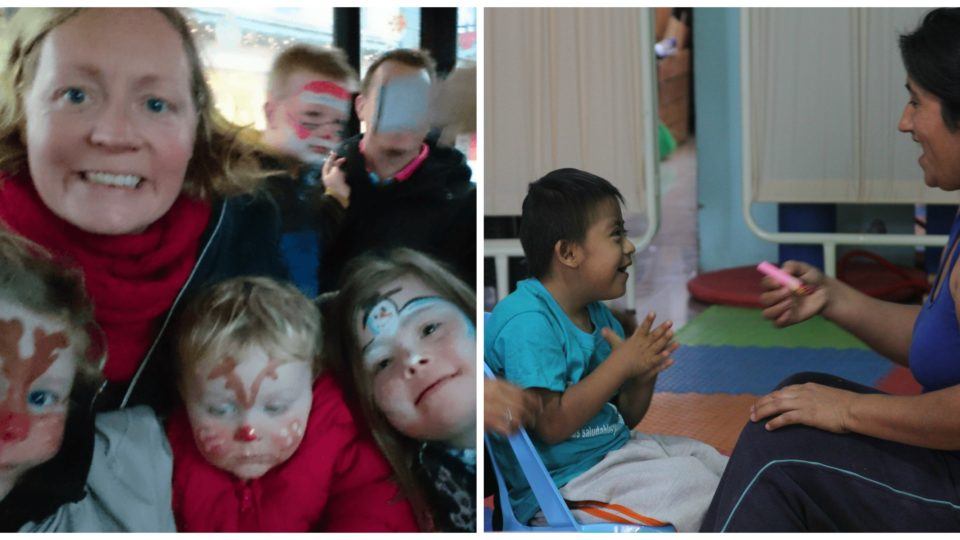 March 21st is World Down Syndrome Day, a day to raise awareness about the syndrome and create a single global voice for advocating for the rights, inclusion, and well-being of people with Down syndrome. Today, we share two stories written by women living very different lives.
One is written by Méabh Gilbert, a 39-year-old mother of three living in Ireland. She and her husband spent much of their adult lives living and working around the world, including in the United Arab Emirates, Ethiopia, Zambia, and South Africa. In 2010, their lives changed forever when their daughter Róisín was born. 
Across the world and a lifetime away, there is Anna Guzmán. She too is a mother of three. However, unlike Méabh, she is raising her children alone in one of the poorest parts of Trujillo, Peru. Her challenging life became much more difficult in 2012, when her son Juan Elias was born. 
While their lives are very different, one thing emerges that nothing – not geography, nor economy, nor language – can interfere with. That is the love for a child. 
---
My name is Méabh Gilbert and this is my story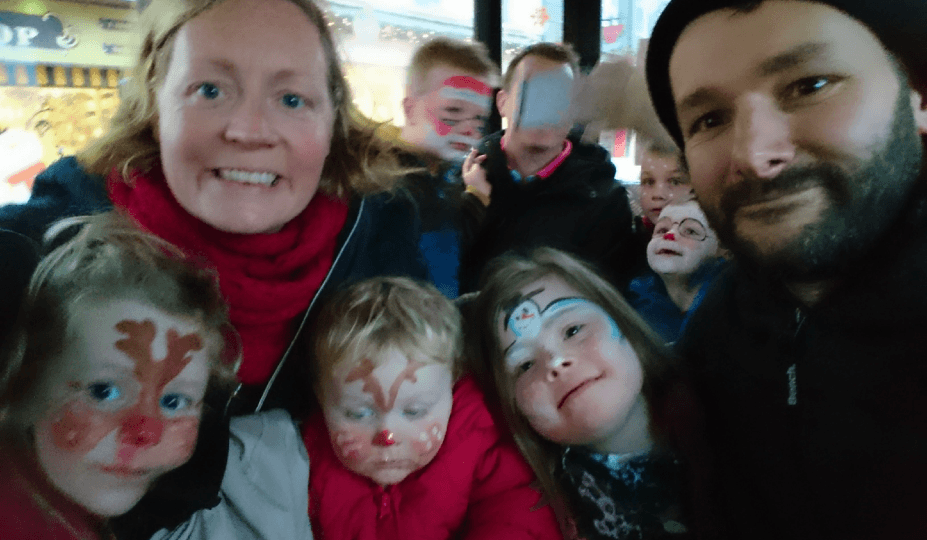 On August 26, 2010, our lives changed forever. We welcomed our first-born child into the world, a little baby girl, Róisín, 3.4 kg, with blue eyes, and a shock of dark hair. We lived in Lusaka, Zambia, far away from our families in Ireland, and we knew nothing about looking after a baby. We were terrified and excited all at once. Then we received a diagnosis of Down syndrome (DS) and our emotions went into overdrive; sadness, anxiety, grief, powerless, lost, heart broken. This didn't seem fair. Why us? Why did we get a child with special needs? We were sent home from the hospital, with a helpless child, fully dependent on us, and we had no idea what to do.
There was a deep, nagging sense of profound sadness inside me for the first few weeks. I was supposed to be feeling unbridled joy and instead I felt caught in an inescapable cloud of gloom. All through my pregnancy I had planned to breast-feed my child, but when Róisín was born, I was told that children with DS do not usually manage breast feeding as the muscles around their mouths are not strong enough to suck the milk. However, Róisín was not about to be pigeon-holed and happily breast-fed for 13 months. This became a pattern in Róisín's life, doing the opposite of what she is told she cannot do, and seeing this spark so early on gave me the boost I needed to become a proactive mother.
I began researching DS on the internet and all the Googling told me the importance of  'early intervention' but I had no idea what that meant. I now know the term early intervention encompasses all the services a child with DS might need to develop fully, speech therapy, occupational therapy, and physiotherapy being the main ones. In Lusaka, the services were very difficult to access so I began networking. I asked everyone in my email and phone contacts to put me in touch with anyone who might know something about DS. My inbox began to ping and the door to information swung open.
Mothers of children with DS gave me tips and advice for both big and small issues, sent me links to websites, but most importantly, told me to enjoy being with my baby. I had given birth to a gorgeous little girl and the most fundamental thing to give her was my love.
I soon began to understand what therapies look like for a baby with DS. It became apparent that much of what needed to be done to benefit my little girl's development was normal, everyday interaction in a more exaggerated form. Róisín needed lots of stimulation that translated very simply to me, narrating what I was doing, singing, reading her stories, showing her objects, and moving them left and right while her eyes followed, massaging her body, and exposing her to many different textures. Children with DS have lower muscle tone and need encouragement to support their movement. I learned about the mid-line, an imaginary line that can be drawn from the tops of our heads, in the middle of our foreheads, right down to the ground, going through our belly buttons. Children with DS find it difficult to cross this mid-line and so many exercises and movements we do with them will encourage crossing the mid-line or even coming to the mid-line. We do this with the eyes, the tongue, the arms and the legs.
Over the next few weeks, the fear and uncertainty began to slowly abate and the joy of parenting began to take over. Every milestone Róisín achieved brought incredible joy, not least her smile and laugh! Róisín is now 7 years old and is in a mainstream school. Of course I have ambitions and dreams for her. I don't know if she will remain in mainstream education and to be honest, I am not thinking about it. My ultimate goal for Róisín, as it is for my other two children, is that she is happy. I will be led by her.
Róisín is almost two years older than her sister, Aoife, who has become more aware that her big sister is not the same as her friends' big sisters. This is a fact that Aoife simply must accept, and I see no reason to avoid talking about it when the situation arises. When Aoife asks why Róisín still has accidents, I explain that she learns differently than other children and some things take a little more time and practice for her.
But I know they will come through the other side with a new understanding of joy, achievement, and a new, deeper feeling of happiness, a new understanding of what happiness looks like
Aoife, like most children her age, accepts this without question and has slowly evolved into a more responsible little girl, wise far beyond her years. As time passes, she is stepping further into the big sister role. I can feel a little sad watching this happen, but then I think about all the skills Aoife is developing at an incredibly young age; empathy, understanding, caring, patience, and compromise. She is a force for good and, like her sister, will be a wonderful adult. The youngest, Éadaoin is turning two and adores both her sisters unquestioningly.
I am fiercely proud of my three children, but in particular, Róisín. Every day for her is a fight, a fight to achieve, to fit in, to belong, to find her space in the world, and she faces each day with a smile. More and more, the world is moving towards seeing people with Down syndrome in terms of their abilities rather than their disabilities. The more this continues, the less people like Róisín will have to fight to fit in, their space will just be there.
Now, when I hear of a family who has had a new baby with Down syndrome, I feel a little sad that they have to go through the anxiety, sorrow, and grief of those first few months. But I know they will come through the other side with a new understanding of joy, achievement, and a new, deeper feeling of happiness, a new understanding of what happiness looks like. They will come through the other side surrounded by the support of a new community that until now, was unknown to them. They will come through the other side. They will come through.
Each human being, however small or weak, has something to bring to humanity. As we start to really get to know others, as we begin to listen to each other's stories, things begin to change. We begin the movement from exclusion to inclusion, from fear to trust, from closedness to openness, from judgment and prejudice to forgiveness and understanding. It is a movement of the heart. – Jean Vanier, Founder of L'Arche Community
My name is Anna Guzmán and this is my story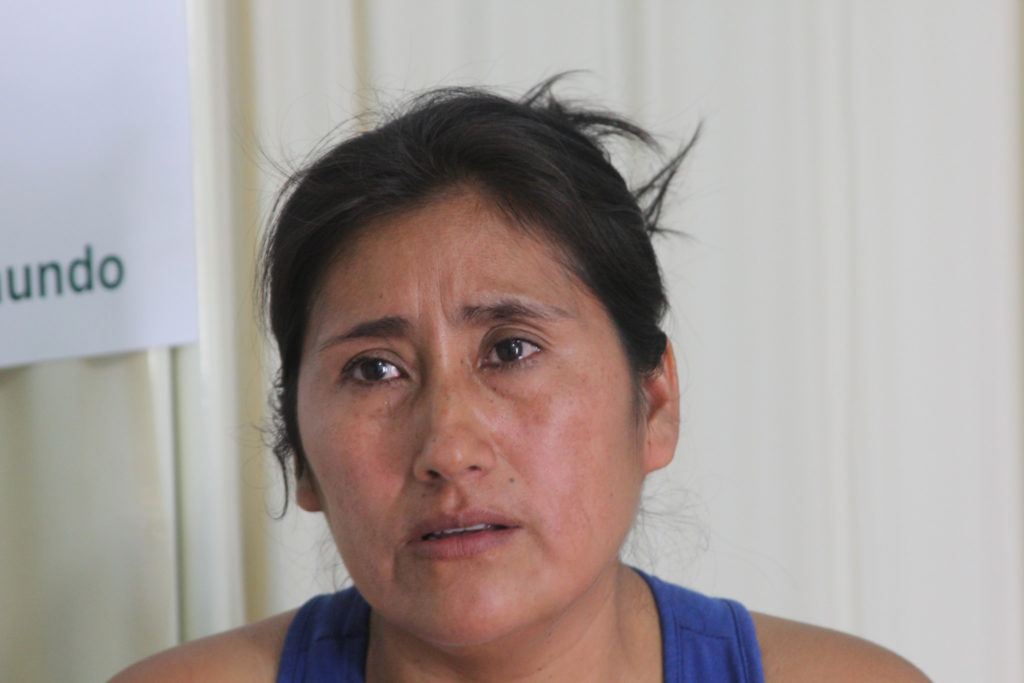 In the second month of pregnancy, I felt ill and had a fever. I went to the healthcare center and after some tests, the doctor explained that while I would be fine, there was a good chance that my son would be born with a deformity in his neck.
The doctor recommended further testing, but I did not want to go through more tests. When I discovered that my baby could be born with special needs, I was quiet. I did not say anything to the doctor, but I was heartbroken.
The truth is, no one expects to have a sick baby, a special baby. We all want a healthy baby. I talked to my husband and shared the doctor's news. My husband used words that hurt me. He believed that it was my fault that my baby was sick. I was devastated and afraid. I didn't know what to expect. I felt completely lost.
Then I spoke with a good friend and she said, "You know that men can say many things, but God has the last word. You cannot spend your pregnancy crying. Leave it in God's hands."
I remember that after crying for several days, I finally said to myself, "Enough!" I prayed to God saying, "Please help me to love my baby, God. Help me to take care of him, and to have patience." I kept thinking, "Give me hope that my baby will be able to live a normal life.  If my son is born special, it will be because God wants him that way."
On December 30th, 2012, Juan Elias, my third child, was born with Down syndrome. When the nurse put my baby on my chest she said, "Open your eyes, Mom. You have a special boy here." That's a moment I will never forget. I gave thanks to God because everything had gone well and, with tears in my eyes, I asked him to help me find the strength to love my child. "Don't let me love my children differently, God. Let me love them all the same," I pleaded.
After 18 months of therapy and care, five-year-old Juan Elias is starting to communicate with his family. Juan Elias' health seemed to become more complicated every day. He was diagnosed with heart problems and his health worsened. For almost two years, we never seemed to leave the hospital. I thought I was going crazy.  I didn't have any support from my husband and it was too much for me to handle alone.
It was there, at my lowest point, when everything suddenly made sense to me. Every time that Juan Elias was almost dying with respiratory shocks, I fell in love with him even more. Juan Elias wasn't dying, I was. Every time he got his breath back, I knew he was a gift. I asked God to heal him, to let Juan Elias live.
When I started loving my little "Juanito," everything began to improve.

Doctors told me that Juan Elias wouldn't have a normal life. They explained that Juanito might never be able to walk or talk. Thanks to our faith, hard work, and support from CMMB, I've learned that even the best prognosis can be wrong. It takes a lot of work and discipline, but we try our best every day.
My son is special because he makes me be a better person every day. He makes me want to try harder. Little did I know what a huge blessing this child would bring to me.
Juan Elias is wonderful and strong. Watching him fighting for his life everyday, helps me to go through any life challenges with great faith. He is more special than other children, that's for sure, but it is not because he has Down syndrome. My son is special because he makes me be a better person every day. He makes me want to try harder. Little did I know what a huge blessing this child would bring to me.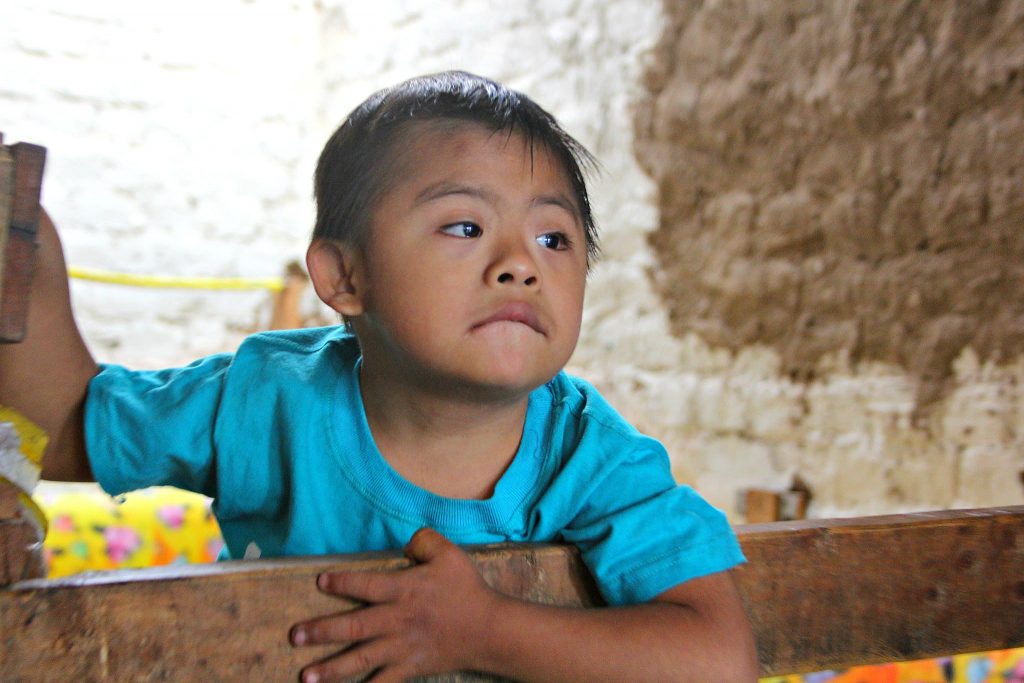 Sometimes we worry too much about how things are going to turn out. Then, we stop and realize that God has already taken care of it. God knows how much we can bear.
Coming Through
When we asked Méabh to share her thoughts about Anna and her son Juan Elias; about raising a children with Down syndrome in the context of poverty, this was her response:
"I have seen immense poverty and have a sense of just how challenging it is to raise a child with disabilities in that kind of environment. A major challenge can often be the limitations others put on our children, often due to a lack of understanding more than anything else. We as mothers – me and Anna and all those raising children with disabilities – we know our children better than anyone else, and we have a duty to keep believing in them and what they can achieve. If we give our children our love and we believe in them, they will blossom. No amount of money can buy that."
Love is love. Sometimes the hardest thing, the thing we believe we cannot manage, turns out to be the very thing we needed. Sometimes the most important lessons are taught by the most unlikely teachers. Today, and every day, let us all try to see beyond what we define as limitations. Not all gifts look the same.
 Their gift is the gift of the heart. – Jean Vanier, L'Arche