Interested in International Development? We've Got Tips from the Top
April 24, 2018 •
New York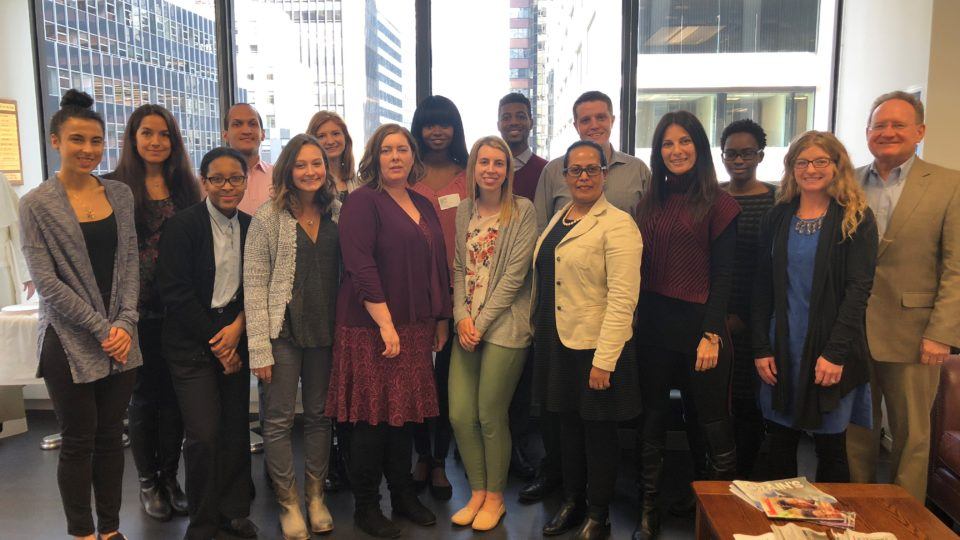 On Wednesday, April 11th, CMMB hosted the first of two professional development seminars in collaboration with our partner, The Sisters of Charity New Jersey.  Interns from both CMMB and Sisters of Charity, came together for a discussion-based seminar on how to pursue a career in service. The seminar was led by CMMB guest speakers, Dick Day and Meseret Ansebo.
---
A career in international development is not for the faint of heart, it requires a life-long dedication to serving others. As you can imagine, there are many things to take into consideration when pursuing a career in service.
So, let's get to it. Read on to get in on the best tips from the top!
First up were introductions! Admittedly, introductions are not always the most intriguing part of a seminar. However, what emerged from listening to each of the participants was this  – Sisters of Charity New Jersey and CMMB are unified in their faith rooted missions and dedication to helping others (And yes, these organizations are as great as they sound, take it from a current CMMB intern!).
Meet Our Guest Speakers
Before we move on, let me introduce to you the guest speakers.
Dick Day, is our Senior Vice President of Programs and Volunteers. Before coming to CMMB, he was the former Peace Corps director for Africa. After spending over 20 years working in international development, it is safe to say he knows a thing or two about launching a career in this field.
Meseret Ansebo, our second guest speaker, is CMMB's Vice President of Human Resources. She too, has built her career in the international development sector, previously working for organizations such as Save the Children and the International AIDS Vaccine Initiative. Meseret's distinguished background in human resources gave interns the perfect opportunity to pick her brain about the do's and don'ts when it comes to applications and interviews.
The Good Stuff
Okay, now to the good stuff! Below are some key takeaways from Dick Day's presentation. His valuable insight about how to make the most of an internship is not something to miss.
Jump into the deep end. Have no fear and learn as much as you can along the way.
Make yourself valuable and valued. Take a shot at anything and everything.
Snag some time from someone you want to learn from. Grab a coffee with them. Shadow them. It is a great way to learn.
Capitalize and communicate your accomplishments and takeaways. There is a lesson to be learned from every task completed. Be sure to voice these lessons to future employers.
In pursuing a career in international service there are several things to keep in mind, not only about the organization you are pursuing, but also about yourself and your values. There is nothing more difficult than working for an organization whose values aren't important to you, or don't align with your own. In other words, an interviewer knows what the organization wants from you. Make sure you know what you want from the organization.
Know how to talk about your experience and education. Being able to articulate is the key to being really heard.
Get your foot in the door. Take the opportunities that are presented to you. Opportunities, like volunteering with CMMB or the Peace Corps, are great ways to start a career in international development; to be sure this is what you really want.
Advice for a Career You Can Love
Dick completed his talk with some advice for the group; advice not only applicable for a positive internship experience, but to a career that can lead to a life well lived.
Pursue your passion.
Be a pragmatic idealist and remember why you chose to do what you set out to do. Bring positive change to the world.
Protect your integrity and value. Taking a job just to have a job fulfills one need. Taking a job you are passionate about leads to fulfillment.
Never doubt in darkness what God has shown you in the light. – the wise words of Dick Day's mother
Next Steps for Pursuing a Career in International Development
On to the part that many dread – applications and interviews! Meseret Ansebo, shared some key pointers about approaching potential employers.
Know Your Brand
First and foremost, know your own brand. First impressions are important. When you can successfully share your brand you take control of your reputation. Employers take note of how well you represent yourself, how well you can promote your work and experiences. Successfully executing your brand within the first fifteen minutes of an interview is the difference between moving forward and moving on.
Know Your Values
Isolate your own value – the value you can bring to an organization. Choose two to three words that best describe you; words that you would be proud to share with other people.
Present Yourself Well on Paper
Equally important is your resume. While resumes display your experiences, they should also include what you learned from each experience and the impact you made!
And DON'T FORGET ABOUT THE COVER LETTER. The cover letter should be used as a bridge between past experiences and the position that you are applying to. The cover letter is also an opportunity to relay to the hiring manager not just your technical skills, but your passion for the position.
CMMB will travel to The Sisters of Charity New Jersey for the second intern professional development seminar on April 12th. Be sure to check back in for a recap, we can't wait to see what this next session has in store!