Meet Marivette Cannon: Supervisor of the Year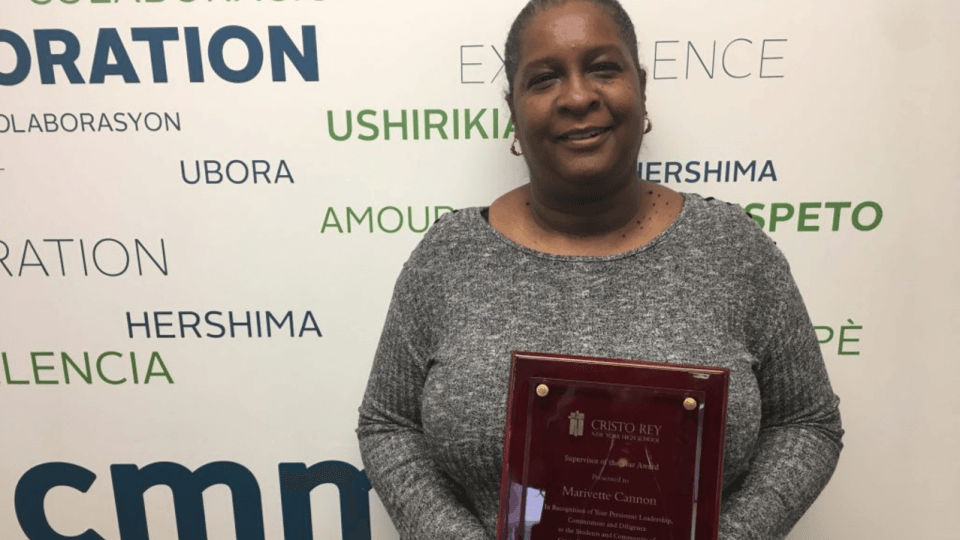 Preparing for tomorrow by caring for today:
In partnership with Cristo Rey New York High School, CMMB provides opportunities to introduce students to the world of work through their program called Corporate Work Study Program.
This is part of an innovative educational and financial program at the high school that allows students to receive a private, college preparatory education while getting invaluable work experience. The Cristo Rey website explains the model:
Once a week, the students work in entry-level positions at an assigned company. Five students work on a team to fill one full-time job; each student has an assigned day on which he or she works. For companies whose business cannot support a full team, partial teams are available. Academic classes are scheduled to ensure students never miss class.
Our work study program enables students to earn up to 50% of the cost of their education and the program is separately incorporated, effectively functioning as an employment agency alongside Cristo Rey New York High School. This experience is an essential part of our students' education and growth. It enables students to directly contribute to the cost of their education while exposing them to the world of work; learning firsthand the values of hard work, responsibility, and ambition. (source: Cristo Rey website).
Cristo Rey at CMMB
Under the care and support of CMMB's very own Marivette Cannon, the students are given a variety of  tasks and responsibilities, including processing phone calls and mail, managing data, and helping to plan and host office celebrations.
Marivette's official title at CMMB is team leader of facilities and office manager, but she is affectionately known by all as the "office mama." She has been with CMMB for nearly twenty years, but she doesn't look a day over 21! Her care extends beyond the students she supports to anyone who enters the office.
"When Marivette walks in, she lights up the whole office with happiness and gives everyone energy and joy. She is everything you need in a supervisor and in a friend"- Osmairy Medrano, Student Volunteer
Supervisor of the Year
At this year's Appreciation ceremony, Marivette was named Supervisor of the Year in recognition of her persistent leadership, commitment, and diligence. It is clear to all who observe her interacting with the students, that her interest and care go beyond simply preparing them for the workforce. She laughs with them, counsels them, offers them a shoulder when necessary, and ultimately she loves each of them deeply. This was clear during a sending off ceremony where she gave a tearful speech to senior Daniella Gonzalez (who by the way is off to Princeton on a scholarship this fall!).
This is what Daniella had to say about Marivette:
"Marivette has taught me how to work in an office space, but most importantly she has allowed me to grow as an individual. With her help, I built amazing relationships with my co-workers. She encouraged me to communicate and let my ideas be heard. "CMMB has taught me many things and made me grow immensely, but without Marivette's help, my experience there would have been completely different. I'm thankful for the amazing journey I've had working with her, and like myself, many others praise her for her everyday commitment to her Cristo Rey interns"
CMMB continues to work closely with the students of Cristo Rey New York High School, encouraging students to learn and grow not only professionally but also interpersonally. The CMMB-Cristo Rey High School partnership is something we at CMMB value very much. It is a relationship we look forward to continuing for many, many years.
Thank you to Cristo Rey and all its remarkable students.