Meeting a Real Life Hero
June 21, 2017 •
Bruce Wilkinson, CEO and President CMMB  •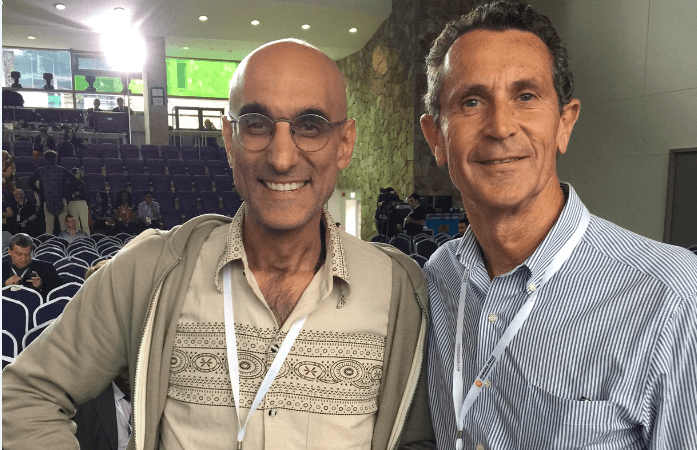 I had the great privilege to attend the Aurora Prize for Awakening Humanity ceremony in Yerevan, Armenia. It was my first visit to the country, and the opportunity to experience the rich history and culture of the Armenian people was a delight.
It was also a great opportunity to celebrate Armenian generosity as expressed by the Aurora Prize. Each year, $1.1 million dollars is provided in support of the unsung heroes in the humanitarian sector. The five finalists selected for the prize this year were all exceptional humanitarians operating in contexts of insecurity, oppression, and great need. They came from Syria, Eastern Democratic Republic of the Congo, Somalia, Afghanistan, and Sudan.
The tagline of the Aurora Prize is 'awakening humanity'. Another slogan featured was 'generosity in action'. Combining the traits of these two phrases sums up the character of this year's selected laureate, Dr. Tom Catena.
Dr. Tom, as he is affectionately known by the people of the Nuba Mountains, is an amazing human being.
While in Yerevan, I had the privilege of walking and talking with Tom. His humility and generosity did certainly awaken my humanity. And for me, Dr. Tom defines generosity. He portrays his colleagues and patients in Sudan with dignity. Yet at the same time, he calls out the injustices perpetrated by their oppressors in this war-torn and forgotten region. With a spirit of deep love for the Nuban people, Dr. Tom lives out his calling as a medical missionary.
We all have an obligation to look after our brothers and sisters. It is possible that every single person can make a contribution, and to recognize that shared humanity can lead to a brighter future. With my faith as my guide, I am honored to continue to serve the world and make it a better place. – Dr. Tom
His faith is integral to all he is and does. He draws his inspiration and strength from the people he serves and, as Mother Theresa did, he sees Jesus in each of them.
CMMB's Longest Serving Volunteer
Dr. Tom is
CMMB's longest serving volunteer
. He first came to
CMMB
 as a medical resident in the late 1990s where he served on short-term, volunteer mission trips, spending one month in Guyana and then another month in Honduras. After completing his residency in 1999, Dr. Tom decided to continue volunteering with CMMB. This time, he was placed at the
Mutomo Mission Hospital
in
Kenya
where he spent the next two years.
I remember working with Dr. Tom when he started as a volunteer. He was such a role model for people who are here to make a difference. Tom didn't have any schedule as such. He worked all day, every day. He even worked all night if a patient needed him. I was a volunteer at that time as well, so I was very impressed by Dr. Tom and CMMB. I will always remember him as a very hard worker. He is a man who is really dedicated to helping people. –  Anita McTernan, Coordinator, Comprehensive Care Center, Mutomo Mission Hospital
In 2007, Dr. Tom's dedication and commitment to providing medical care to the most marginalized brought him to Sudan where, together with the Diocese of El Obeid, he helped establish the Mother of Mercy Hospital in the Nuba Mountains.
Today, 10 years later, he remains the only permanent, full-time doctor working at the Mother of Mercy hospital. His commitment is so deep that he never takes time off and rarely leaves. In fact, the only reason he agreed to be present at this year's ceremony (he was a finalist for this award in 2016, but could not, and would not leave his hospital and community) was because the Aurora Prize organizers sent three replacement Armenian doctors to take his place while he was away.
Moments
There are many beautiful moments from my time with Dr. Tom in Armenia, but perhaps the memory that I will always remember, occurred on our last evening in Yerevan.  After the prize had been awarded and the formal celebration had ended, Dr. Tom and a few of us were walking back to the hotel. We were strolling down one of the main roads in central Yerevan, past restaurants and cafes and people returning from their own evening's events. We were deep in our conversations when we suddenly became aware of some excitement around us.
People were running up towards us and calling out:  "Hey Dr. Tom, can I have a selfie!?"
For the duration of our walk to the hotel, we continued to be approached, meeting more and more inspired and genuinely excited Armenians who wanted their chance to congratulate Dr. Tom and to capture the moment in a photograph.
The energy and joy created by Dr. Tom's presence were literally transformative. The most magical part was the way in which Tom responded to the people he met. He gave each and every one his undivided attention, showing genuine pleasure at the unexpected encounters.
I've been given benefits from the day I was born. A loving family. A great education. So I see it as an obligation, as a Christian and as a human being, to help. – Tom Catena
Standing back and watching this scene unfold, I was reminded of one of Dr. Tom's talks where he spoke about each of us having the spark of God within and using that spark to awaken others to use their gifts of service. Dr. Tom is an authentic and inspirational humanitarian who calls each of us to respond to that spark placed within.
---
Bruce Wilkinson, CMMB's CEO and president, traveled to Armenia to attend the Aurora Prize ceremony with Dr. Tom Catena.