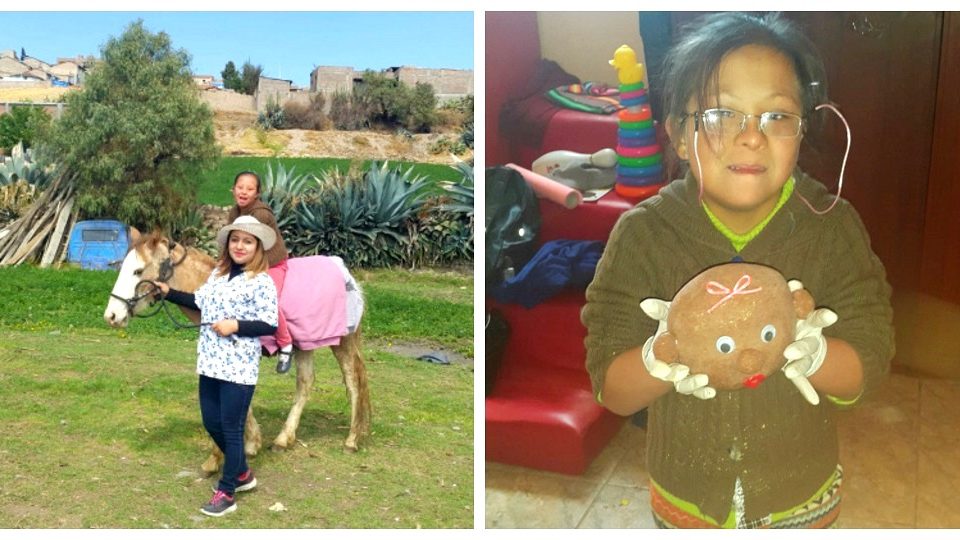 Rehabilitation with Hope is a community-based service program in Peru, which assists children with physical and cognitive disabilities by providing much needed access to quality therapy, and is based on the implementation of the World Health Organization's community-based rehabilitation model. In this post, volunteer Jessica Saenz shares her first-hand experience with the program.
---
Ana Paula is 12 years old and she has Down Syndrome. Over the past two and a half years, she has been a part of the Rehabilitation with Hope program. When she first started with her therapies, she could only say "Hola" and hug you. Her mom explained that while Ana Paula was a sociable girl and wanted to play and interact with others, her inability to articulate meant that she could not make herself understood. This had an impact on her confidence and often led to frustration.
With the help of regular speech therapy, Ana Paula's communication skills have improved significantly. She is now using more expressive language and is often communicating in complete sentences. This has changed the quality of her relationships with others and increased her sense of belonging.
"A deep sense of love and belonging is an irreducible need of all people. We are biologically, cognitively, physically, and spiritually wired to love, to be loved, and to belong. When those needs are not met, we don't function as we were meant to. We break. We fall apart. We numb. We ache…" – Brene Brown
Lucia, CMMB psychologist and Ana Paula working hard to develop manual skills
Another major component of this program is the provision of physical therapy. Children with Down syndrome tend to have a slouching posture referred to as kyphosis. With a combination of physical therapy offered at the center, and complementary therapies, including equinotherapy (horse-assisted therapy) and hydrotherapy, Ana Paula is now holding herself with improved posture. I like to think that this also has a lot to do with her improved sense of self. We all appear taller and brighter when we are happy inside.
If you have good thoughts it will shine out of your face like sunbeams and you will always look lovely." ― Roald Dahl
Education policies in Peru advocated for the inclusion of children with disabilities in schools. As a result, Ana Paula is able to receive an education through the public education system. Unfortunately, through no fault of their own, the majority of teachers in Peru, not unlike many parts of the world, are not trained to provide education to children with different abilities and as a result their learning experiences in school are limited.
In response to this, Lucia, a psychologist with the Rehabilitation with Hope program, has been doing what she can to improve the situation for children like Ana Paula. She is motivated to help develop better quality education for the children she works with through CMMB, because she knows that everyone benefits when things improve for the most vulnerable.
She shares and models strategies, methods and meaningful learning experiences that teachers can employ to help children develop understanding and skills that will be of value to them as they grow up. The first priority is to help increase their level of independence and sense of belonging. Ultimately, with the appropriate approach, these children will exceed everyone's expectations, including their own.