A Call to Mission: The First Volunteer Commitment Ceremony Since the Start of the COVID-19 Pandemic
March 16, 2022 •
Kenya, Peru, South Sudan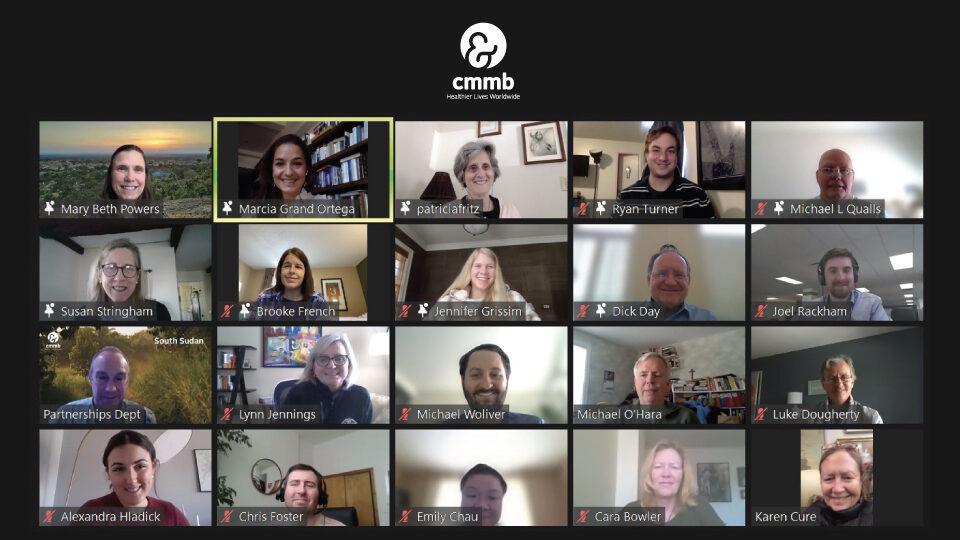 A Call to Mission: The First Volunteer Commitment Ceremony Since the Start of the COVID-19 Pandemic
CMMB selected "A Call to Mission" as the theme for 2022, our 110th anniversary year. We have not wavered in our response, nor in our invitation to others to join us in answering the call, in whatever way they are able to help. As a part of this call to mission, CMMB is fielding a new cohort of volunteers. On February 11th, we hosted a Volunteer Commitment Ceremony—the first since the start of the COVID-19 pandemic.
Healthcare workers are needed now more than ever, as healthcare systems have been strained after two years of responding to COVID-19 while continuing to provide essential care. The aim of fielding volunteers is to build local capacity and strengthen healthcare systems. Each volunteer has been hand-selected to help meet these goals.
Meet the Volunteers
Brooke French (Pediatric Nurse Practitioner, South Sudan)
Patricia Fritz (Maternal Child Health Nurse, South Sudan)
Jennifer Grissim (Community Health Nurse, Peru)
Susan Stringham (Nurse Educator, Kenya)
Ryan Turner (Pediatric Nurse, Kenya)
Michael Qualls (Public Health Advisor, Kenya)
Dreams Deferred — Returning to the Field
Dreams deferred refers to the pandemic's pause on international travel and international volunteer programs—a pause on volunteers sharing their skills with underserved communities. This period of delay only served to strengthen the volunteers' desire and commitment to serve.
At the ceremony, volunteers were given the opportunity to share why they chose to volunteer. "I've always said that finding a way to give back and help those less fortunate has been part of my plan. Finally, the stars aligned," said Michael Qualls, volunteer Public Health Advisor serving in Kenya. A common theme among the group was the desire to promote social justice and to help provide healthcare to people everywhere in whatever capacity they can. The volunteers advocated for healthcare as a human right—aligning with CMMB's mission for healthier lives worldwide.
"I've always said that finding a way to give back and help those less fortunate has been part of my plan."
Volunteers also were given the space to share their intentions and hopes for the trip. "The first intention is to remember to trust God's guidance every day in my work and that He will be with me. The second is to be a light to encourage and to lift others, especially the students that I'll be with. The third is to keep the focus on building capacity and, the fourth is to take care of my health," said Susan Stringham, volunteer Nurse Educator serving in Kenya.
Most of the volunteers in this cohort have had full careers prior to this experience and were excited to share the knowledge and experience with future colleagues in the field. However, for one volunteer, Jennifer Grissim, this service trip will be the start of her nursing career. "My intention is to learn as much as I can. [I want to] take all the things that I've learned from my experience here and hope that they can define how I want to go forward with my nursing career," said Jennifer Grissim, volunteer Community Health Nurse serving in Peru. Everyone also wished for the safety of all involved, and with a Bible passage (Psalms 91:11) shared to keep in mind during challenging times, "For he will command his angels concerning you to guard you in all your ways."
"My intention is to learn as much as I can."
Mary Beth Powers, CMMB president and CEO, shared her gratitude to the volunteers for prioritizing the idea of service, stating that the volunteers "are the embodiment of CMMB." She also acknowledged the personal cost of service. "I want to recognize not just the hardship that you face but that other people around you face. You feel like it is your calling, but there are other people who are with you on this journey and will be praying for you, supporting you, thinking of you, and learning from your experience," said Mary Beth Powers. Marcia Grand Ortega, Manager of CMMB's Volunteer Program and the facilitator of the ceremony, added a wish for joy and grace for the cohort and a hope that they remain committed in good times and in bad.
Dick Day, CMMB Senior Vice President of Programs and Volunteers, also joined in to provide words of encouragement. He highlighted the passion and compassion that the volunteers showed throughout the orientation process and urged them to continue to hold onto this sense of calling during challenging times. Dick shared a quote from V. Raymond Edman, "Never doubt in the darkness what God has shown you in the light."
"Never doubt in the darkness what God has shown you in the light."
His message focused on how the volunteers fit into CMMB's mission to strengthen health systems and focus on building capacity to create sustainable and long-lasting impacts.
The ceremony closed with final words of encouragement and excitement for the volunteers and a Prayer for Caregivers in the Face of Disparities. These compassionate individuals are our aspiration for a better world. Follow their journeys on the CMMB blog to see updates on their work.
To new the volunteers, welcome to the CMMB family and best wishes as you embark on your journeys!