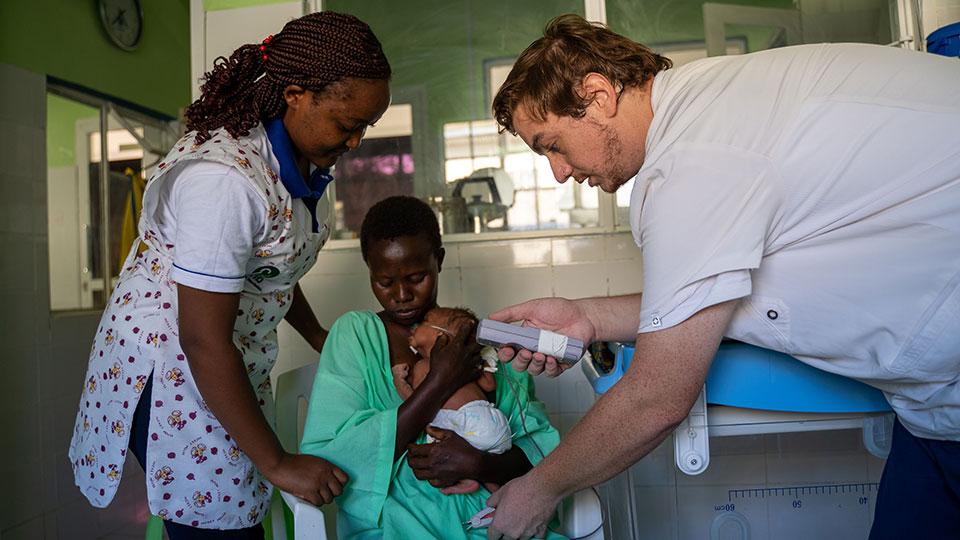 Our Volunteers
Volunteering and giving back are at the heart of CMMB's mission. Last year, you became part of it. You gave your time, inspiring local health workers. You sharpened the skill sets of local health workers. And you learned much in return. Your selfless service inspires the next generation of local health workers to learn, grow, and lead.
---
A Rising Star in Global Nursing!
On May 12, our very own volunteer nurse Ryan Turner was honored as this year's Rising Star in Global Nursing by Nurses With Global Impact and the Ceca Foundation! Recently returned from six months of service with CMMB in Kenya, he is joined by several other incredible nurses recognized on International Nurses Day for their selfless service, dedication, and life-changing impact around the world. Journey back to Kenya with Ryan and read about his experience below.
---
Journey with Ryan
Walk through the small but bustling maternity ward at the Mutomo Mission Hospital in Kenya. You'll find Ryan, a CMMB international volunteer nurse, making rounds with nurse Juliana. She is helping Ryan navigate a new local language and culture since he arrived in Mutomo.
Ryan is helping Juliana and other staff in the maternity ward gain new skills for newborns facing life-threatening complications. The rest of Ryan's time is spent learning from others— like his colleague Juliana.
"I not only think about what my prior skills and experiences can bring to the table," said Ryan, "but also of what I can learn and benefit from—what the other nurses and hospital staff can teach me."
Volunteers help health facilities around the world improve the quality of patient care. Ryan volunteered in person, but other CMMB volunteers, like Dr. Joseph, support health workers both in person and virtually.
This year, Dr. Joseph, an OB-GYN workingwith CMMB's South Sudan team, launched a powerful remote learning clinical program with support from ICAP at Columbia University.
In collaboration with our colleagues in South Sudan and New York, Dr. Joseph shares real-life, clinical case studies in maternal and newborn health, and local health workers learn from his expertise. Dr. Joseph's mix of in person and virtual training allows the learning to continue— even across borders. To date the virtual training has helped train over 100 local health workers.
Our Journey: 2022 Annual Report
Ryan's story is shared alongside the voices of other inspiring health workers supported by CMMB. Like Ryan, these health workers are on a journey to build a world where health and human dignity are available to all—and their journey is possible all thanks to you. Download our 2022 Annual Report to see how health workers put your support in meaningful action.