"CMMB is Transforming My Life" – One Zambian Mother's Story
January 16, 2018 •
Erica Tafadzwa •
Zambia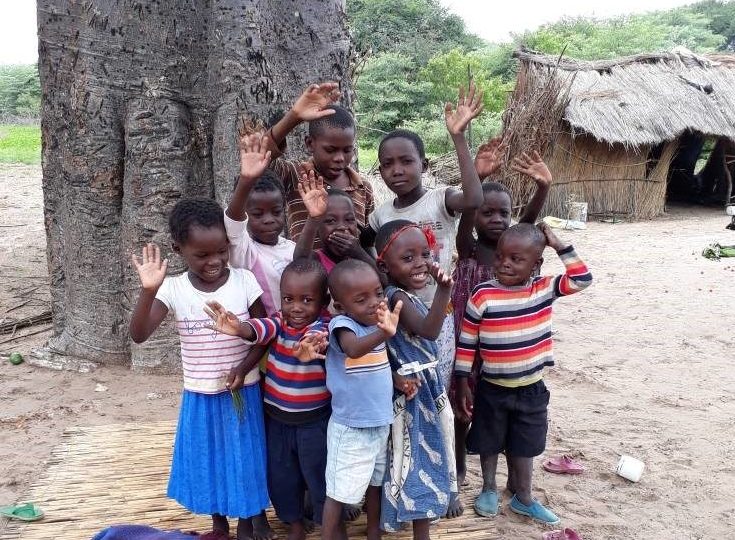 Erica Tafadzwa is a public health professional serving as a volunteer in Zambia. Erica spends a lot of time collaborating with our community health workers in Mwandi. Their shared goal: to make healthcare accessible to the most vulnerable. She recently sat down with one of CMMB's beneficiaries – Mwaka – a mom from Mwandi. 
---
I recently had the opportunity and pleasure of sitting down and talking with a mother living in one of the communities in Mwandi. Her name is Mwaka. She is a beneficiary receiving support through CMMB Zambia's nutrition program. Here I share our conversation.
"My children's lives were transformed by a CMMB nutrition volunteer." – Mwaka
Tell us about yourself
My name is Mwaka and l am 18 years old. I live in Simungoma where l grew up an orphan under the care of my grandmother. My upbringing was not the easiest; going to school was a struggle as l had frequent episodes of illnesses – I was in and out of the hospital. I had to pay my hospital fees by doing hard labor.
When l was in grade nine, l became pregnant with my first daughter Namwaka. I was only 16 years old. After that l dropped out of school. This of course means that there aren't many opportunities for me. I take whatever small jobs I can find, like cleaning homes or working in the field, anything that can help me feed my family. It's a challenge every day. There are ten people in my family, including me and my two daughters.
Tell us about your relationship with CMMB
I remember when I was pregnant with my second daughter. Delivering at the Mwandi Mission hospital was the last thing on my mind. It just wasn't a possibility. I didn't have the money to travel to the hospital and walking there was unthinkable! It was nearly 20 km from where l live! So I didn't have any real choice but to deliver at home.
I had already met Mrs. Zuze, a CMMB trained nutrition volunteer – who also happens to be my neighbor! She was regularly visiting me at home, checking in to see how I was doing.  When I was six months pregnant, some members of the CMMB team came to our community. Erica, one of the CMMB volunteers, and Mr Brighton Gondwe, the District Nutritionist at Mwandi Mission Hospital came to speak with us and offer services. They came with Mrs Zuze to visit me and my family, and to offer nutritional counselling services.
It was during this visit, that Mrs Zuze told me she had found transportation for me to go to Mwandi Mission Hospital to deliver. I would travel there and stay at the mother's shelter to await my labor. l remember saying this out loud: "These people are telling me to go and deliver at the hospital because l am an orphan." I felt as though l was being forced to do something that I did not want to do. But for some reason, l joined the CMMB team as they traveled back to Mwandi. They dropped me off at the mothers' shelter at Mwandi Mission Hospital. I have to admit I was afraid at first. But Mr. Gondwe took such care of me. He came to visit me often, offering me support and counselling.
I delivered a healthy baby girl at nine months. CMMB's support didn't end there. I remember that after they returned me to my home, Mrs. Zuze and Mr. Gondwe continued visiting me. They followed up with me to ensure that l was fine and that my baby and first daughter were growing well. They treated me like family.
What have you learned from the community volunteers?
Let me tell you about Mrs. Zuze and the impact she has had on my life.
I have a child called Namwaka and I used to give her food from a feeding bottle on a daily basis. The food was a mixture of mealie meal and water, and she would drink it throughout the day every day.  She would refuse to eat any other food I gave her. Her belly was growing big, but her body was tiny. I also remember she had lots of diarrhea. But so many children do.
I didn't know that there was something wrong. I didn't understand what was happening to her.  Frequent diarrhea episodes affected her.
Mrs. Zuze noticed that something was wrong with my child. She came over a lot to talk to me and my family about my daughter. She taught us all about the nutritious foods that were locally available that we could give to Namwaka. Luckily, everyone in my family was open to accept the information she was sharing. We knew she was there to help.
We stopped giving Namwaka the bottle and changed her diet. Overtime, I am noticing that Namwaka's belly is slowly reducing.
The 'positive deviance' approach is used to identify behaviors practiced by the mothers or caretakers of well-nourished children from poor families and to transfer such positive practices to others in the community with malnourished children.
Mrs. Zuze runs Positive Deviance Hearth groups in our communities where mothers with malnourished children and those with healthy babies meet, learn, and support one another. The mothers of healthy children share healthy recipes that will benefit our children.
We also learn about developing positive hygiene practices, like washing hands before handling a baby's food. I have learned about the importance of breastfeeding my baby and this is what l am doing with my newborn baby.  I wish l had gained the knowledge l have now at the time l gave birth to my first born daughter.
What has changed about you as a mother today?
I give so much attention to my children today. I breastfeed them and make sure l also eat adequately so that l am able to produce food for my family.  I work so hard helping my grandmother with different jobs in the community to ensure that my family has food on the table.  I try as much as possible to practice good hygiene such as frequent hand-washing. My child no longer suffers from diarrhea like she used to. I now cook often for the children as l have come to realize that good health requires effort.
What is your advice to other mothers in your community?
I was unable to do anything when l was pregnant; l couldn't even cook most of the time. When l stayed at Mwandi Mission Hospital's mothers' shelter l was given food and l was able to deliver a healthy baby.  I encourage mothers to deliver at an institution so they can attend to any complications that may occur during delivery. I am also encouraging mothers to make use of the trained volunteers in their communities because you can really learn a lot from them. What they teach can change you and your family's health and lives.
Tell us about your future and your family's future
My nephews and nieces go to school but sometimes fees are a challenge and feeding is too. Other times they have to miss school in order to do household chores or to fetch firewood which we use to cook.
How do you see your future?
I am a single mother raising two children.  I wish l had pursued my education; nonetheless there were other barriers that made me unable to do so.  I wish to start some businesses that can enable me to provide for my family. For this l need capital and to be equipped with practical skills and knowledge on how to do something in life. I am hoping one day my life will change for the better as l am still young.
My hope is that there will be enough funding and basic commodities so that my children can get an education and have a bright future. These are the ones who may even care for us tomorrow!