Do They Know It's Christmastime At All in South Sudan?
January 4, 2019 •
Angela Barratt •
South Sudan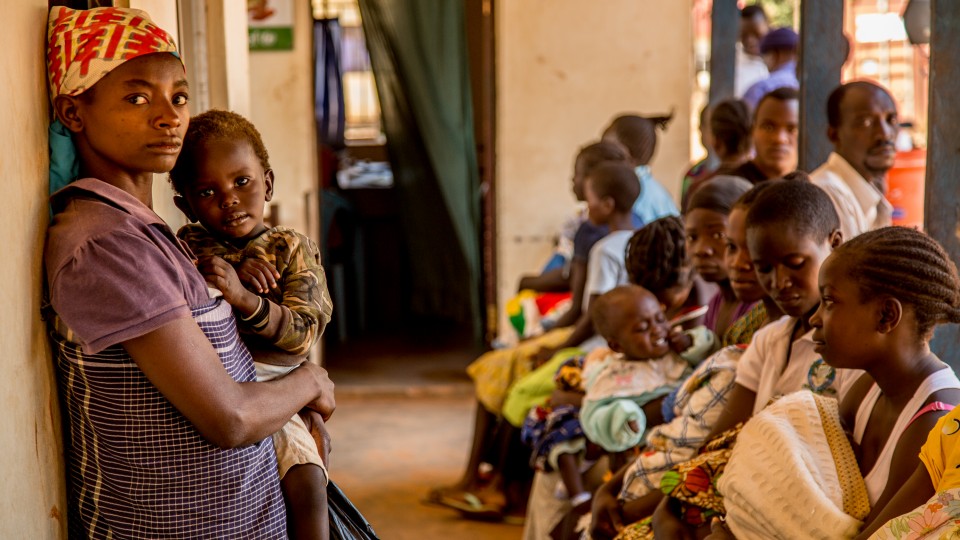 Angela Barratt is a CMMB volunteer serving as a teacher in Yambio, South Sudan. She is volunteering alongside Dan Maxwell, a doctor serving at the Yambio State Hospital. In the piece below, Angela reflects on the way Christmas came to Yambio, South Sudan this year. 
---
The well-intentioned but seriously misguided Band Aid song "Do They Know It's Christmas?" was written in response to the mid-80s famine in Ethiopia. You can find plenty of think pieces analyzing the song and its iterations, so I am going to stick with answering the question posed by the title. The hit song, while written specifically about Ethiopia, extrapolated the dire circumstances of the famine (which, according to Human Rights Watch, was compounded by political instability and governmental policies) to all of Africa. If any country fits into this vastly inadequate conception of Africa as a place of famine, war, and fragility, it is South Sudan.
According to the CIA World Factbook, South Sudan "is one of the world's poorest countries and ranks among the lowest in many socioeconomic categories"
Problems are exacerbated by ongoing tensions with Sudan over oil revenues and land borders, fighting between government forces and rebel groups, and inter-communal violence. Most of the population lives off of farming, while smaller numbers rely on animal husbandry; more than 80% of the populace lives in rural areas. The maternal mortality rate is among the world's highest for a variety of reasons, including a shortage of health care workers, facilities, and supplies; poor roads and a lack of transport; and cultural beliefs that prevent women from seeking obstetric care. Most women marry and start having children early, giving birth at home with the assistance of traditional birth attendants, who are unable to handle complications. Educational attainment is extremely poor due to the lack of schools, qualified teachers, and materials. Less than a third of the population is literate (the rate is even lower among women), and half live below the poverty line. Teachers and students are also struggling with the switch from Arabic to English as the language of instruction. Many adults missed out on schooling because of warfare and displacement.
– CIA World Factbook South Sudan
Religion statistics for South Sudan are sparse and disputed, but I know that Christianity, Islam, and Jehovah's Witness coexist, and sometimes overlap in Yambio with traditional Zande religious and witchcraft practices. I can also say from experience that there is a huge Catholic community and a bustling Lutheran church  (across the street from where we live). There won't be snow in Africa, but Christmastime in Yambio came just the same.
Growing up in Houston provided me with zero enculturated expectations for a cold Christmas, let alone a white one. But, even in Houston you know Christmas is coming – giant light displays that seem to go up earlier every year, holiday music blaring in nearly every public space, and a riot of seasonal food and drink.
The signs of Christmas' approach in Yambio are a little more subtle to my untrained eyes and ears – a snatch of Pentatonix' Drummer Boy played on someone's phone; Sila, one of the CMMB cleaners, singing Mary's Boy Child instead of her usual hymns; and our young neighbor picking broken bits of styrofoam off the road and telling me that it is for Christmas.
The families of most of the CMMB office staff, even of the South Sudanese nationals, live in other countries like Kenya and Uganda. For them, Christmas means being with family, and it is spoken of with great anticipation starting in early November. For Americans, too, the holidays are generally for spending time with loved ones. Dan pointed out that here in Yambio, many people are constantly in close contact with their relatives, and so Christmas is a more public celebration. I went to the market on Christmas Eve and it was packed with people – people shopping, yes, but also socializing, enjoying comedic performances, and creating impromptu parades behind a truck with an amp in the bed playing music.
I asked one of our drivers, David, what people would be buying. He said meat is highly prized for a special Christmas meal, and it is very common for people to buy new clothes for Christmas. We saw evidence of this on Christmas day – everyone was very dressed up, and children sporting colorful sunglasses and newly made, often matching, clothing walked proudly down the streets. As Benson, the program director for the CMMB Yambio office, says, the people here enjoy life – if it is safe to do so, they celebrate. We heard the cacophony of joy as people walked and drove the road down to the Green Beach (a beautiful spot next to a man-made fishing lake where there are a few bars and a special events venue for musicians and parties), and the music pumping from the speakers there until late on Christmas night.
While the party at the Green Beach was not compatible with our curfew, we were thrilled to take part in another one of these public expressions of joy. On Sundays, Dan and I attend English Mass, the first mass of the day at 7:30am. For Christmas, we decided to go to the third Mass, in Zande. Zande Mass typically starts around 11, after the Juba Arabic Mass. We arrived around 10:30, which was a good idea because huge numbers of people were already gathering around the church, many with their own chairs, stools, or mats, as the Arabic Mass came to a close.
The Zande mass began at 10:50, and we estimate that there were more than 2,000 people in attendance. The pews were packed, there were chairs in the aisles, and rows of people outside the church pavilion on all sides. We were too far from the front to see the traditional dancers, but the celebratory dance extended to the far reaches of the Mass. Everyone was singing and swaying and I was reminded of the great multitude of angels that appeared to the shepherds, proclaiming good news of great joy. During the announcements, I started exchanging silly faces with the three adorable girls wearing matching dresses who were sitting a few rows in front of us. They looked to be about four, five and six years old. As we were leaving, one of the girls came and shyly gave me a handful of candy, which was such a sweet act of generosity that I was taken aback.
Our neighbors, too, shared with us a special Christmas treat. They run a small tea shop and restaurant just across from the CMMB compound. We love seeing them everyday, and especially enjoy the company of the three small girls who are often there helping. We give the girls our empty water bottles ("containers," as they are called, are very valuable for repurposing) and the ladies who run the shop let us know when they have groundnut butter for sale.
They help us improve our Zande, and Dan diagnosed one of the girls with impetigo and brought her medicine. A few days before Christmas, Dan came into the compound with both hands full of small, slightly sweet breads. The two small girls we see everyday, Ipai (3) and Sara (5) had stopped him on his walk over. Ipai was holding a tray of the cookies, and Sara authoritatively gestured for Dan to partake. He took one and said "tom bwai" (thank you). Sara, frustrated, put the remainder into his hands one by one. When all of the cookies were gone, Sara gave a satisfied nod, and Ipai triumphantly lifted the tray over her head, smiled, and walked away. Dan looked over at their mother to say thank you, and she called over, "for Christmas!"
And so, armed with the joy and generosity of a people who have every right to exhibit neither, I answer the 80's pop scene with another cultural touchstone:
Christmas Day is in our grasp
So long as we have hands to clasp.
Christmas Day will always be
Just as long as we have we.
– The Grinch Who Stole Christmas
Donate to Angela!