Reflecting on Education in South Sudan by International Volunteer Angela Barratt
January 9, 2019 •
Angela Barratt •
South Sudan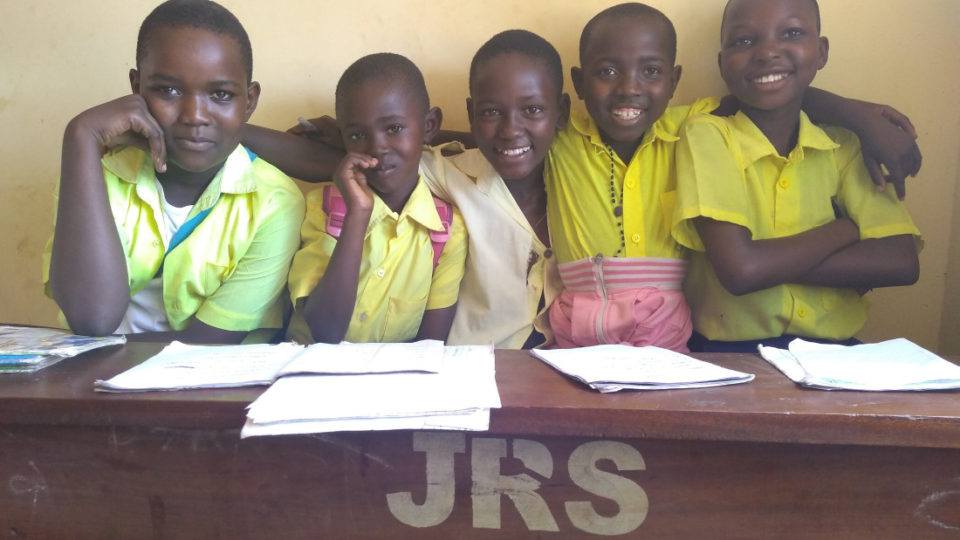 Angela Barratt is one of our dedicated international volunteers serving in Yambio, South Sudan. For the next seven months, Angela will be serving as a primary school teacher at St. Mary's Catholic School. In her first blog post, Angela reflects on the reality of education in South Sudan and what she hopes to do achieve together with the teachers at this local primary school.

---
There is a gaggle of girls from one of my primary three classes that like to congregate in the office I share with Sister Helen – a nun from Papau New Guinea who also teaches at St. Mary's.
Out of the group, Josephine is the most consistent, the most willing to try her English on me, and the only one who comes alone to chat sometimes. Josephine is 11 years old (primary three currently ranges from nine to 15) . On the weekends, she helps cook and wash clothes at home. I asked what she likes to do, and she told me she likes to read. But, the only book she has is the one she writes in for school.
One day,  she confided in me that she would be going away for boarding school next year and began to cry. I was frustrated by our language barrier, but I hope she felt like she had a caring and supportive adult to confide in. I have heard that the boarding school in question is good, and I am encouraged by the fact that while I will no longer get to see her every day, she is staying in school.
According to a study by The ONE Campaign, a global advocacy group, South Sudan is one of "the toughest places in the world for a girl to get an education." Girls' Education South Sudan, an program sponsored by UK Aid, reports that,"in 2016, 128,000 girls started primary school, but only 2,700 completed secondary school."
Teacher qualifications and pay are sporadic at best, and those who can afford education, send their children to schools in bordering countries, like Kenya or Uganda. Many of the teachers at St. Mary's seem to be there as a labor of love, and I greatly respect them for that reason, among many others.
I suppose it reveals the depths of my privilege to say that I have never really considered the advantage I have in the world by virtue of having an education. By U.S. standards, my chosen profession is not a particularly a well-paid one, but here my education makes me rich.
Many educators, even in the U.S., work with fewer resources than they would like. While this is often frustrating, it helps to work those creative muscles and can result in some ingenious problem-solving. When I taught at a school in rural Thailand, I saved and cleaned plastic yogurt cups from my breakfasts and used them as musical instruments to teach prepositions or as the base for craft projects. I have found, however, that my school in Thailand was fabulously wealthy compared to St. Mary's Primary School in South Sudan. My students have hardly any supplies and no books. Even I was given only the student workbooks for my subjects – English and Science.
Student attendance is varied due to a myriad of factors, but for the most part the ones who show up are desperate for any information they can get their hands on. "Teacher, you write!," is a phrase I have heard called out many times as I leave one class to head to another. The blackboard is the main method of passing information on to the students. Since story time is my forte back home, I have been trying to vary the monotony by telling stories with characters drawn and colored on notebook paper. Believe it or not, it was a novelty for both students and teachers to see such things.
In a place where every system feels broken, it can be hard to believe that the little you can offer will make a difference. During my time at St. Mary's, I hope to plant new and nurture existing seeds of imagination in both students and teachers, and to encourage students like Josephine to continue in their education.
---
Angela Barrett, is one of the over 700 volunteers we placed in 17 countries in 2018. As you can see, we are looking for more than clinical volunteers. There are lots of needs in the countries where we work. We need you? Can you help? Click to learn more.

Donate to this Volunteer