Meet Elizabeth Tomaselli: Former NYC Intern
December 11, 2018 •
New York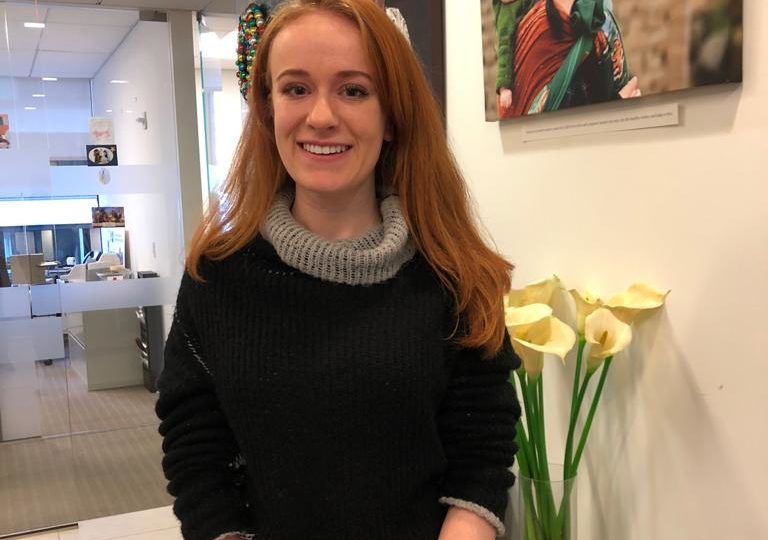 Every Wednesday and Friday of her fall semester, Elizabeth Tomaselli would commute all the way from Rutgers University to intern with our Volunteer Program team! While her time at CMMB is now officially done, she will always be part of our family. Here's your chance to learn some fun facts about her – including the three things she is most grateful for!
---
Education: I am a junior at Rutgers University, where I am majoring in Health Administration and minoring in Philosophy.
CMMB volunteer post: I am interning with the Volunteer Program team, working with Marcia, Brian, and Becker.
Why CMMB? CMMB is both in line with the kind of work I aspire to do, and in line with the values I work to uphold. As a Health Administration major, I am eager to learn more about coordinating medical missions, especially those that prioritize a vulnerable population in a way that respects and upholds the dignity of all those involved.
What are you most proud of? I am most proud of the kids I have worked with as both a tutor and science instructor. It is an honor to be able to guide these kids and watch as they grow into strong, passionate individuals with the power to affect real change.
Imagine you are stuck in an elevator. Who would you most like to be stuck with? And why? Bono! I'd like to be able to thank him for both his incredible music and humanitarian work (and to tell him about the biography report I wrote about him in fourth grade!).
What would be your theme song? Something original and epic, composed by John Williams.
What is your hope for your experience volunteering with CMMB? I hope to gain experience in my field while being able to contribute to such a meaningful mission.
Favorite quote: "Nothing is a waste of time if you use the experience wisely." – Auguste Rodin
What book should everyone read? Why? Dreamland: The True Tale of America's Opiate Epidemic by Sam Quinones. It's an engaging, fast-paced read that presents a really dynamic perspective on a public health crisis. The entire book forces the reader to consider different perspectives in a way that humanizes all the parties involved. It's a rare book that simultaneously expands your world view while cultivating your sense of empathy.
Who would you like to play you in the movie of your life? Nicole Kidman
Favorite speech or Tedtalk: Neil Gaimon's "Make Good Art" Speech
What are the three things you are most grateful for?
My family
My education
Other people, whether I know them or not, who strive to make positive change in the world.
Who is your biggest inspiration? Why? My little sister. Watching her grow up inspires me to work my hardest to shape a world that she can be proud to be a part of.
Sign up to receive our volunteer newsletter!