A Holy Visit to Our Programs in Peru
By Ariel Frisancho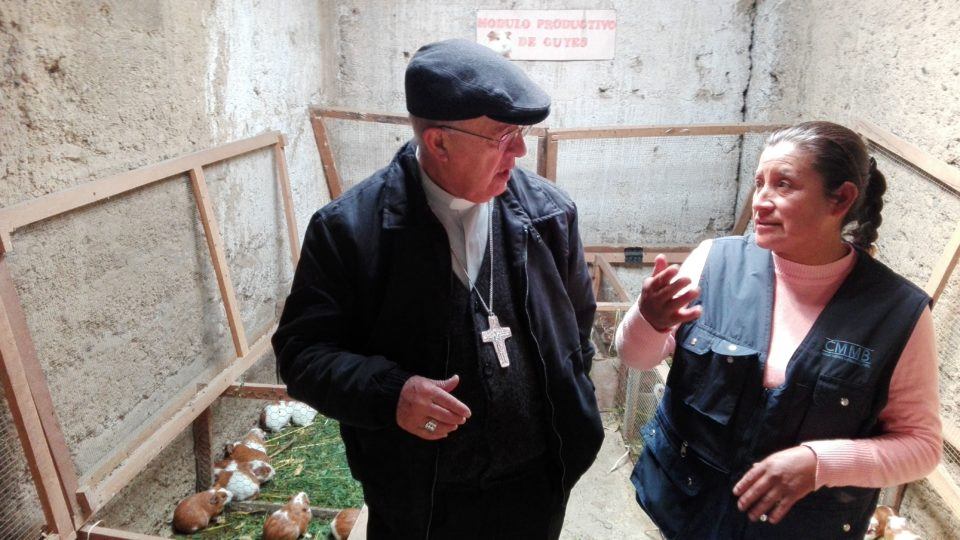 On June 14th, 2018, we – the staff and beneficiaries of CMMB Peru – received a very special visit. We were honored to welcome the now newly appointed Cardinal Monsignor Pedro Barreto, just weeks before he was officially designated as Cardinal by Pope Francis. His visit was truly a moment we will never forget.
A Jesuit and a passionate advocate of families living in poverty, Monsignor Barreto is well known as "the voice" of the people. He is a fighter of environmental injustices, and is particularly outspoken about the way these injustices – like the contamination of water and the destruction of land – impact the most vulnerable.
On May 20th, 2018, Monsignor Barreto was called on by Pope Francis to announce his appointment as cardinal. He was one of 14 bishops who was bestowed with this designation. About the appointees, Pope Francis said, "They have distinguished themselves for their service to the church." Monsignor Barreto was officially announced at a ceremony in Rome earlier today!
After learning about our comprehensive Children and Mothers Partnership program (CHAMPS), our successful approach to reducing anemia, and our Rehabilitation with Hope project, Monsignor Barreto was inspired. He was keen to see our programs in action, to meet our amazing team, including the mothers and children who benefited from the services provided. For CMMB and the families we work with, hosting the then soon-to-be Cardinal was nothing short of an honor.
Rehabilitation with Hope is a community-based program that focuses on serving children with disabilities and special needs, and their families in the most impoverished neighborhoods in Chilca district (Huancayo) and La Esperanza (Trujillo). Mothers and children come to centers to receive integral, life-changing services.
During his visit, Monsignor Barreto shared words of wisdom and hope with the families. He gave blessings to every mother and child. For these mothers who have watched their children repeatedly rejected by society because of their disabilities, the unconditional love offered by Monsignor Barreto was something they never imagined possible. It left the mothers feeling empowered.
"When you come to CMMB, you can't imagine all the wealth that it is happening inside. Your songs are the blessing of God. Your children's life is a gift of God." – Monsignor Barreto
Monsignor Barreto witnessed our team working with mothers and children. They watched as therapists did different exercises with the children, and how the mothers were involved throughout. He expressed how moved he was to witness the relationships in action – the bonds between children, mothers, and staff members. "These children, are among societies most vulnerable and rejected, making the work of CMMB that much more important."
Pedro is an inspiration. He is a light in the world. He is humble and stays close to the most vulnerable in society. He works on the ground – for the people and with the people. Because of this, he is loved and respected by the people. I feel fortunate to have spent time in his presence. – Claudia Llanten, CMMB's Programs Technical Unit
The mothers play a critical role in their children's progress. In fact, it is a key expectation that mothers or key caregivers attend all therapy sessions and are active throughout. Fathers are also actively engaged in their children's health. The therapists ensure that all caregivers receive training on how to extend physical and speech therapy at home because progress relies heavily on the consistency of care and practice of all exercises.
Perhaps one of the most memorable moments for the mothers was when Monsignor Barreto announced that he planned to present Pope Francis with one of the handcrafted boxes made by a mother whose child benefits from the Rehabilitation with Hope project. The excitement among the mothers was evident for everyone in the room.
About the handcrafted box
The mothers in this program work hard to support their children. Part of CMMB's CHAMPS (Children and Mothers Partnerships) initiative in Peru, is focused around empowering women to become economically self-sufficient.
The way that they achieve this, is by introducing them to income generating activities. One of these activities takes form in the creation and sale of artwork. CMMB understands that when women are given economic opportunities, the money they earn is invested back into their families
The handcrafted box that Monsignor Barreto will present to Pope Francis is one of the many beautiful pieces created by these mothers. Knowing that Pope Francis would receive something made by them resulted in an incredible amount of pride among the mothers enrolled in the program.
Agents of Change
Monsignor Barreto understands that women have the potential to be powerful change makers. Yet, too often they face obstacles that stand in their way. He believes that our work helps women to overcome some of these obstacles. When women experience positive change, they feel empowered to change others, to show other women how they too can live better, more purposeful lives. In doing so, they create a community of women taking care of women.
After witnessing CMMB's work in action, the incoming cardinal said that our engagement with the families we serve points to a new way of reaching people. Referring specifically to CMMB's CHAMPS program, which has successfully reduced anemia among children and pregnant women, he said, "By focusing on water, education, sanitation, and nutrition we can improve the health of the most vulnerable." He also expressed delight and gratitude about how CMMB's work so closely aligns to Pope Francis' own message, as expressed in his encyclical letter Laudato si, about the importance of family and the care of the common home.
Monsignor Barreto sees the work and dedication of CMMB as that equivalent to the work of a family.
"Families are there during the good times and the bad times. They celebrate with us, grieve with us, and most importantly hold us when we fall. Families help us to move forward and push through. CMMB, helps those in the most severe conditions push through and work towards a better future." He went on to say, "This is exactly what Pope Francis demands from us and from our work."
View the gallery of photos from Monsignor Barreto's visit with CMMB!