Meet Dianne Jean-Francois: Woman on a Mission
By Karen Cure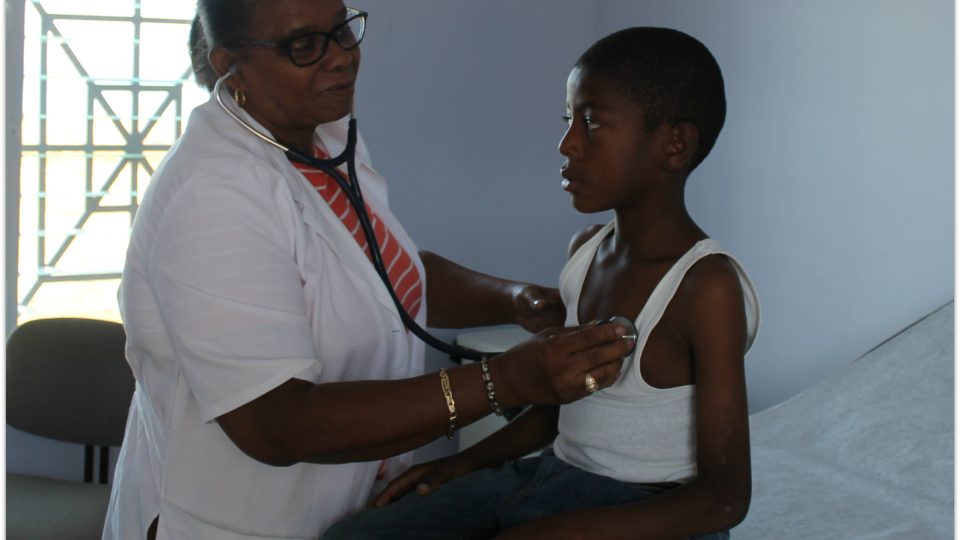 There are two important things you need to know about Dianne Jean-François, CMMB Haiti country director.
First, her mother, a Haitian, emigrated to St. Louis at the age of 26. Dianne spent her summers in Haiti as a girl, with her Haitian grandparents. Then, when it came time to attend high school, she had to choose: U.S.A. or Haiti.
She chose Haiti.
Second, fast forward. She was trained as a pediatrician in Haiti and for a number of years practiced successfully in Port-au-Prince. But for every baby and child who benefited from her care, she knew there were so many more who never received healthcare. Innocent lives, the future of her homeland, were being lost and wasted. Frustration with the injustice sent her back to the United States for more training, this time at Johns Hopkins in Baltimore. Her field was public health.
Since receiving her Masters of Public Health, she has brought her passion to improve Haiti's health to CMMB. Every day she fights to advance this mission. She networks to find government grants and private funding for needed projects toward the health of the mothers and babies of Haiti. She demands excellence of her staff, as she does of herself, and her programs win awards. (CMMB Haiti's $35 million HIV/AIDS prevention, care, and treatment program SIDALE repeatedly won awards for retention and care quality with a rating agency.)
And she never lets up.
This past fall, as Hurricane Matthew barreled toward Hispaniola, Dianne deployed her staff across Port-au-Prince to locate and purchase the emergency relief supplies she knew would be desperately needed and in short supply after the winds and rain had abated: food, personal hygiene supplies, and water purification tablets to prevent a resurgence of the previous summer's cholera epidemic. The whole staff then pitched in, with Dianne in the lead, for 18 long hours of filling tote bags for distribution and then making the trip to Côtes-de-Fer, an always-difficult journey made even more difficult by the washout of the bridge across the flooded Rivière Côtes-de-Fer near town.
After the 2010 earthquake, she had seen the devastation at remote, neglected Côtes-de-Fer and the lack of accessible health facilities; she advanced the idea that the area needed a hospital and then went into overdrive to make it happen. In the beginning, there were those who tolerated her enthusiasm and humored her. In the end, her advocacy and drive engendered a movement; many, many, many partners contributed to this dream, and now it is reality. At the dedication, the more than 500 community members and dignitaries in attendance gave her a standing ovation, a show of respect and honor. To her, even more satisfying was that within two months, nearly 1,000 people had been seen. Health care of such obviously high quality accords a previously unknown level of dignity to the people of Côtes-de-Fer. This was always part of her vision.
Ask Dianne what makes her proudest—her daughter's beautiful six-month-old daughter, her race-car-driver son's most recent victory, or the Bishop Joseph M. Sullivan Center for Health—and her answer will be unequivocal. She loves her family, but the hospital is bigger than that.
Ask anyone who knows her whether this crowning achievement will be the end of her plans for Haiti and you'll get an equally clear answer: Not at all.
She's a woman who makes big plans, whether they're for making the hospital a profitable center for specialized surgery that draws Haitians and others to Côtes-de-Fer or 100 percent of women delivering their babies in a health facility, with excellent care. When she has a vision in her head, she will make it happen.