Benta Ayunga & Nduta Mbugua Help Chase DREAMS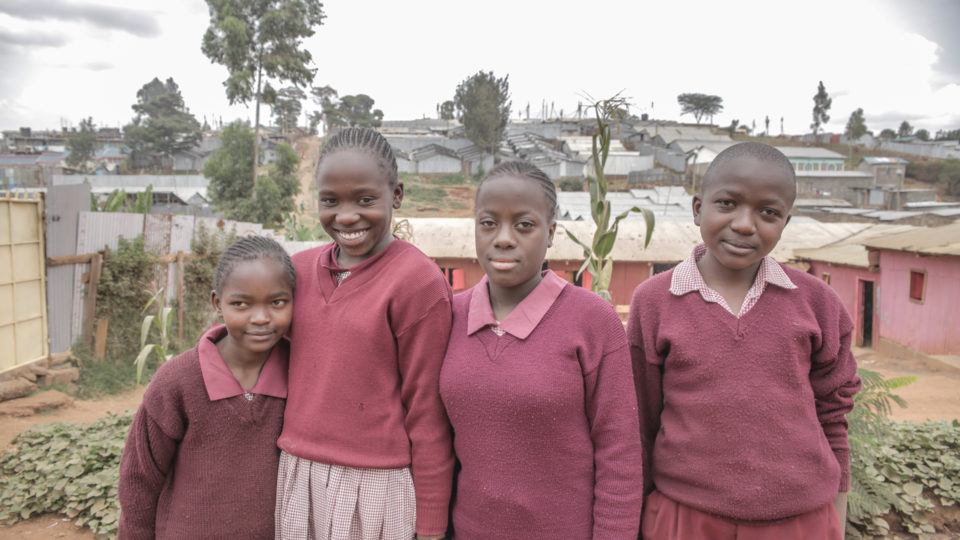 Girls and young women account for 74 percent of new HIV infections among adolescents in sub-Saharan Africa. For this reason, we are committed to DREAMS. DREAMS (Determined, Resilient, Empowered, AIDS-free, Mentored and Safe) is an ambitious public-private partnership that aims to reduce rates of HIV among adolescent girls and young women in the highest HIV burden countries, including Zambia and Kenya, where we work.
In Kenya, in addition to training teachers in gender- equitable instructions, girls from Nairobi's sprawling slums are matched up with student mentors from the university of Nairobi.
Earlier this year, we highlighted some of the inspiring stories of the girls enrolled in DREAMS. In their personal stories one thing emerged that was common- the importance and positive impact of their mentors. One of the most important resources of our DREAMS program are the dedicated and inspiring mentors that support the participants.
These are the young women and men – many who are members of the communities they serve – who dedicate a part of their lives to supporting and inspiring change in adolescent girls and young women. These mentors offer the girls someone they can talk to and ask questions of – ultimately, someone they can look up to. 
Today, we would like to recognize two of our inspiring mentors. Their names are Benta Ayungo and Nduta Mbugua. Below, they share what it is like to be a mentor and why it matters.
---
Meet Benta Ayungo
My name is Benta Ayungo. I am a student at the University of Nairobi, pursuing Linguistics.
"My dream for these girls, is that one day they will be recognized in society as human beings, despite their gender."
I am 20 years old. I come from Kisumu, Kenya. I am the first born in a family of five. Growing up as the first born and as a girl for that matter, wasn't easy. Society and specifically, my family members and close relatives expected to have a boy as the first born. So, it took them time to accept me as the first born.
This became evident to me when I began my schooling. It was only my mum who was around for my entire primary education. My father started coming around when I was in class six, when I was among the top students in my class. That was the first time my father came to school. But, shortly after he disappeared until I sat for my KCPE exam, passed, and qualified to join the secondary level of education.
My adolescence, just like any other girl, was full of challenges- the fear of using sanitary towels, having no one to talk to me about them, and hiding them from my friends and schoolmates. The changes in my body also made me feel different from those who were younger than me, and at times I'd even wear two pullovers just to hide.
I was notified of the mentorship program by the Dean of the School of Education. Soon after, I joined the group, went through trainings, and became a volunteer mentor.
Because of what I went through when I was young, I felt like there were other girls who were going through the same thing, and did not have the people to talk to. I volunteered to help them overcome some of the challenges they had by talking with them.
For me, mentoring a young girl is a dream come true. I've always wanted to guide, advise, and empower them as I believe in equality of both genders.
The girls I work with are very social, open-minded, and attentive. They are always willing to learn.
There is this one girl, Mwanahawa, whose parents separated and she is now raised by her mother. She is unable to get any help from her father. This has not stopped her from studying.
My dream for these girls, is that one day they will be recognized in society as human beings, despite their gender. I dream that all job opportunities, leadership positions, and any other profession will be theirs to hold without fear of victimization because of their gender.
All these things matter because we are all equal before God.
Meet Nduta Mbugua
I'm Nduta Mbugua. I am 20 years old, and I live in a small town of Kenya.
"All the DREAMS girls are visionary."
I'm the last born in a family of five. I grew up with both my parents and my siblings.
Working in the DREAMS project has made a really great difference in my life by boosting my confidence, self-esteem, and self-awareness.
Working with the DREAMS girls has been an amazing experience for me. Being a part of their life at this critical stage and having such a special connection with them is priceless. They are always eager to learn and share their various experiences, both bad and good.
One girl whose story has stuck with me is Grace, a class eight girl in one of the project schools. She told me how she had just started having her periods but did not know how to handle herself. Her elder brother is a bully and she could not talk to him. Her friends in class made fun of her after her clothes became soaked by the blood.
She told me that she had just lost her mother the previous week, and she had a distant relationship with her father. All this was weighing her down, and she was really stressed.
Her teacher, however, noticed something was disturbing her and tried talking with her. She even bought her sanitary towels, but she was not sure how long she would be able to because they were costly.
Grace was, however, very happy when we distributed the reusable sanitary towels, AFRIpads, in her school. She says that she no longer misses school nor feels uncomfortable during her periods. Seeing the joy on her face gave me so much delight and satisfaction to know that I am making an impact in her life.
All the DREAMS girls are visionary, and all have the hope to become great people in the future. I hope that they will achieve all their dreams, considering the friendly environment for learning that we are trying to create for them.
They say that when you educate a girl, you have educated the whole community. I believe this will ensure that we have not only a better community but a better nation and better world at large.
---
Our DREAMS Partners in Kenya: