Doctor's Notes: Dr. Tom Catena Reports from Sudan
By Dr. Tom Catena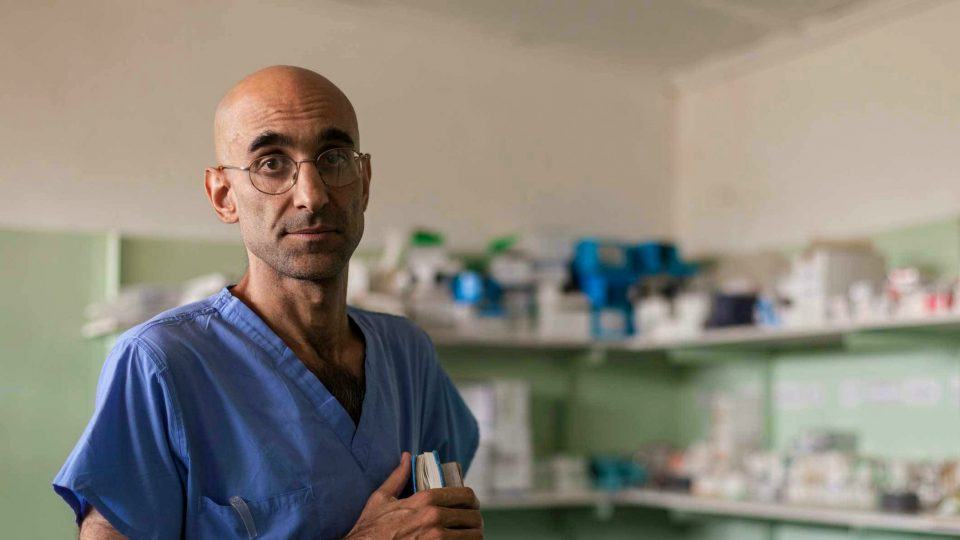 Dr. Tom Catena is an internationally recognized humanitarian, Catholic missionary, and longtime CMMB volunteer. In May 2017, he was awarded the Aurora Prize for Awakening Humanity for his courageous work as the first and only permanent medical doctor serving more than half a million people in Sudan's war-torn, Nuba Mountains. He has been serving at the Mother Mercy Hospital since 2008. Catena typically treats up to 500 patients in a day and is on call 24 hours a day, seven days a week, delivering babies, performing surgeries, and treating injuries resulting from bombings. 
Here, in his own words, Dr. Tom shares stories about the people he and his team serve and how none of it would be possible without the support of generous donors and partners.  
---
Meet Rania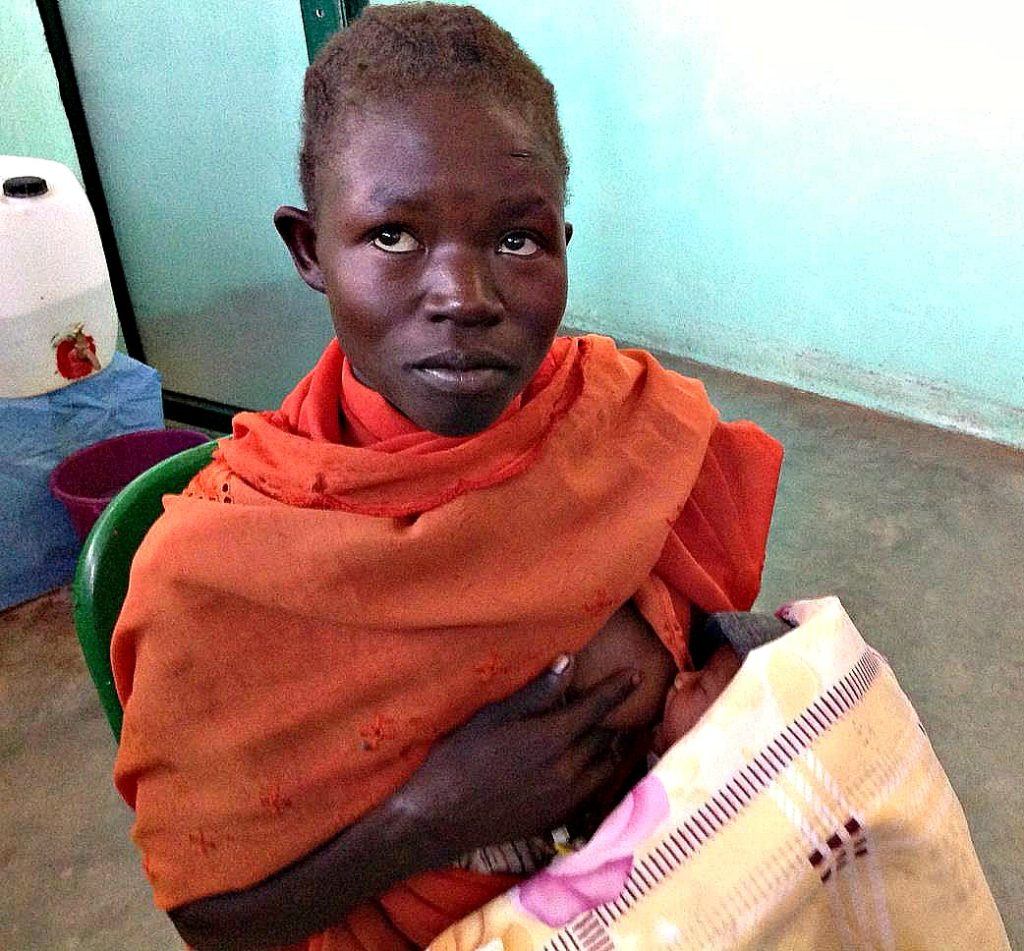 In the Nuba Mountains of Sudan, a woman who is unable to have a child is literally a fate worse than death. Marriage and child rearing are extremely important to the women of Nuba and they will go to great lengths to make sure they have progeny.  Children are seen as a great blessing for the entire family and clan.
Rania is a 28 year old woman who had thus far been considered very unfortunate.  She had given birth five times to full term babies, yet had no living child.  All of the babies died either in the womb or just after delivery.  We performed several investigations but were at a loss to explain her misfortune.
We admitted her on December 5th to await delivery, hopeful that this baby would survive. We thought that her best chance of getting a live baby was to do an elective Caesarean section so we took her to the operating room on December 13th and delivered a live male baby.  The baby developed breathing problems after birth so we placed the baby on oxygen and close monitoring for his first two days of life.  We are happy to report that the baby is now off oxygen and breast feeding well.  This successful outcome was only possible because we had the necessary equipment and trained staff to take care of this mother and baby.
Meet George
George is a 3-year-old boy who came to our hospital with severe kwashiorkor (a severe form of malnutrition, caused by a deficiency in dietary protein) and tuberculosis.
On admission, he was very irritable, his entire body was swollen, and his skin was peeling off.  In addition, he had a high sustained fever most likely due to tuberculosis.  We started him in our therapeutic feeding program on fortified milk and his diarrhea and vomiting slowly resolved. We started TB drugs and his fever disappeared, his swelling subsided and his skin began to regenerate.  Its been a long and slow process and we thought we would lose him on many occasions but he has managed to pull through.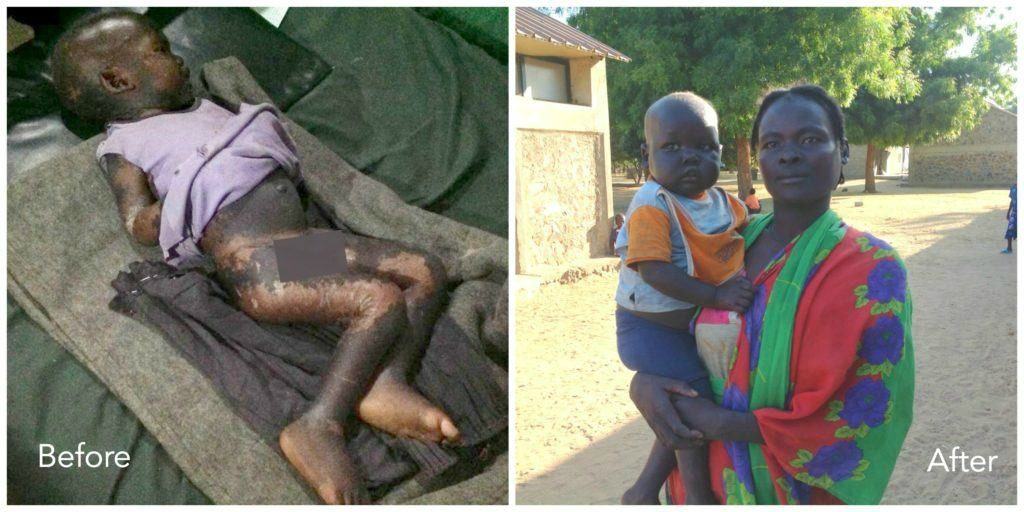 As you can see from his 'before' and 'after' pictures, there has been a marked change.  He's even become somewhat chubby on all of his therapeutic feeds!
We are the only health facility in the Nuba Mountains with an inpatient therapeutic feeding center and George is one of our many success stories with a disease that is very difficult to treat.
Meet Amira
Amira is 31 years old. She came to us with joint pain and swelling and severe chest and sinus problems. She quickly developed a heavy cough and difficulty breathing. Taking into account the signs and her symptoms and aided by a chest x-ray (recently purchased by a donor through CMMB!) we determined that she had Wegener's granulomatosis. This is an autoimmune disease affecting the eyes, sinuses, lungs, and kidneys. We immediately started her on medication (cyclophosphamide infusion and high dose oral steroids).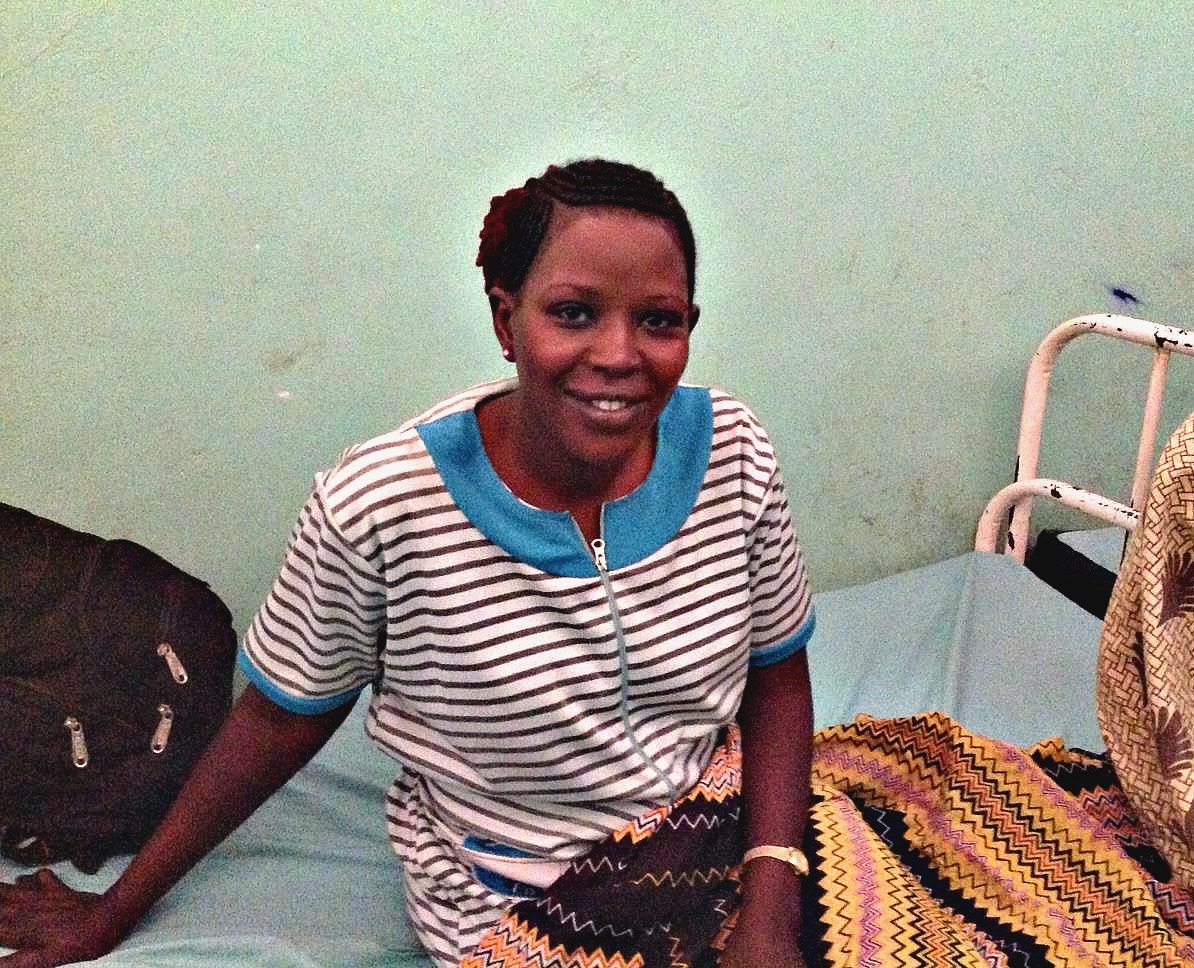 Cyclophosphamide is a chemotherapy drug usually used for the treatment of various cancers, but it is also used to treat this life threatening autoimmune disease.  We are the only hospital in the Nuba Mountains with these kinds of drugs. The nearest similar facility is in the north of Sudan on the other side of enemy lines. Due to the current civil war here, travel to the north is not possible. Thanks to the support we receive in the way of medical donations and medicines, we are able to treat people like Amira who might otherwise have no viable choices.
Meet Angalo
In our region of the Nuba Mountains of Sudan, we have been in a state of civil war for the past six and a half years. One of the tragic spin-offs of civil war in this part of the world is the formation of local militias or just armed cattle raiders ready to attack unsuspecting farmers at any time.
Angalo was in his farm located a few miles from the hospital when a group of cattle raiders came upon him and his companion. They shot his friend dead and then shot Angalo. The bullets penetrated his chest and spine.  The chest injury caused a collapsed lung and massive bleeding into his chest cavity. We quickly inserted a tube into his chest to drain the blood and air that had accumulated there. We then operated on his abdomen to ensure that there was no penetration of his intestines or major organs. His abdomen was fine but unfortunately, the spinal injury was quite severe and rendered his legs completely paralyzed.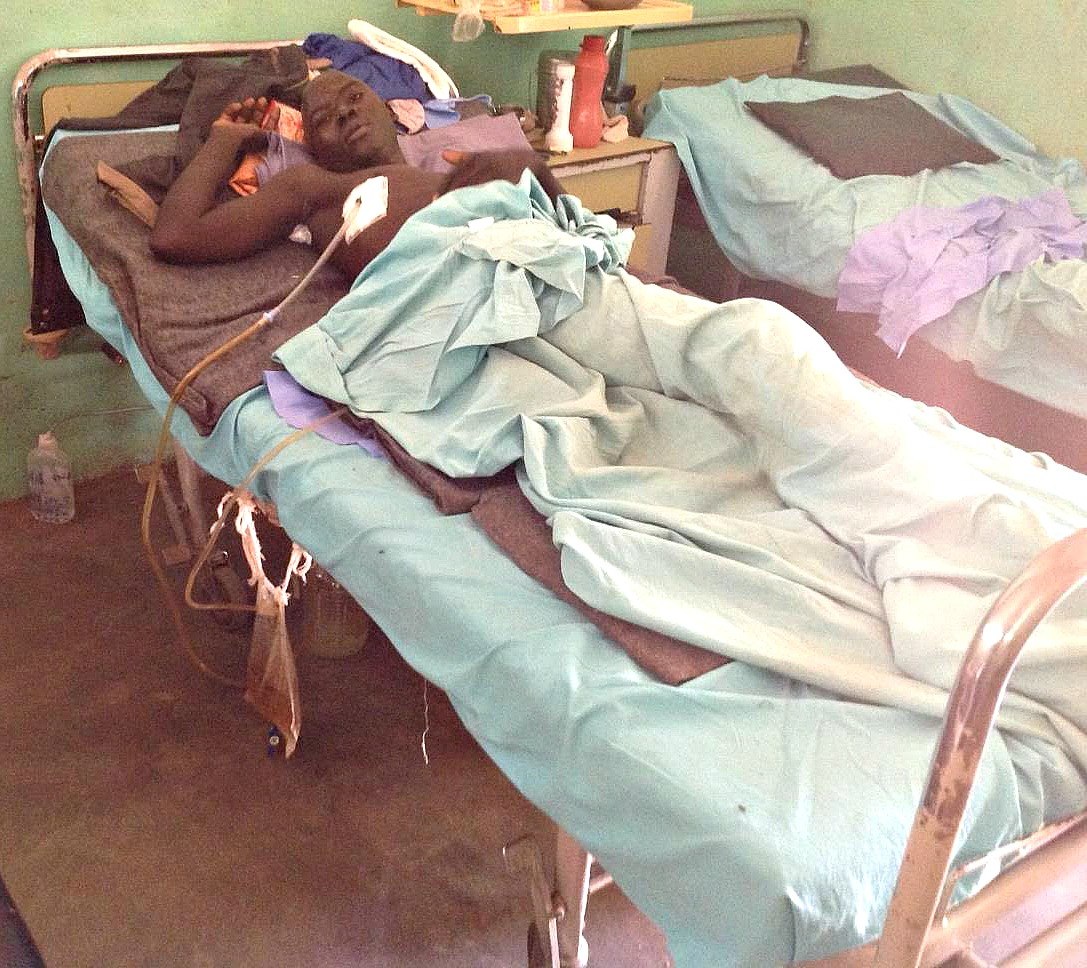 He is now recovering well on the ward but likely will never regain function of his legs. Just another tragedy in this forgotten conflict.
Meet Manail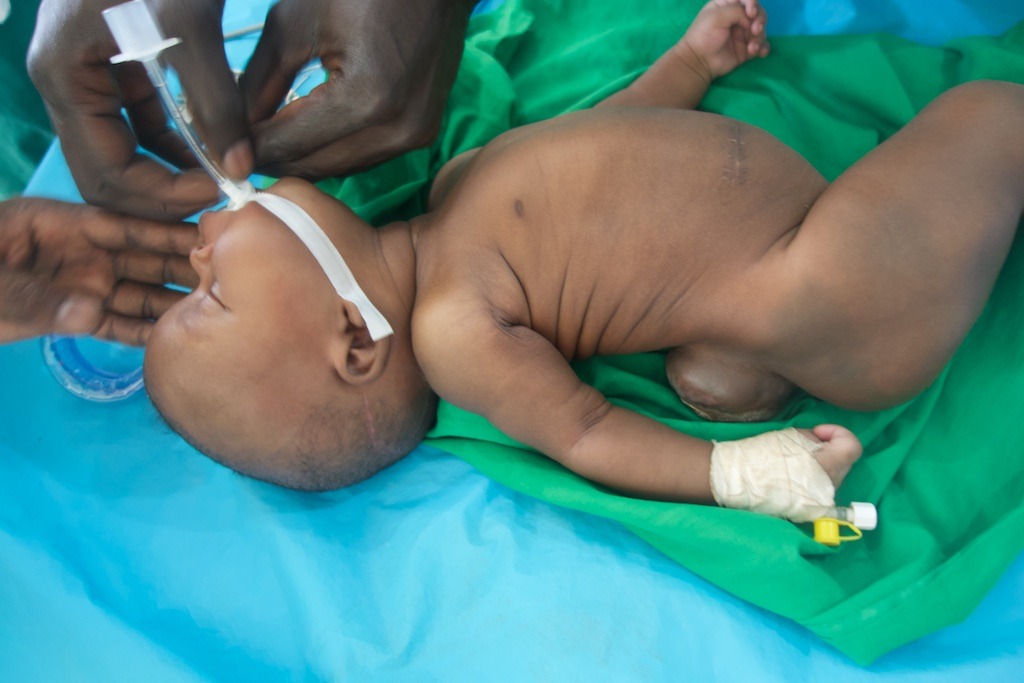 Manail is a two week old baby girl that was referred to us from the Yida refugee camp in South Sudan.  The baby had multiple congenital defects including hydrocephalus (water in the brain) and spina bifida.  She managed to tolerate the eight-hour journey from Yida to our hospital well, and we performed the first operation (ventriculo peritoneal shunt) soon after her arrival.
In this operation, a permanent tube is placed into the brain and then run under the skin into the abdomen where the excess fluid gets absorbed.  That operation went well and we waited several days and then decided to do the second and more difficult operation.
On December 15th, we took Manail back to the operating room and repaired the spina bifida in a long and delicate operation.  Spina bifida is a defect in the formation of the spinal canal whereby the end of the spinal cord is attached to the baby's skin on the lower back.  This tissue needs to be gently dissected free and placed back into the spinal canal.  So far the baby is doing well and we hope for a good outcome.
This kind of outcome takes an amazing about of teamwork with well trained health professionals.  The anesthesia and nursing care were all provided by our Nuba staff.
Meet Shukran
Shukran (which means thank you in Arabic) is a 3-year-old girl who presented to our hospital with several months of weight loss, fever and a spinal deformity.  Her mother had been killed by an Antonov bombardment in the village of Farandallah and she is being cared for by her grandmother.
On admission, she was extremely weak and disoriented with a high fever and a marked kyphosis (curvature) of the spine. Shukran was unable to walk and was confined to the bed.
We diagnosed her with spinal tuberculosis and severe malnutrition and commenced TB treatment. She was placed in our malnutrition program and started on nutritional supplements including F-100 and Plumpy Nut.
Shukran progressed well on the treatments with marked weight gain and ability to ambulate. She was discharged in excellent health after completing her course of TB drugs. She had a marked weight gain and was able to walk and run without difficulty.