Inspired in South Sudan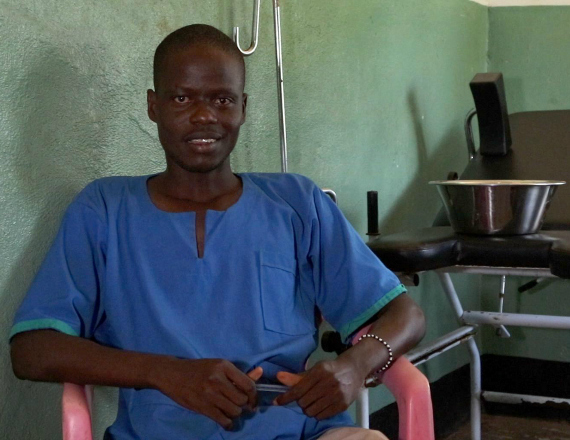 "She is my role model. I want to study medicine because I want to become like Dr. Consoli."
Peter David, is a nurse in training at Nzara Mission Hospital in South Sudan.
Peter met CMMB volunteer alumni, Dr. Rachael Consoli, in January 2016 at Nzara Mission Hospital. They were never supposed to meet because Dr. Consoli was stationed in Ezo, a town approximately 80 miles away, in the Western Equatorial State of South Sudan.  It was here that she was heading the Safe Motherhood Project, a project that addresses three delays that result in devastating maternal outcomes, delays in:
decision making at the household;
accessing healthcare facilities; and
provision and access to quality emergency obstetric services at the primary healthcare facility.
The extent of these delays in Ezo led to the highest maternal mortality rates in the world, with one in seven women expected to die of causes related to pregnancy or childbirth. Which is why Dr. Consoli was based there. However, due to the eruption of violence in Ezo, she and the team were evacuated and Dr. Consoli was reassigned to Nzara Mission Hospital for the final four months in South Sudan.
"I feel so lucky that she came to Nzara. I am so inspired by the work she did here."
Peter explained that while Dr. Consoli was focused on pregnant women, she provided whatever care was needed, when it was needed. He described her as very open with patients, offering them counselling to help them come to terms with whatever diagnosis they were given. She provided similar care to all the doctors and nurses on staff.
Peter also praised Dr. Consoli's for her active role in building the capacity of hospital staff.  She always provided doctors and nurses with a commentary as she treated patients, first making sure that they understood the illness and then teaching them about the necessary treatment required to help the patient.
At the end of our interview, Peter teared up as he said, "She inspired a lot of people here and we learned a lot from her. I want to be just like her."
Peter's story reminds us that the reach of a dedicated volunteer cannot be predicted nor accurately measured. Their legacy lives on long after they leave.