Our Longest Serving Volunteer Dr. Tom Catena Named Chair of The Aurora Humanitarian Initiative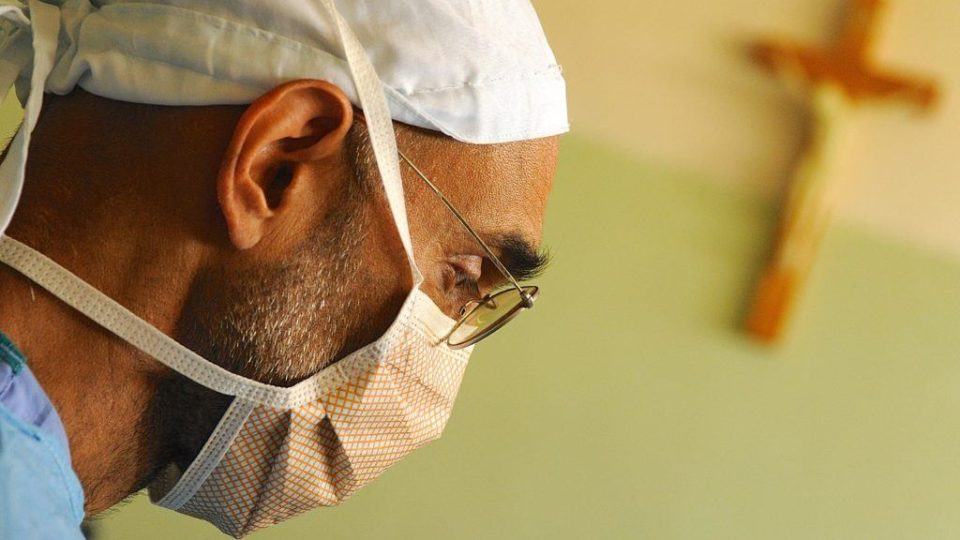 New York, NY, December 12, 2018 – CMMB's (Catholic Medical Mission Board) longest-serving volunteer, Dr. Tom Catena, was named chair of The Aurora Humanitarian Initiative. Dr. Tom Catena joined CMMB in the late 90s' as a medical missionary and took up his current role as medical director at Mother of Mercy Hospital in 2008. He is as permanent doctor serving in the war-torn region of the Nuba Mountains in Sudan for over a decade.
The appointment was announced during the Aurora Dialogues in Berlin. Dr. Catena joins the organization during a period of significant growth and will be responsible for engaging key humanitarian stakeholders, working with global partners and overseeing Aurora's educational and outreach projects, including the internationally recognized, Aurora Prize.
In May 2017, Dr. Catena was named as the Aurora Prize Laureate for his courageous work in the Nuba Mountains. CMMB was one of three recipients of an Aurora Prize grant in connection with Tom being named Laureate. CMMB established the Aurora Fellowship program to encourage other medical professionals to follow Tom's example to serve in regions of great need. In 2018, our international volunteer program placed nine highly skilled medical volunteers thanks to the Aurora Fellowship. Additional resources from this award were used to purchase medicine for the Mother of Mercy Hospital and to build a surgical wing at St. Theresa Hospital in South Sudan.
Dr. Catena has been based in Sudan's war-ravaged territory for the last decade where humanitarian aid is restricted. Known as "Dr Tom" by locals, he provides treatment for people suffering ailments and war wounds. He will continue his role as Medical Director at the hospital working with a team of replacement doctors, sourced by CMMB in collaboration with the African Mission Healthcare Foundation (AMHF), to work in the Nuba Mountains in parallel with his new responsibilities as the chair of the Aurora Humanitarian Initiative.
Assisting Mother of Mercy Hospital, is another CMMB volunteer, Dr. Harry Owens Jr. Dr. Harry, resident of McKenzie River in Oregon, previously served with CMMB at St. Theresa Hospital in South Sudan. He is a medical doctor with degrees from St. Louis University and has spent the majority of his career serving as a volunteer in some of the most challenging places on earth with CMMB, Project Hope, and other organizations. Dr. Harry arrived at Mother of Mercy Hospital in October, where he is assisting Dr. Tom in surgery and community health outreach.
I am grateful for the opportunity to serve in areas that need assistance, and for my personal good health that allows me to do this. – Dr. Harry Owens Jr.
In December, CMMB and AMHF, placed two Ugandan doctors at the hospital enabling Dr. Tom to take up his duties as chair of the Aurora Humanitarian Initiative. In 2019, Dr. Tom will dedicate six months of the year at Mother of Mercy Hospital, and six months traveling on behalf of the Aurora Initiative.
According to a joint statement from the Co-Founders of the Aurora Humanitarian Initiative:
"We are delighted to welcome the first Chair of the organization. Dr. Tom Catena truly embodies the spirit of Aurora and will be a driving force in taking our global vision forward by helping to empower individuals to embrace our shared humanity and express gratitude to those making an impact. It is gratifying that the 2017 Aurora Prize Laureate is also the first chair of this organization." – Co-Founders of The Aurora Humanitarian Initiative

Dr. Tom Catena said, "It is a true honor to chair the Aurora Humanitarian Initiative – I am grateful for the impact of the Aurora Prize on my life and the financial support provided to the Mother of Mercy Hospital that has helped transform the lives of the Nuba people in Sudan. I believe in the simple yet powerful force of humanity in addressing today's critical humanitarian challenges and will remain committed to elevating the Gratitude in Action philosophy in my new role by supporting Aurora's work empowering those in desperate need to create their own futures."
Dr. Tom Catena is a native of Amsterdam, New York. He attended Brown University where he played college football and earned his undergraduate degree in mechanical engineering. He was a college football All American and in 2018, he was inducted into the Football Hall of Fame. Following his time at Brown, Dr. Catena worked toward his medical doctorate at Duke University on a U.S. Navy scholarship. In 2015, Dr. Catena was recognized by Time Magazine as one of its '100 Most Influential People' in the world. He has been recognized with Honorary Doctorates from Brown University and Yerevan State Medical University. He also formerly served as a flight surgeon with the US Navy. In 2018, he was named Catholic Doctor of the Year from Mission Doctors Association.
###
About CMMB – Healthier Lives Worldwide
CMMB (Catholic Medical Mission Board) is a global humanitarian organization with more than 100 years of experience in delivering the best possible health solutions to women, children, and communities living in poverty. To learn more, visit 
cmmb.org
.
About the Aurora Movement
The Aurora Humanitarian Initiative is transforming the Armenian experience into a global movement committed to inspiring each of us to protect the humanity and life of our fellow man. With an illustrious Selection Committee of international dignitaries, Aurora's programs reach every continent. Aurora partners with life-saving programs in more than a dozen countries on five continents. Aurora offers invaluable scholarship support to students from 9 countries. Aurora reaches humanitarians, civic leaders and persons of influence in various capitals in the world through the Aurora Dialogues on current issues critical to the future of humanity. Since the Aurora Prize launch in 2015, more than 2,200 nominations have been submitted from over 125 countries in more than 20 languages putting forward 1,399 candidates. Over the years, 11 Aurora Humanitarians have been selected.