Small Equipment with Big Impact: The Value of a Pulse Oximeter in South Sudan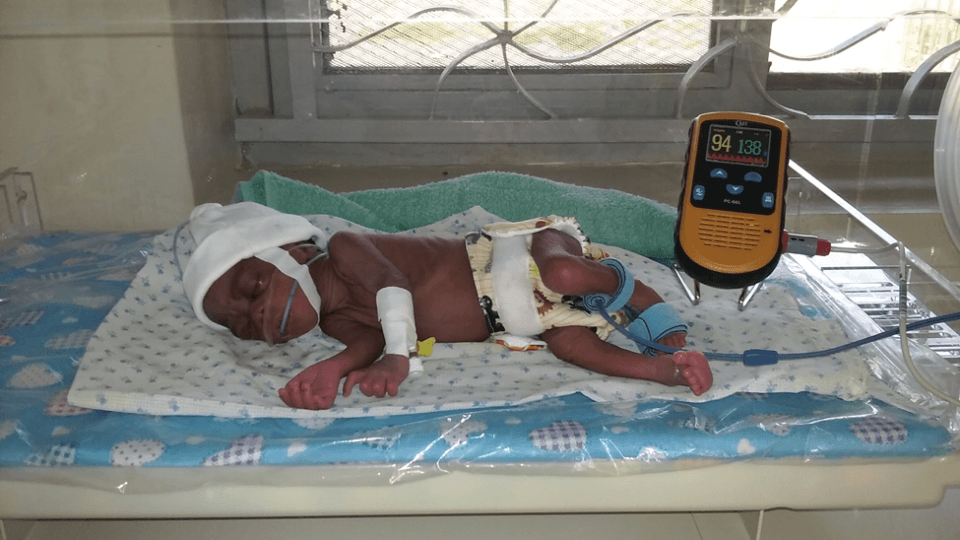 St. Therese Hospital, South Sudan
For over 100 years CMMB has endeavored to provide relief in some of the most remote and under-resourced parts of the globe. South Sudan is considered by many indicators one of the poorest nations in the world today. CMMB has been working in the country since it gained independence from Sudan in 2010 to increase the health and resiliency of communities.
St. Therese Hospital in Nzara serves a surrounding population of 102 thousand South Sudanese. Its staff of 82 offers basic medical care, emergency services, C-section deliveries, and simple surgical operations.
St. Therese faces tremendous obstacles just trying to provide basic care to its patients. Its distance from the capital leads to difficulty maintaining a steady supply of medicine and medical supplies. The facility has solar panels but still suffers from periodic losses of power. Lastly, they do not have all of the equipment required to efficiently diagnose and care for patients.
CMMB is continually working to implement support for St. Therese through a number of avenues including programmatic support, recruiting and sending long-term volunteer medical staff, and providing gift-in-kind donations of medicine and medical supplies. In 2018, CMMB broke ground on an expansion of the facility that will include a blood bank and surgery wing.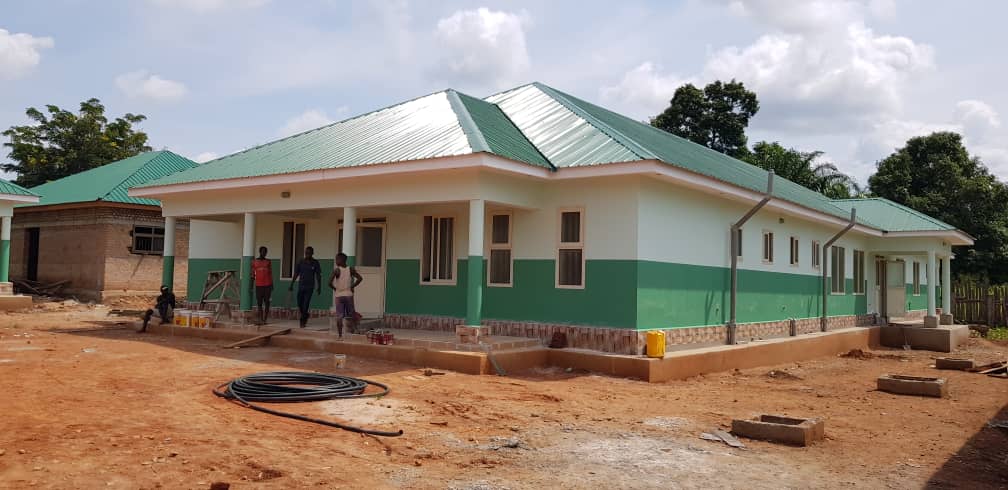 The Long Journey of a Pulse Oximeter
Carolyn Flaherty is a Nurse Practitioner from New York who volunteered with CMMB for a year to work as an emergency room nurse in St. Therese, treating patients and providing training and mentoring to staff. She had learned prior to her departure for South Sudan that the facility did not have a pulse oximeter, so she brought a small fingertip unit of her own. Unfortunately, after some time in use the small unit had been dropped too many times and stopped functioning.
Pulse oximeters are used to determine whether a patient must be placed on oxygen to ensure their stability. In this type of environment, a patient's condition can change rapidly, especially with small children and infants. Therefore, having the immediate reading of oxygen saturation in a patient's blood is crucial. Carolyn feared that without this unit, her and other staff would be forced to make educated guesses at the breathing of patients based only on sight.
Rather than risk the safety of her patients, Carolyn acted. She reached out to the CMMB Volunteer Program to understand her options to replace the unit. The Volunteer Team looped in the Medical Donations Program who successfully purchased 2 pulse oximeters.
The two units were shipped to CMMB's Distribution Center. From there, they were sent to CMMB's main office where Dick Day, the Senior Vice President of Programs picked them up and packed them in his suitcase. He luckily had already scheduled a visit to CMMB's South Sudan office and actually had the opportunity to hand deliver the the pulse oximeters to Sr. Jane Francis at St. Therese Hospital!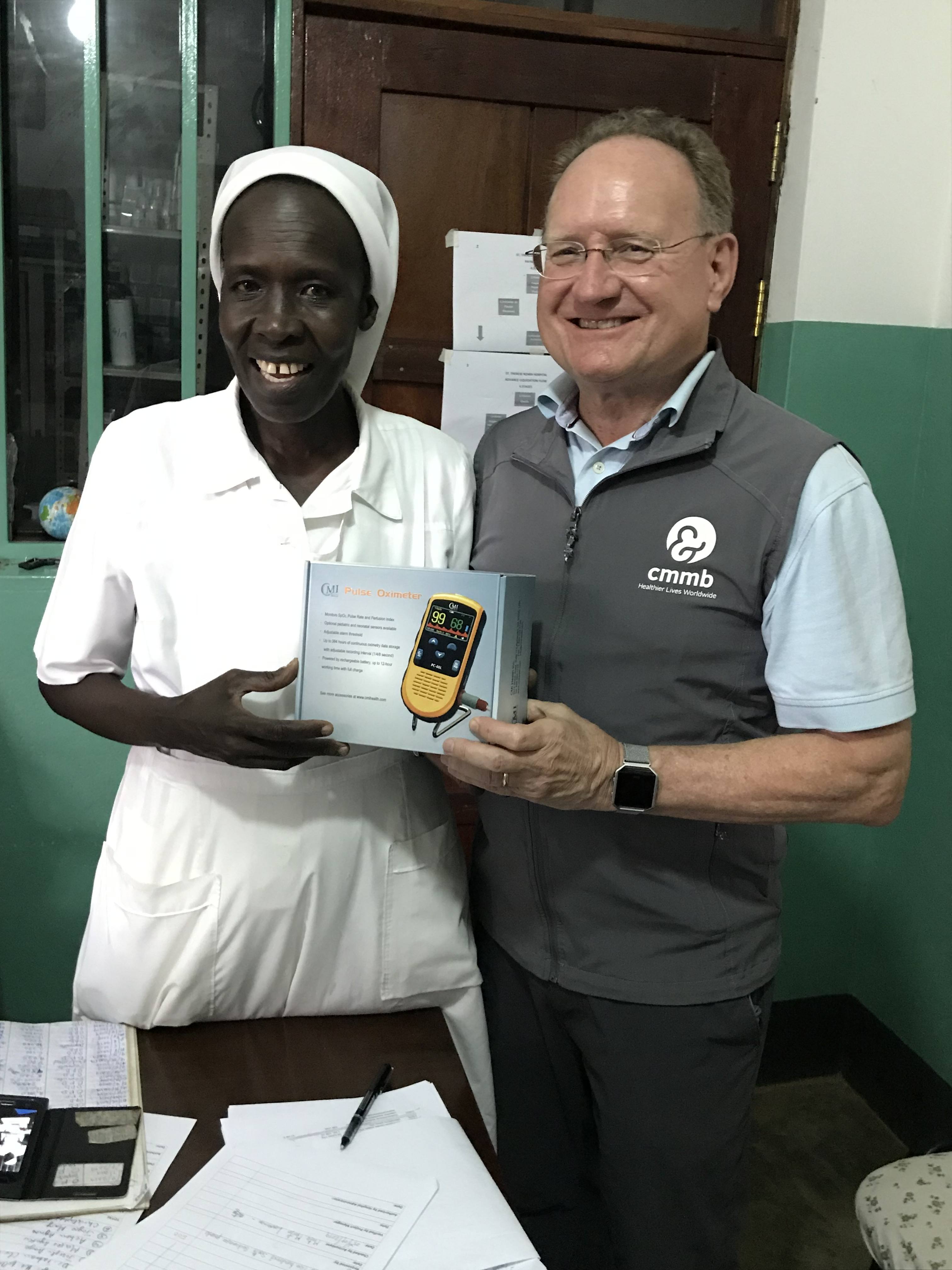 Small Equipment, Big Impact
Carolyn used these pieces for the remainder of her time volunteering at St. Therese. When she finished her volunteer tour, she left the pulse oximeters with the staff, and along with it the increased confidence to treat emergency cases coming into their hospital.
Something as simple as a hand-held pulse oximeter actively saves lives in the challenging context of a place like South Sudan. While the needs in the communities where we work are great, we also see that with each step, each dose of medicine, each hour of volunteered time, and each piece of equipment, we are making strides to healthier, happier future for women and children around the world. The commitments made by CMMB are not easy, but by working together, our staff and volunteers are able to address challenges big and small.