Climbing Mt. Kilimanjaro
July 5, 2019 •
Joanna Oleksik •
Kenya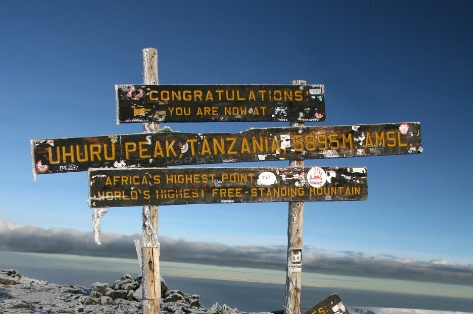 Joanna Oleksik is a registered nurse serving at the Mutomo Mission Hospital in Kenya.
During her volunteer experience, we have had the pleasure of sharing her stories from the field. The story below, "Climbing Mt. Kilimanjaro," was originally published in The Consoling Eye, the May 2019 Consolata Shrine Parish Monthly News Bulletin. Within this piece, Joanna reflects on her experience hiking Mt. Kilimajaro and the lessons she learned along the way.
---
For the last year, I have been glimpsing Mount Kilimanjaro in its mystical grandeur from the hilltops of Mutomo. I came from the USA to Kenya as a volunteer nurse in 2018 with Catholic Medical Mission Board (CMMB). Having lived in a mountainous region at home and loving hiking, I reveled at the idea of summiting the highest mountain on the African continent. My dedication to Our Lady of Lourdes Mutomo Mission Hospital in Kitui County made it difficult to find time away. Though I intended to make the climb, I never reached out to any guides as I wanted to do the hike with others.
When in Nairobi, I attend Mass at Consolata Shrine. In March, I heard about the climb to Kilimanjaro. Weeks later when I got in contact with Richard (parishioner and organizer of Consolata climbers), the reality of the climb for me began to take form. About a week before we left, I was added to the WhatsApp group of the Consolata Mountaineers. As messages of prayers, grace, and blessing poured in, I already started to sense that I was part of something larger than a group of people climbing Mt. Kilimanjaro.
Our journey was made all the more special in that it was not just an ordinary trek but also a pilgrimage and part of a greater cause. It was meant to raise money for the Allamano Center-the project of the parish. We were blessed to have Fr. Evans join us who celebrated Mass with us every single day whether at Uhuru Peak at the top of Africa (Kilimanjaro), in our accommodation in Himo before and after the climb, or on the mountain—even when we felt ill. The first day on the mountain we were told that some of our guides and porters would be joining us for Mass. One morning other climbers came. It was really special to have others take part with us reminding us of the universality of the Church!
We prayed the Rosary daily, sometimes admittedly at the end of a long day when it was difficult to stay awake through our quiet prayer time with the rhythm of the Rosary tempting sleep. Other times it was on the trail; sometimes in the morning when we needed strength we strung together like beads on a Rosary. We remained close to each other and Christ as we pressed forward. Other times I would notice someone walking quietly by themselves, the Rosary beads in hand suggesting they were walking in spirit with Our Lady and God. There were times that sight inspired me to start praying on my own fingers.
The climb was both incredible and intense! The first day we hiked up through a rain forest! As we finished, it began to rain. The second day we unsteadily climbed higher over rocky paths creating sore muscles by the time we reached Horombo Hut. That first evening in Horombo we got to see a beautiful sunset! As we were above the very tall trees for the first time and into moorland vegetation, we were able to appreciate the views below us. Wow! We saw the crater of another volcano down below nestled by two large lakes on either side. As the colours of the sky brightened with the setting sun then darkened into night, we saw the twinkling lights of settlements come out and announce themselves. We found out we were looking down on Moshi town and Himo.
On summit day we merged two days into one. We got into bed between 7:30-8pm to try to sleep before waking at 11pm to get dressed and eat before "getting on line". By Thursday at 12:20 am, we were in a single line with twinkling headlamps, following the feet of the person in front of us, zig zagging up the mountain like a snake. I couldn't help but imagine what that sight must look like during peak season. I pictured a trail of lights into the darkness as far as one can see up the mountain as groups sought the peak.
The summit was a challenge and an accomplishment for each one of us. Even I, the one who was always finding a big rock to scale with stamina and energy to share, struggled. I wanted to sleep every time we stopped to rest as we constantly fought to get more oxygen in the thin air. I learned later that severe sleepiness was one symptom of altitude sickness. Most, if not all of us, experienced some form of altitude sickness; be it nausea, vomiting, loss of appetite, or headache. As I approached the summit, I did not think we would even manage to celebrate Mass. But the mission was accomplished as Father Evans put on his vestments and the Consolata Mountaineers celebrated Mass at the top of Africa! What a joy and Excitement! Glory to God as we continued to celebrate the Risen Lord.
When I joined the group I simply wanted to climb Mt. Kilimanjaro. In becoming a Consolata Mountaineer I received much more. I pray that God blesses all of us and the graces from the pilgrimage continue. We thank all those who supported and continue to support us materially and spiritually.
The target has not yet been achieved but we believe as we achieved to reach the top you will help us achieve it for the sake of Allamano Centre Project. Help us to achieve it. As Blessed Joseph Allamano had a lasting impact on the people of Kenya; may the completion of the Allamano Center aid the Consolatas to continue his mission to bring Christ to others.
Donate to this Volunteer