A Labor of Love: A Blessing for Kenya
June 12, 2017 •
Laura Kyriss •
Kenya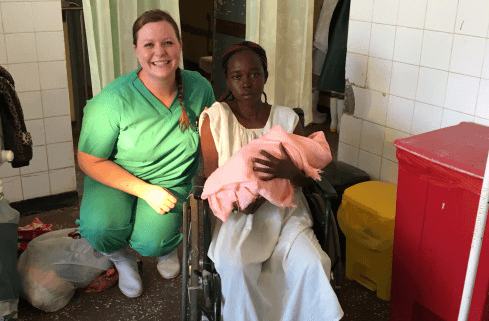 Laura Kyriss is a labor and delivery nurse from Nebraska. In 2016, Laura served as a volunteer in Kenya at Mutomo Mission Hospital. Shortly after returning home she was accepted into the highly competitive Nurse-Midwifery program at the University of Minnesota – ranked fourth in the country! We had the privilege of speaking with Laura recently to find out more about her time in Kenya, and what's next! 
Tell us about your experience in Kenya:
Where do I start?
How about my drive from the airport to the CMMB Kenya office.  After some navigating through customs and baggage claims at the airport, I finally found my driver and got in the car. The traffic and driving conditions surprised me – things were a lot more aggressive than I was used to. In fact, on our way to the compound, we passed someone so closely that their shirt grazed our side mirror! And everyone just kept going as though nothing happened!  It was clear I was no longer in Omaha!
After that, things were a bit of a whirlwind and it took a lot of patience, but I finally got to Mutomo and the mission hospital about two weeks later. That's when things really started happening.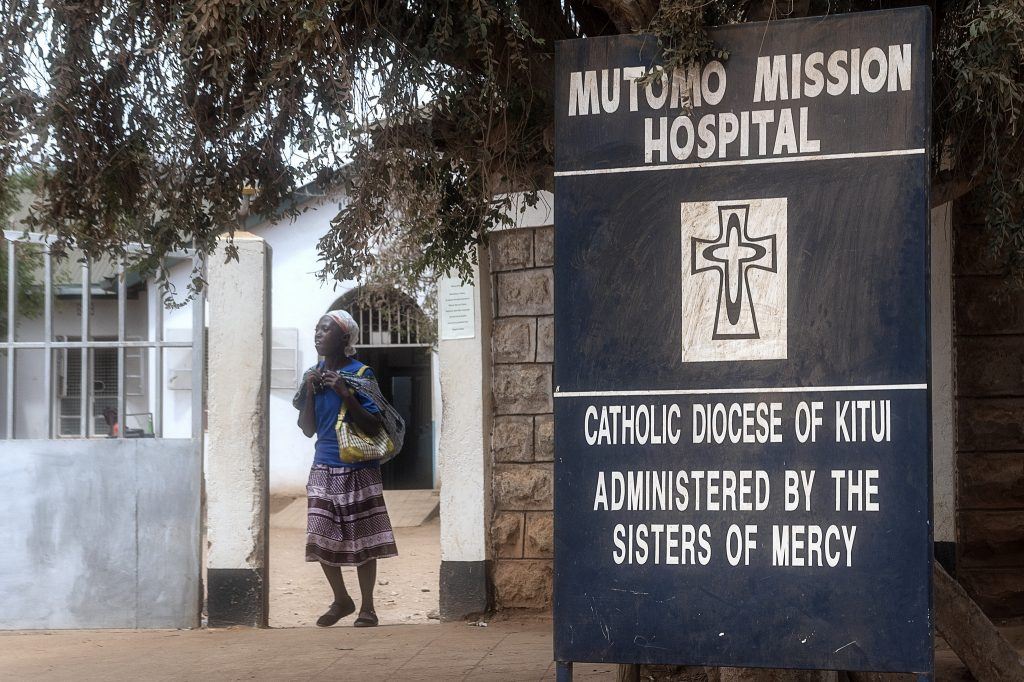 What were the things that surprised you the most?
This was my first foreign experience as a nurse, so meeting people and hearing about their lives was a real eye opener. Kitui County is really poor for the most part, and the hospital would get people from all over. It was shocking to hear about how far people would travel, most often by foot, to get to the clinic, including heavily pregnant women, many already in labor! Here in Omaha, we have eight hospitals and we complain about having to drive ten minutes to get there.
Also, in Kenya, you have to pay an admission fee before the hospital will take care of you. That was surprising to me, especially in the emergency ward. Here in the U.S., they'll take care of you and then send a bill later. In Mutomo the admission fee was a major obstacle for many people because most could not afford to pay. This policy was changed for maternity patients while I was there. They were taken in no matter what. That was a positive change.
What motivated you to volunteer with CMMB?
In college, I was the volunteer coordinator for an organization called the Navigators. That meant doing research on organizations that we could potentially raise funds for and try to help. This was around the time that South Sudan gained independence, so we did a couple of fundraisers and I ended up becoming really interested in that country's situation. There was also a sizable population of refugees around my university in Nebraska, especially from Sudan and Somalia, who I interacted with during my work at the local hospital. Many of these refugees came from regions of Africa that are very resource limited. Realizing this made me more interested in global health; about how the lack of access to care impacts the poorest people, and how I could use my skills and knowledge to help bridge that gap; even if just a little. 
I like CMMB's vision of a world in which every human life is valued, and health and human dignity are shared by all and it's mission to deliver locally sustainable, quality health solutions to women, children, and their communities. So in my senior year of nursing school, I applied to CMMB for a year-long placement in Kenya, but it was around the time that they were restructuring the volunteer program so I was not able to go that year.
This year it was kind of the right time. I started the application process again to see if a short 3-month placement would be helpful anywhere. South Sudan came up originally, but weeks before I was due to leave there was a rise in insecurity in the region and my placement was changed to…Kenya! It was sort of full circle when I ended up in Kenya because that was where I had originally applied to go. I think it was a kind of karma.
Can you share a story that you won't ever forget about your experience in Mutomo? 
There are so many stories, but this one really stands out.
It was just me and a newly qualified nurse at the hospital when a patient who was 33 weeks pregnant came in. Her water had broken and she was ready to deliver. We delivered the baby and I remember we looked at each other and then at the mother; "There's another baby in there!" I said. I'm not sure who was more shocked, myself, the new nurse, or the mother.
At the hospital where I work in the U.S., there is always a high-risk doctor on hand to deliver twins in case of complications. I had never delivered twins on my own and I remember praying the whole time that everything would be okay.  And in my mind, and I mean it was so vivid, in my mind all I could see was the face of one of the high-risk doctors I worked with in the US. His name is Dr. Robertson and he does a lot of twin deliveries, so in my mind, all I could see was Dr. Robertson, I was like "Ok, what would Dr. Robertson do? Ok. Just stop for a second and think about what he would do and then do that."
Thankfully, we had a nice, easy delivery. The twins and the mother did really well. In the moment, I was terrified. I worried I would make a huge mistake. However, I trusted my skills and the outcome was incredible.
Tell what it was like working with local healthcare practitioners: 
I learned so much from the people I worked with. Seeing what people can do with so little was inspiring, but seeing what they could not do because they had so little was heartbreaking.
I led a Helping Babies Breathe training sessions, showing participants how to use Ambu bags – a hand-held device commonly used to provide positive pressure ventilation to patients who are not breathing or not breathing adequately. What an experience.
So many people showed up. We had nearly 100% participation from all the health facilities. People had to walk, find transport, take time off to attend! It was clear to me that these health practitioners were desperate to learn. 
During the first class I taught, I remember people were frantically writing down every single word I said. It was bizarre to me that people would listen that closely to what I was saying.  At the very end of the session, I asked if anyone had any questions. One of the participants raised her hand and the question she asked floored me.
"What do we do if we don't have that bag?"
Ambu bags are basic essential equipment that you NEED in order to resuscitate a baby. I did not know what to say. When I asked the class how many of them did not have access to these bags more than 3/4 of the class raised their hands. I remember looking at my supervisor and friend, Jesse, the project coordinator of CHAMPS in Kenya thinking, what do I tell them? We talked to them about using mouth to mouth as the best alternative solution but now Jesse is working hard to get at least one Ambu bag and pediatric mask to each health facility. If anyone can make it happen, it's Jesse!
Before finishing the class, I asked the group what they were currently doing when a baby in their care was struggling to breathe. There was a bit of silence in the room but then someone responded saying that prior to this class they didn't know what to do. That was probably the hardest thing I experienced while in Kenya. Knowing that babies probably died or were forever impacted (i.e. brain damage) because of a lack of equipment and knowledge. Seeing firsthand all these people who came to learn made me realize how important this kind of teaching is, and what an impact this kind of training can have on the lives of people living in low-resource communities; both the healthcare professionals and the people they serve. 
What advice would you give to people considering volunteering? healthcare
It's ok to be scared about it. It's ok to be nervous. I think you'd be crazy not to be.
When I was getting ready to go, especially when I thought I was going to South Sudan, everyone was asking me: "Aren't you afraid?" and I told them,  "Yeah I am scared. Of course." But honestly, for me, I felt more called to do it than I was scared.
So you just kind of have to put your faith into whatever you believe in, for me that was God telling me: "This is what you are supposed to be doing." But whatever it is you believe in, you just kind of have to trust that you are not being led astray.
So I think that was the advice I would give to people – it's ok to be scared and it's ok to be nervous as long as you do it anyway.
What was it like being back?
It was really tough. I was happy to be home, especially because it was right before the holidays, and I got to spend the holidays with my family. After not seeing them for a while, that was really, really nice. Honestly, that was what I missed the most while I was gone: my family and friends. However, once I was home, I just wanted to be back in Kenya. That was hard because I don't think people really understood.
They would ask me things like: "Aren't you happy to have hot running water" and "Isn't it great you can just walk down the block to get whatever you want to eat." Of course, those things are nice, but I couldn't help thinking about all the people I met in Kenya who don't have these kinds of choices. And the reason why? Because they were born there and I was born here.
I think that one of the biggest shocks for me was the first time I went to a grocery store after I got back. It was overwhelming, all this food in one building. I could pick anything I wanted, all the while knowing that so many people will never have such choice.
Going back to work was difficult as well because I work in such a nice hospital, with everything you could possibly want or need. We take care of some of the sickest moms and the sickest babies and we have these amazing outcomes. I would look back to my patients in Kenya and think "If that mom had been here, her baby would still be alive."
I also find myself often wondering why I was so lucky to have been born here with all these opportunities and great things, while these other women were not so lucky.
How would you articulate why you wanted to be back in Kenya?
The pace of life is so different in Kenya and at first, I struggled with it. But then having time to just sit and talk to people was a gift – something we don't necessarily make time for here. I learned to love the pace of life and the culture. In Kenya,  no one knows a stranger. People are more open and welcoming. And if I am really honest, I also miss really and truly feeling like I am really helping people. I know that I am here also, but it's just a different feeling. There are so many qualified nurses here that can do what I do. But there, you know, I really felt like I was truly impacting people. I miss that a lot. 
How did your time in Kenya change you, both professionally and personally?
Professionally, I am a better nurse. My coworkers love to hear all my stories because they are so different from what we experience here. They are always asking me questions and I like that I get to share the stories of people too often forgotten and silenced.
Personally speaking, this experience made me more thankful for all that I have and I hope that I will always remember that.
Tell us how it made you a better nurse: 
In Kenya, I worked with nurses who wanted to provide top-notch care for their patients, but couldn't because they didn't have the basic, essential equipment or the knowledge and skills required. That experience made me more grateful than ever for the level of medical care I can give my patients here in the U.S. I know I can give them the very best outcome.
Serving with CMMB has also made me more empathetic. At work now, every time we get a patient who doesn't speak English they assign her to me. I keep telling them I don't speak other languages, but my colleagues see me as being able to deal with more diverse patients and that is a great thing.
What are you doing now?
I am a labor and delivery nurse at a hospital in Omaha and I am preparing to start a midwifery program at the University of Minnesota later this year.
Do you think your experience with CMMB Kenya made you a better candidate for the program?
Yes, very much and it played a big part in my acceptance. The interviewers were very curious to learn about my clinical experience in the hospital in Kenya because much of what I was doing there is what midwives do. I know that my experience in Kenya helped me stand out. But most importantly, it helped me develop skills and ultimately made me a better nurse. How has this experience impacted you personally? I am a lot more grateful about all that we have access to in the U.S. And I feel like I am a lot more empathetic. It is impossible to witness the challenges people face, both the patients and the medical staff, and not come away impacted. I learned so much and for that, I will be forever grateful.