Learning English in Peru: Practice Makes Perfect
August 6, 2019 •
Jolynn Meza Wynkoop •
Peru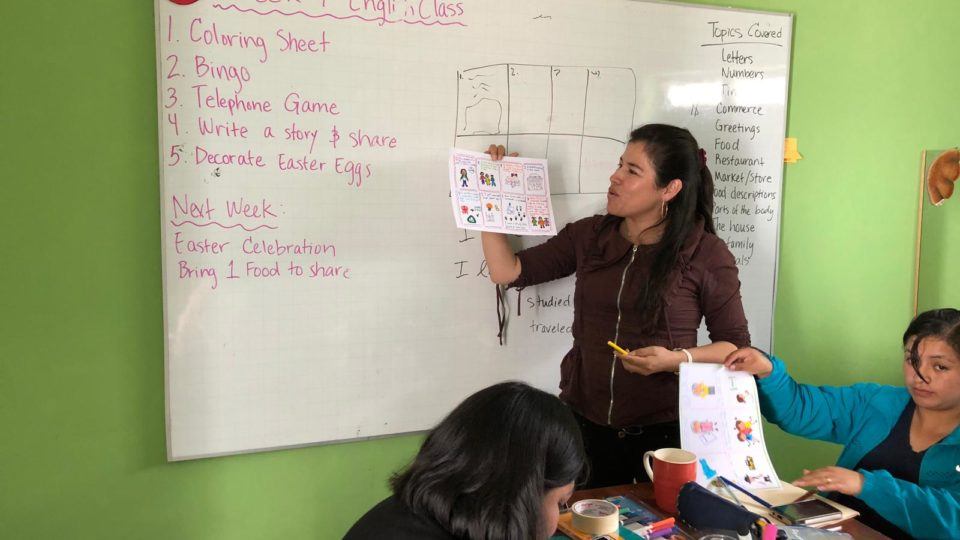 Joylnn is one of our committed volunteers serving as a water, sanitation, and hygiene (WASH) specialist in Huancayo, Peru. Like so many of our volunteers, her service goes beyond the remit of a WASH expert. Here, Jolynn shares her experience teaching English to CMMB Peru staff members. She explains how helping two friends developed into something the whole staff, including herself, could benefit from.
---
Monday mornings for a lot of people can be dreaded and difficult, but not at the CMMB Huancayo office! Monday mornings are for freshly baked banana bread, cancha (toasted salted corn), Peruvian hot chocolate, lots of coffee, and smiling faces. Monday morning is English Class.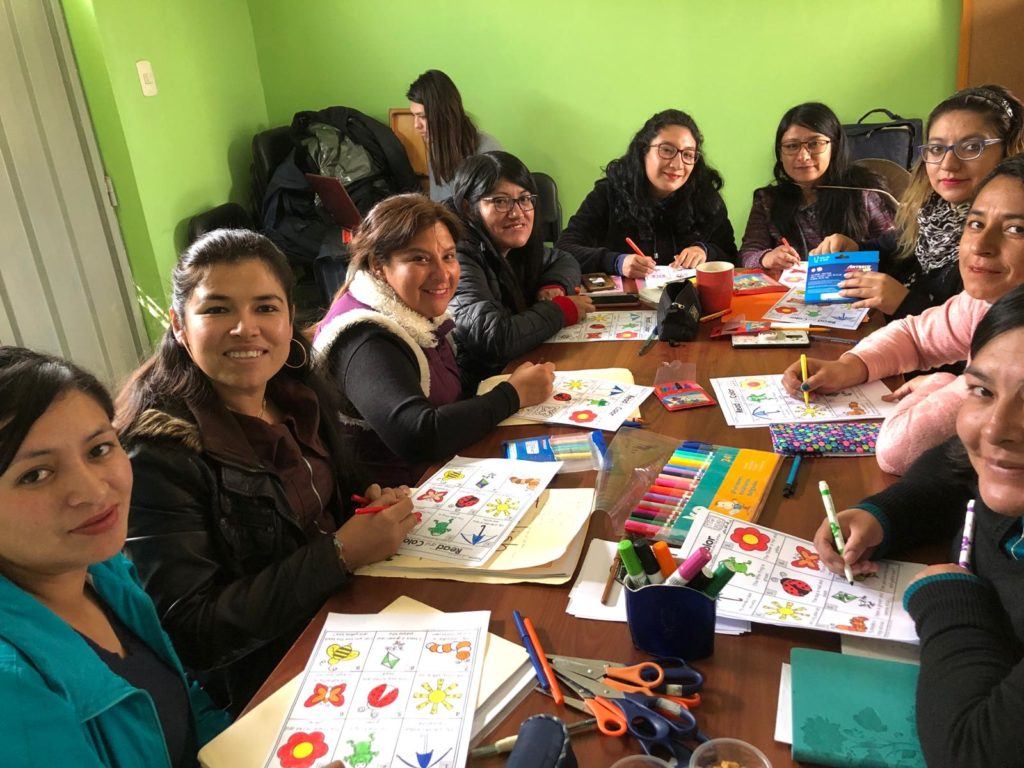 Practice Makes Perfect!
The idea of starting an English class for the CMMB Huancayo staff first started back in September when I was volunteering at the Huancayo, Huancan CMMB office with three other staff members — Gina, Isabel, and Stefy (all nurses).
They were my first coworkers, and friends in Huancayo and really wanted to improve their English language. With the desire to learn quickly, they started practicing every moment possible. Walking long distances between home visits provided the perfect opportunity to learn songs, like the "Itsy Bitsy Spider," which luckily had a Spanish copycat, and to practice other random vocabulary.
Singing and naming random objects around us (animals, colors, people, places, etc.) was an easy way to learn for my Spanish speaking friends, and I found that it also helped me to improve my Spanish.
Let's Make It Official.
After three months of informally teaching English to my friends, Isabel and I spoke with our Huancayo Supervisor, Astrid, about possibly having a more formal English class for all of the interested CMMB staff. After some shifting of schedules, we were able to coordinate to make English class a GO.
Monday mornings started early, first reviewing homework together and then quickly going over the agenda for the class. The staff really connected with art activities such as coloring pages and interactive games that helped them to not only learn English, but also practice speaking, listening, and writing.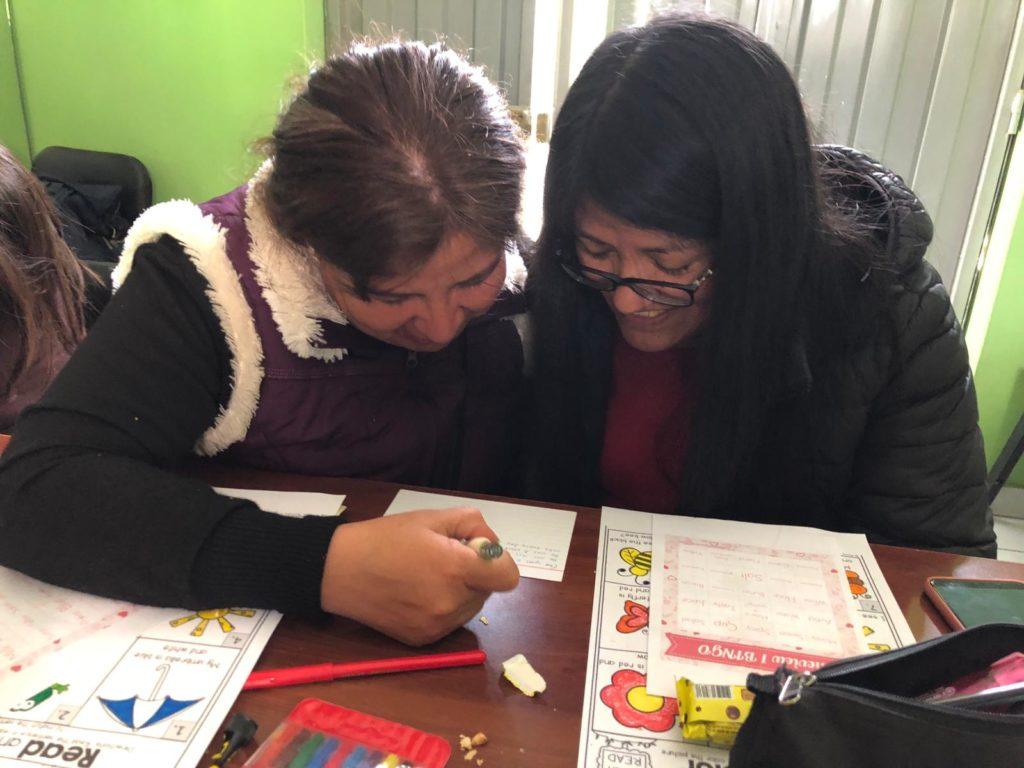 Topics covered over the weeks included learning all sorts of vocabulary. From animals to food, parts of the body to greetings, and vocabulary related to Valentine's Day and Easter. Why these holidays – because classes happened in close proximity to both. It provided a great opportunity to share some of the USA's cultural traditions around these holidays.
Our class was able to learn the basic building blocks of the English language.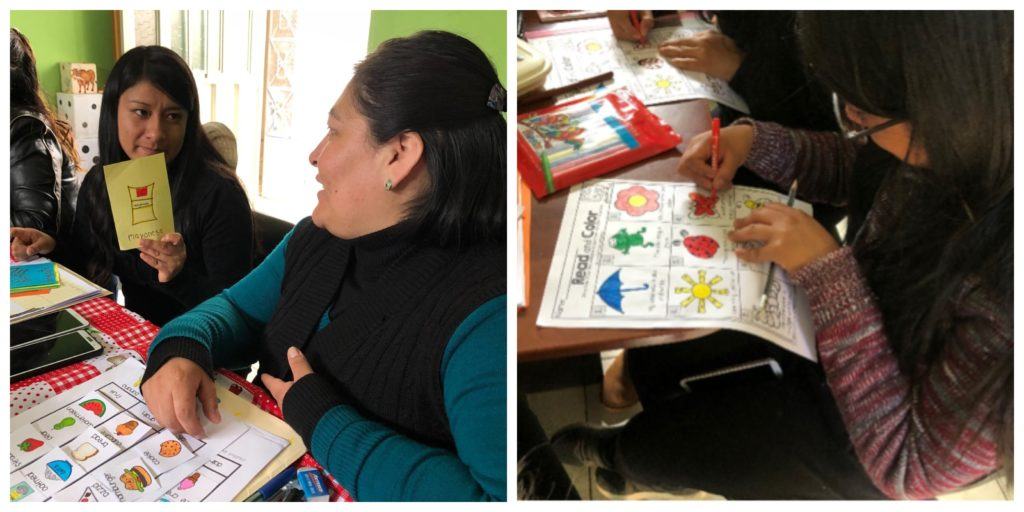 I loved teaching the class because I saw a strong desire to learn from my friends and fellow staff members. It was also a level of English that was fun to teach because I could easily use videos, songs, and games to help increase participation in the activities.
One of my favorite days was teaching the parts of the body, where the staff participated in an active relay game. Everyone was split up into three teams and each team was given a list of body parts spelled out in English on pieces of paper. Each team had the task to race to correctly label one member of their team with the corresponding body parts. It was pretty funny watching an all women staff figure out how to label "mustache" & "beard" on their fellow female teammates.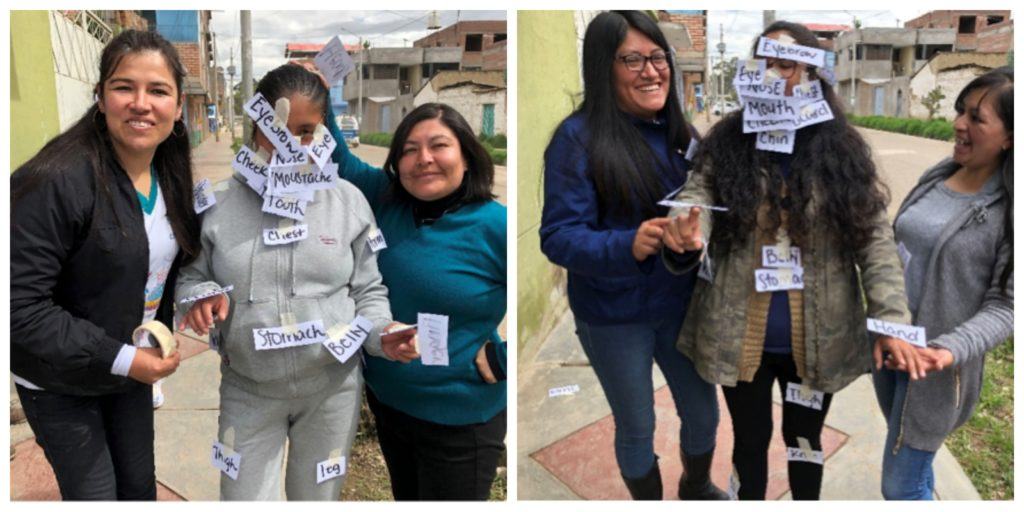 Learning From Each Other!
Huancayo has always been a location for volunteers with strong Spanish speaking skills. I believe this class was one of the first steps to opening more opportunities for future volunteers. As the staff become more and more familiar with the English language, they will be better able to assist volunteers coming into new roles in Huancayo.
I remember when I first arrived, I was still learning a lot of Spanish. Of course, there were nerves and I felt uncomfortable and uncertain, but being immersed in the language was the best environment for me to continue to learn in. Teaching English has not only made me a better Spanish speaker, but it also allowed me to understand more about the language.
Through class preparation and questions asked by the staff, I was able to research and learn for myself. I hope that the class not only benefited my fellow coworkers with their educational advancement, but can also be a catalyst for future opportunities for volunteers hoping to work in CMMB Peru.
So, what do the "students" think of English class?
"I had lots of fun with the English class where I was able to learn a lot through the new vocabulary that Jolynn taught us — the new vocabulary was the most helpful for me" – Nataly Gutierrez (Administrator)
"I really liked the methodology of the class. It was a very dynamic class and made it easy to learn." – Gina Amaro Mercelo (nurse)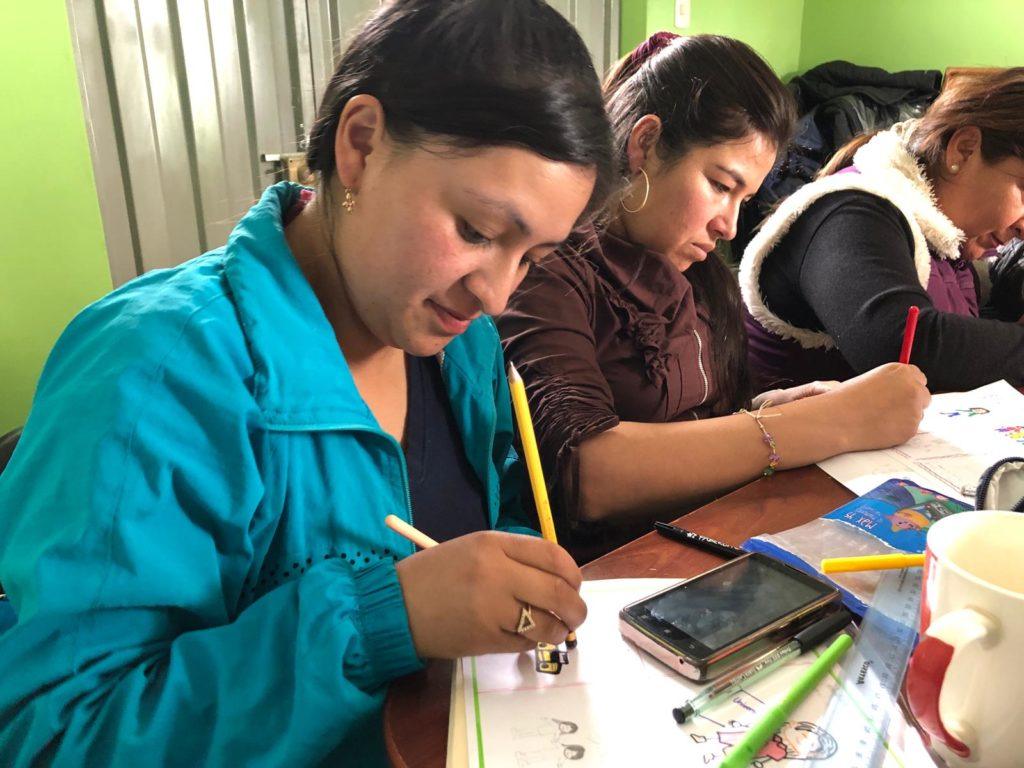 "The English class will benefit us in the future as we work with an English speaking organization — CMMB. We read many forms that are in English and a lot of information we need online is also in English. The class will help us to understand more of what we are finding. Also, the class was beneficial for our own personal growth and advancement." – Nataly Gutierrez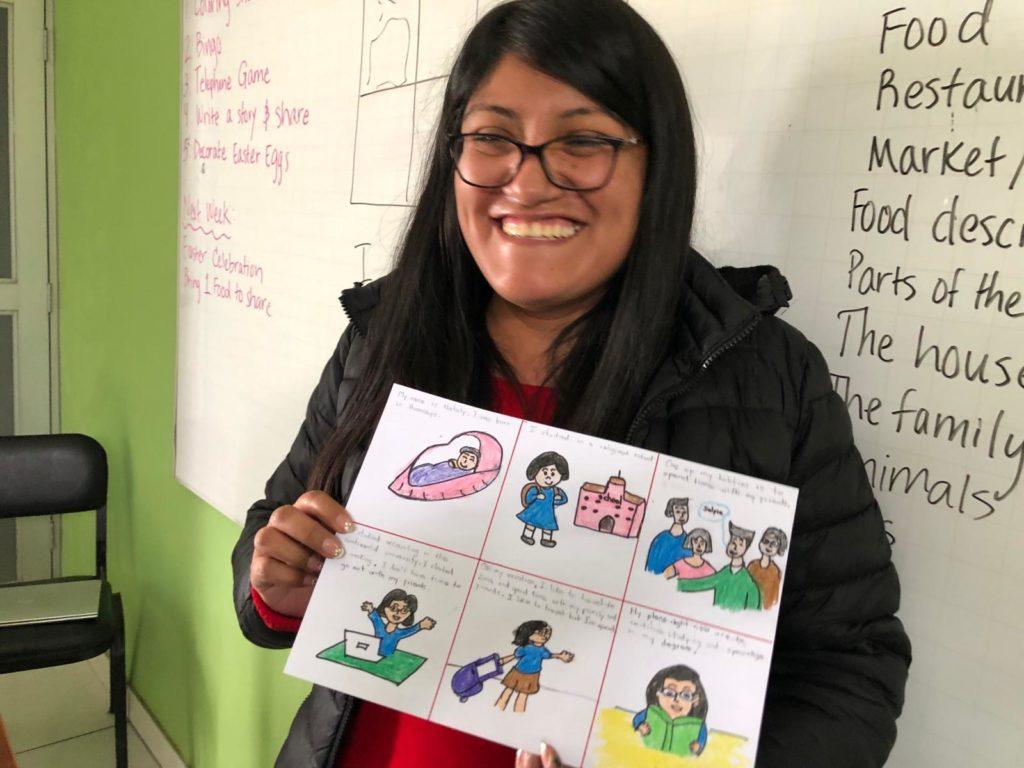 "I would like to go to the USA someday as a tourist and it will help me to be able to communicate. It also will help me to better communicate with the volunteers that come to Huancayo so that I can also help them with their Spanish." – Maritza Isabel Enciso Cuno (Nurse)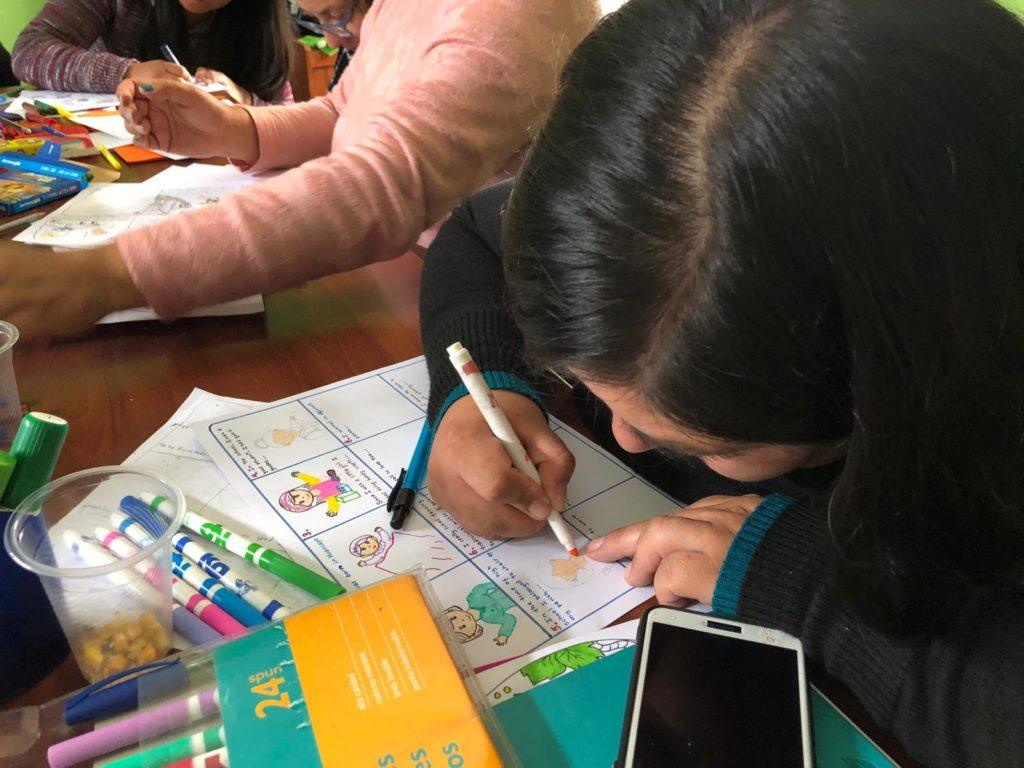 "Being able to speak English will in the end, help us better serve our families here in Peru. Speaking English, we can better help our volunteers who work with our families." -Gina
What will staff never forget about english class?
"Jolynn always showed us how to sing songs, like the Head, Shoulders, Knees, and Toes song, I will never forget that one." -Nataly Gutierrez
"One of the things I learned the most during our class was how to pronounce certain words and phrases. For example, I can now pronounce thirty-three correctly." – Maritza
"We are so thankful for the classes that we were given. They were very dynamic and helped us reinforce some of our English skills. The classes helped us in terms of speaking and writing and we were able to play games, draw and watch videos. Through these techniques, we were able to learn a lot more quickly. For me, I am very thankful because I will now be able to better communicate with teams from other countries and with our international volunteers that come to Peru to work with us." -Maria Isabel Palomino (nurse)