Meet Bernard Killion, Intern
April 15, 2017 •
CMMB •
New York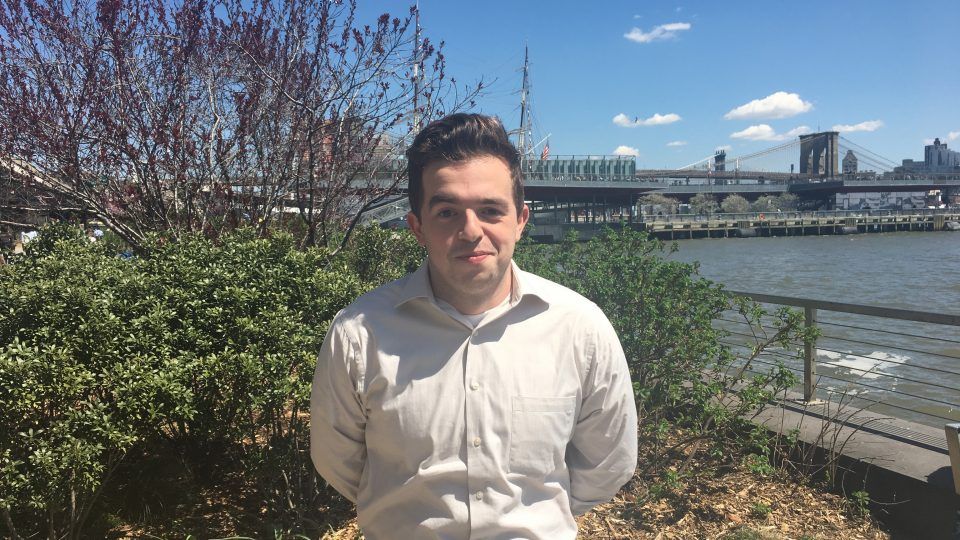 Originally from Westford, Massachusetts, Bernard will be graduating from Fordham University this May with a BA in Political Science and Middle East Studies. Before joining CMMB as a volunteer, he interned with the Communications Team of Massachusetts Congresswoman, Niki Tsongas, drafting media advisories, press releases, and public statements.
Wednesday, April 19th will be his last day interning at CMMB and we wanted to wish him best of luck as he continues his journey. We sat Bernard down recently and asked him to answer a series of questions to learn more about who he is outside his role as CMMB intern. Read to find out what world problem he would most like to solve, which animal he would be and who would play him in a movie about his life. 
Thank you Bernard for your service to CMMB and for bringing your unique sense of humor to the office!
Where is home? I currently call the Bronx home, but I was born and raised in Westford, MA, a "small-town" located about 35-40 miles northwest of Boston.
Education: In May, I will graduate from Fordham University with a Bachelor's Degree in Political Science and Middle East Studies, having also minored in the Arabic Language.
CMMB volunteer post: Intern with the Strategy & Innovation Team at CMMB's NYC Office.
Interesting fact about you: I've played ice hockey for essentially my entire life, originally learning how to skate in my backyard on a makeshift rink that definitely rivals anything found within the city limits.
If you were asked to sum yourself up in two words, which two would you choose? Grounded and passionate
Why CMMB? After I saw the job posting, it was a "no-brainer." I wanted to be a part of an organization that made an actual impact on the lives of others.
What is your hope for your experience volunteering with CMMB? I simply want to contribute to the organization. CMMB does a lot of great work that really makes a difference in the lives of others. I just want to be a part of that.
What are you most proud of? My younger sister and her 4.0 GPA at Boston University. I, sarcastically speaking, take most of the credit.
Imagine you are stuck in an elevator. Who would you most like to be stuck with? And why? He is now deceased, but I recently came across the work of a Dutch Jesuit named Frans Van der Lugt. He dedicated his life to the establishment of a community center for the mentally disabled in Homs, Syria. I would have loved the chance to "pick his brain" before he was killed by extremists in 2014.
What book should everyone read? Why? This is a tough question, but I think I have to go with Mitch Albom's Tuesdays with Morrie. It's a short, easy read, but it really packs a punch. It's a great read for anybody at any age or stage of their own personal lives.
You are featured in the NY Times or your national newspaper. What's the headline? Killion unanimously confirmed as Secretary of State vows "change for the world's poorest."
What would be your theme song? Fortunate Son by Creedence Clearwater Revival
Imagine if you were an animal, which would you be and why? If this was a job interview, I would say an ant. They can lift nearly 5,000 times their body weight and are known for being incredibly hardworking.
Favorite quote: "Nothing behind me, everything ahead of me, as is ever so on the road." – Jack Kerouac
Who would you like to play you in the movie of your life? I've been told I look like Matthew Broderick from Ferris Bueller's Day Off. I'm sure he'd do a great job.
What is your hope for the future? I hope that one day people learn how to listen to one another. Metaphorically speaking, I believe we are all in the same "fight" and truly have a lot in common.
Favorite speech: Pretty much anything written by Ted Sorensen, JFK's speechwriter and so-called "intellectual blood bank."
If you could solve one world problem, what would it be? Poverty. It's at the root of so many trans-national issues.
What are the three things you are most grateful for? My friends, my family, and the life opportunities that I have been lucky enough to receive.
Who is your biggest inspiration? Why? I am incredibly inspired by our community health workers and international volunteers. The work they do is incredible. I hope to be able to join their ranks in the near future.