This is Tough: After Hurricane Matthew
October 11, 2016 •
Brittany Jonap •
Haiti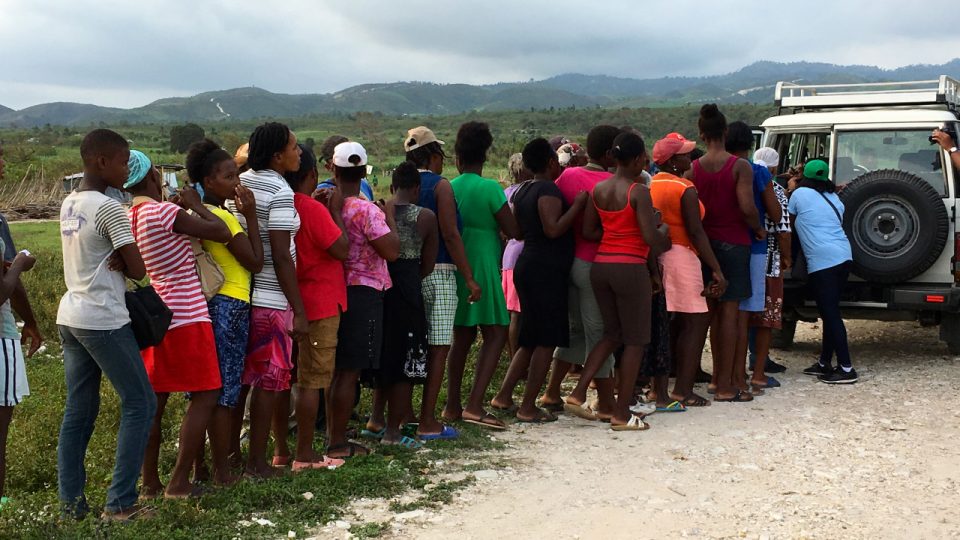 Brittany Jonap is a volunteer in Haiti. Here she shares a view from inside Haiti after Hurricane Matthew.
I don't want to write this. But I know it is important. Lots of people have been writing to ask me if I am okay and if they can help. Yes, physically I am okay. But Haiti was hit hard. I don't want to read the news. The pictures make me feel emotionally and physically sick. This country doesn't deserve this. My heart aches for many people. For those who are missing family members. For those who are hungry. For those who are scared. For those who are reminded of the earthquake. For those who are waiting for help. The list goes on and on.
The CMMB team has been working frantically to get food, water purification tabs, and hygiene kits out to those impacted in the communities where we work. The staff worked until the sun set and the rains came yesterday. We finished with kits for 1,000 families. It was way more work than I anticipated. We hoped to leave for Côtes-de-Fer at 5am this morning, but the truck couldn't make it. We stayed at the office and packed more kits. We will try again tomorrow.
Our country director finally got word from a partner in Jèrèmie today, where we work at the Gebeau clinic. Communication has been nearly impossible. They asked us to send 50,000 food kits. I don't know how we will do this. Right now that area isn't even accessible by car. It will take a helicopter or boat. It took our entire staff a whole day to prepare 1/50th of that. Yet the need for food and clean water is urgent.
I know some people want to donate money. A couple of things I want you to know about this organization:
First, the money will go toward the communities we work – primarily Côtes-de-Fer, Olivier and Gebeau (in Jèrèmie).
Secondly, the most pressing problem right now is food and water insecurity, and that is what we are focusing on. It is the emergent issue. But we aren't going anywhere. We have been in these communities for a long time, and we will stay here and continue to work.
Lastly, with the exception of me, Robin and Hawa, the rest of the 30-40 member office staff is entirely Haitian. If you donate, the money won't be going to international staff salaries or imported materials. We have purchased all of our relief products from within the country thus far. Today we hired local workers to assist the staff with preparing sacks of corn. The management team from the local office is coordinating the disaster relief efforts.
Thanks for your continued support. Below are pictures of the CMMB Haiti staff working on Friday.
---
CMMB note: We will continue to provide updates here. 
---
Translated into Haitian Kreyol:
Sa a se difisil. Mwen pa vle ekri sa a. Men, mwen konnen li enpòtan. Anpil moun yo te ekri e mande m si mwen byen, si yo ka ede w. Wi, fizikman mwen byen. Men, Ayiti te frape difisil. Mwen pa vle li nouvèl la. Foto yo fè m malad. Peyi sa a pa merite sa a.
Kè m' fè mal pou anpil moun. Pou moun k ap cheche fanmi yo. Pou moun ki grangou. Pou moun ki pè. Pou moun k ap sonje yon tranbleman tè a. Pou moun ki ap tann pou ède. Lis la kontinye.
Ekip la CMMB ki te travay pou prepare manje, grenn pou fè dlo pwop ak twous ijyèn soti nan moun afekte nan kominote yo kote nou travay. Anplwaye a te travay jouk solèy ale kabann ak lapli te tonbe. Petèt nou fini pou 1,000 fanmi yo. Li te fason pi plis travay pase mwen antisipe. Nou te espere kite pou Côtes-de-Fer nan 5è maten sa a, men kamyon an pat kapab fè li. Nou te rete nan biwo a epi chaje plis twous. Nou pral eseye ankò demen.
Direktè peyi nou finalman te resevwa mesaj pou patnè nou nan Jèrèmie jodi a, kote nou travay nan klinik la Gebeau. Kominikasyon te prèske enposib. Yo mande nou voye 50,000 twous manje. Mwen pa konnen ki jan nou pral fè sa. Toujou zòn sa se pa menm aksesib nan machin. Li pral pran yon elikoptè obyen bato. Li pran tout nou yon jou pou prepare 1 / 50th nan sa. Men, yo bezwen ijan manje ak dlo pwòp.
Mwen konnen kèk moun ki vle fè don lajan. Men, avan ou don lajan m ta renmen di ou bagay sa yo sou òganizasyon an:
Premyèman, lajan an prale ale nan kominote yo nou travay – Côtes-de-Fer, Olivier ak Gebeau (nan Jèrèmie).
Dezyèmman, pwoblèm nan pi ijan kounye a se manje ak dlo ensekirite e se sa nap konsantre sou. Li pwoblèm nan ijan. Men, nou pap ale nenpòt kote. Nou te nan kominote sa yo pou yon tan long epi nou pral rete e kontinye travay.
Anfen, ak eksepsyon de mwen menm, Robin ak Hawa, rès la nan anplwaye nan biwo se Ayisyen. Si ou bay, lajan an pap ale nan salè anplwaye entènasyonal obyen materyèl enpòte. Nou te achte tout nan pwodwi sekou nou soti nan peyi a. Jodi a nou lwe lokal yo ede anplwaye a ak prepare sak nan mayi. Ekip la jere nan biwo lokal la ap kowòdone efò yo sekou dezas.
Mèsi pou sipò kontinye ou. Anle se foto nan pèsonèl la CMMB Ayiti k ap travay nan Vandredi.