From Kenya to Sudan: Interview With Volunteer Doctor
August 21, 2019 •
Kenya, Sudan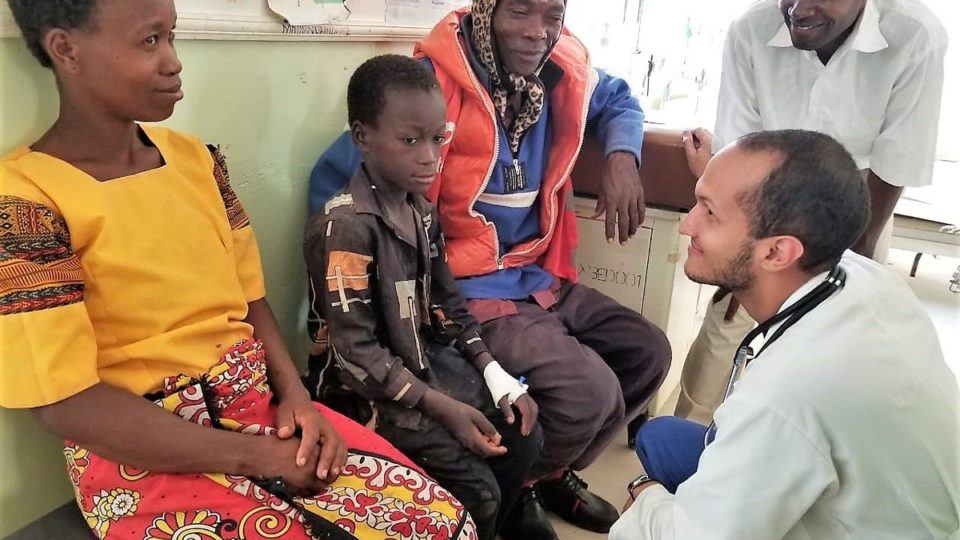 Dr. Jose Garcia Ulerio has been a member of our CMMB family since 2017. It started with an internship in our New York City headquarters, where he supported our programs team. But Jose knew he wanted his "feet on the ground." After a short return home, Jose was on a flight heading to serve at Our Lady of Lourdes Mission Hospital in Mutomo, Kenya as part of our international volunteer program. Now, a year after of dedicated commitment to the hospital in Kenya, Dr. Jose will bring his medical skills and compassion to the Nuba Mountains of Sudan to work with Dr. Tom Catena at the Mother of Mercy Hospital. 
We recently spoke with Dr. Jose who talks about his experience in Kenya, and how it's leading him to Sudan. 
---
Tell us about your time in Kenya
I think this has been the best year of my life, that's for sure. I mean, I didn't have any expectations of meeting people, or making connections with people and yet I have — with my patients, neighbors, fellow volunteers, and hospital staff members. I'll say the first thing that shocked me about Kenya, shocked me in a good way, was how open people are — open to shaking my hand, talking with me, and learning about my background.
The people in Mutomo made it so easy to adjust, I clicked with them and it was amazing. After I first arrived, things just kept continuing to build and Mutomo started to really feel like home. I looked forward to daily rounds, and I began earning and taking on more and more responsibility at the hospital.
A group of residents had been volunteering two months before I arrived. By the time they left, I was already in charge of the whole medical and surgical ward with approximately 50 beds, doing rounds Monday through Saturday. It was just what I was looking for from this experience.
What were some of the major challenges you observed your patients facing? 
I will say the main challenge in Mutomo is poverty. There aren't many options for employment. The patients that we receive are very poor, many living off what they plant and sell in the market on Saturdays. Besides the very few opportunities here, you have children that get a lot of pneumonia because of the sandy conditions and the poor nutrition. We receive a lot of malnourished kids in the pediatric ward.
Access to medicine is another big challenge that they face. Most of our patients come from 20, 50, even 70 kilometers away. Getting here is very difficult, especially in the rainy season. Imagine all that water and all that sand. There's mud everywhere and transportation is very difficult and yet, it is the only hospital in a radius of 80 kilometers. People either make the journey or stay home — which sadly, many choose to do.
Looking back at your time in Mutomo, is there one moment that stands out as being particularly impactful?
Dr. Amollo is the medical coordinator at the Mutomo Mission Hospital. He is such a source of inspiration. He encourages his team to learn through experience because that is how he learned.
One time he called me and he said, "I have a C-section for you." That was actually the first time I had ever done one as the lead. I remember this moment very well because not only was it my first C-section but, it was when I realized how much I was learning, how much I was actually being taught.
Dr. Amollo offered himself and his skills to help me learn every day and that's really the summary of my experience in Mutomo. I had the brilliant, magnificent opportunity to find people that took the time to teach me. Sometimes we focus so much on building capacity, and that certainly is an important part of volunteering. But, it is also critical that you open yourself up to learning, because that is the most humbling experience. It has changed me forever.
Sometimes we focus so much on building capacity, and that certainly is an important part of volunteering. But, it is also critical that you open yourself up to learning, because that is the most humbling experience. It has changed me forever.
What have you missed the most about home? 
Ah, home! I obviously miss my family (mom don't get mad for what I am going to say) but I really miss my friends. I've had the chance to build a community of friends since I was sixteen-years-old. I met them in church, we went to the same school, we went to the same university, most of them got married within the same group of friends. I miss them every single day of my life. I miss the laughter, I miss those long conversations we used to have. I have been privileged with great friends from all around the world, not only back home in the Dominican Republic but also in New York. Those first friends, the ones that I share my faith and life with, I really miss them a lot. 
What is the most rewarding thing about the work that you're doing?
 The most rewarding thing is when patients heal or improve, especially seeing infants in pediatric wards smiling. Their smiles are priceless. It may sound a little bit cheesy, but I really love it. I've never worked or had the idea to work with infants and children, even in my personal life. Seeing them heal in my medical ward is just amazing. It's just beautiful to see them running around again after they have been so sick. I think that the smile of a child that was sick and now is healed is priceless. That's the best thing. It's my first time experiencing that, I didn't follow the patients when I used to work in outpatient as much as I do here. That is definitely the most rewarding thing about my time serving here.
I think that the smile of a child that was sick and now is healed is priceless.
How do you feel this experience has changed you, either professionally and personally? 
It has changed me in both ways. I am the best version of myself as a doctor and as a person, and it is because of this journey. As a professional, I have been exposed to so many things that I would not have been otherwise. I'm talking about diagnosis, I'm talking about symptoms, I'm talking about surgical procedures. 
My experience has also given me a new perspective on public health and global health. When I visited communities here, I experienced completely different challenges than when I worked on public health projects as an intern in New York. Challenges from organizing the vehicle and transportation to getting to the community learning and sharing important messages about health.
In terms of personally, I have grown a lot. I have traveled and experienced a new country, different culture, new foods, and language. I have also developed special bonds with the people I have worked and served with.  It has allowed me to experience and learn different perspectives. As a person I have grown in terms of tolerance, in terms of understanding, and in terms of listening. I am not the same person I was when I first came to Mutomo, Kenya.
What is your hope for the people you serve? 
For my patients, I hope that they come back to Our Lady of Lourdes Mission Hospital when they need it. The Mission hospital is more than just a hospital, it is my home, it is the place I feel like myself, and it is the place I left my family for. My hope is that my patients come back to mission hospital because they know the hospital has another level of care beyond the clinical, beyond the medication. There are people at the hospital who truly believe in their mission, in the mission of the sisters.
We live that mission every time we talk with the patients, and I really enjoyed it. I really hope my patients feel the confidence and the trust to know that when they go to the hospital, they will be taken care of.
How are you feeling about leaving? You have overcome so many challenges while you've been here, what are the challenges of leaving?
I think that one of the challenges of leaving is the fact that there are some projects that I won't be able to see the end of — I won't see the final stage. There is still a lot of work to be done here and being a part of it in any way, makes it really hard to leave. Realizing this, I thought about extending my term in Mutomo. I feel that in leaving before these projects are completed, I am leaving a piece of myself in Mutomo.
Another volunteer asked me a similar question about the people I've met and how it felt to be leaving them. Sure, saying goodbye to the people I've met and the friendships I have made is hard. At the same time, I just try to accept that it is time to move on to the next chapter of my life. So for sure, I have made long-lasting friendships and relationships, especially with CMMB and staff members at the hospital — I consider them to be my sisters and brothers. But from the beginning I knew I would have to leave one day.
You are getting ready to begin a new volunteer experience in Sudan. What compelled you to go to Sudan?Why not go home? 
One of the most important gifts that this experience has given me is the realization that this is what I want to be doing. A year ago, I was in New York, working nine to five behind a desk because I wanted to. I realized when I was there that something was missing. Going to Africa and having my feet on the ground, that was the answer to that feeling. There is no college, there is no university that was able to give me this feeling. This is why I studied medicine, this is why I left home, this is why I like languages. This is the why everything!
Being in Mutomo, waking every morning to see my patients and contributing to global health with CMMB has been the most life-changing experience. Playing just a small role here has helped me realize that this is what I want to do, this is where I want to be, and I shouldn't be anywhere else.
When the opportunity in Sudan came up, it was not a difficult decision to make in one sense because this is what I live for. But at the same time, things are happening and changing back home — changes that I am not able to be a part of. For instance, we have a new member in our family, my baby nephew. My big brother and his wife had a baby and you know, I wanted to be there for it but I couldn't.
I am comforted by the fact that everyone is pursuing their own life and I have found the "why" to everything in my own life. And so just as everyone at home is going forward, I too am going forward as well. This is my path.
There were a combination of moments that opened my eyes to this realization:
I learned how to perform surgeries I never imagined I'd be doing.
I've met people from all over the world and not just from Kenya here. I've met people from Poland and from Sweden. I never thought I would connect with people from all over the world.
Sure, changes are happening at home, but they are good changes. And yes I can't be there for them but it is comforting to know that I don't have to be present for good things to continue happening. Changes happen regardless of where I am in the world.
Kenya has given me the chance to do what my heart has been beating for my whole life. I couldn't ask for anything else, it is perfect.
Tell us about Sudan!
So, I'm very excited to go to Sudan and to work with Dr. Tom Catena. In a way, I feel like I am following in his footsteps. What I did at the Mutomo Mission Hospital for a whole year, taking care of the medical and surgical ward, was the same thing that Dr. Tom did when he served here in the early 2000s. He was a family doctor learning about surgery while serving in Kenya!
That for me is something that couldn't be more perfect. I started in this place, I even saw papers and protocols that Dr. Tom made for himself that the hospital continues to use today. The fact that I am going to Sudan feels like a prophecy that I'm on the right path — the path of someone I admire.
Hopefully, I will serve in Sudan for four months. Dr. Tom Catena asked for three months but I am hoping I can stay a little longer. I will be in charge of the maternal and surgical wards, while helping in gynecology and in surgery if necessary. I have the privilege of going with a couple of senior doctors and I couldn't be more excited. Not only is this an opportunity to give myself to others, but at the same time, I will be able to continue learning.
I have never been more certain that this is what I want to do. When the opportunity to serve in Sudan came up, I saw it as an opportunity to prove that I am meant to serve, in an ever more remote and maybe more challenging area — the Nuba Mountains. Life is just incredibly amazing, I am very, very grateful.
Do you feel your time in Kenya has prepared you for your experience in Sudan?
For sure, one hundred percent. Back home I was very comfortable, I would not have been ready to do what I am about to do in Sudan. Kenya has been the perfect way to start my volunteer experience. Back home, I saw less than 20 patients a day. From there I went  to Mutomo where I saw upwards of 30 patients a day and now, as I prepare to go to Sudan, I anticipate seeing upwards of 50 patients a day. I understand, that some days, Dr. Tom sees as many as 500 a day!
Do you have different expectations leaving for Sudan than you did when you left for Mutomo?
For sure, now I have a perspective. Back when I was coming to Kenya I didn't have that. Now I can say I am expecting more work, I am expecting less resources but, I am expecting. Does that make sense?
Besides all the challenges that I will face, I think that the Nuba Mountains is going to feel like a home as well.
You went to the premier of the Heart of Nuba, did you ever think you'd end up serving in the Nuba Mountains? 
I mean no, I never thought I would be. Especially in the challenging situations I saw in the Heart of Nuba. But right now, this is what I want to do. I want to go and help these people as much as I can. I want to be part of their community, their culture, I want to be open for them to teach me.
In light of the turmoil that is affecting the country, do you feel nervous? 
I don't know how to put it in words. If I don't go to Sudan I will end somewhere else, like Syria. This is what I want to do for the rest of my life. This is what I've been made for, I can't see myself doing anything else. It is not about where I am safe to do my service. It is about where people need me and where I can help, and that is where I will go.
What are your words of advice for others who are considering this kind of volunteer experience?
My words to other people who are considering this is to not overthink it like I did. Obviously you have to be prepared, but when the opportunity comes, just take the leap. Just say yes and you will figure it out. That happened to me and it has been beautiful since then.
---
Dr. Jose – thank you for your dedication to the world's most vulnerable. We are grateful to have you as part of our CMMB family.