COVID-19 Situation Report – June 4th, 2020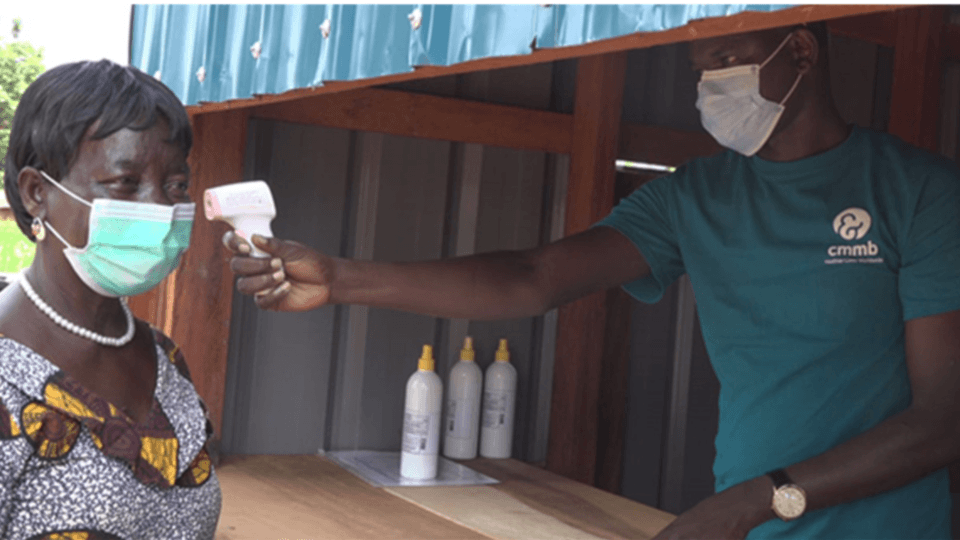 In an effort to share updates on our global response to COVID-19, CMMB is issuing regular Situation Reports on our five country offices. Here you will find the second report, published on June 5th, 2020. 
---
Update on Current CMMB Activities: New Handwashing Blocks in South Sudan; Assessing Health Facility Readiness

Responding to COVID-19
Entrenched malaria, HIV, and other communicable diseases have left Haiti, Kenya, Peru, South Sudan, and Zambia vulnerable to COVID-19; decades of low expenditures by government on health have rendered their health systems unprepared for a disease that has stymied even those much better equipped.
Toward CMMB's goal of ending preventable disease and death among mothers and children, we are responding. We are working to keep healthcare workers safe so they can keep on providing care now and in the future. We are working to help families understand that they will be safe at health facilities. And we are teaching them how to prevent infection.
Working on Three Fronts in our Five Countries
The pandemic remains in its early stages in four of the five countries where CMMB works. The number of confirmed cases is rising steeply, and with few labs per country and testing materials and equipment in short supply, the numbers do not tell the full story. However, there is widespread awareness of COVID-19. It is in the news, and CMMB-supported community health workers are teaching rural families about COVID-19 prevention, signs, and symptoms and home care of those sickened. Stigma and fear of infection has driven down demand for primary health care services at facilities: Many women are skipping antenatal care and routine child immunization. Our challenge is to urgently promote these proven life-saving interventions while helping keep families and health workers stay free of COVID-19. Toward that end, CMMB has focused on three strategic pillars:
Prevention: Water, sanitation, and hygiene have long been a critical need both in homes and in health facilities in our countries. Now, with the need to wash hands a key to disease prevention, generous donors have supported CMMB to provide more than 100 handwashing stations and soap to health facilities and communities. In addition, we have trained thousands of community health workers, who travel on foot or by bicycle to sensitize communities on the importance of handwashing to infection prevention. The community health workers have also been trained to support case screening and triaging, isolation ward set-up, and contact tracing. Materials we developed, covering handwashing, face mask use, social distancing, and risk factors, were used for the trainings.
Protection: CMMB has procured supplies for frontline health workers and ensured that community health workers in our CHAMPS areas have personal protective equipment (PPE) and hand sanitizer. In addition, we have procured N95 respirators and arranged airlifts to speed in-country distribution. We are also looking at local manufacturing options, to ensure a sustainable supply of PPE to meet the ongoing needs of frontline healthcare workers.
Preparedness: We continue working with national and local health leaders toward a coordinated response. Our participation reflects the value that host countries have put on our longstanding efforts to bring health to our focus communities. At the entrances of some of the anchor health facilities we support, we have set up triage stations, with temperature checks and handwashing stations.
Assessing the COVID-19 Preparedness of 252 Facilities Across our Five Countries
"Some of our staff are still in doubt about the disease. We also need more supplies or we may not be able to manage an outbreak." —CMMB healthcare worker
To better target our support for 252 health facilities where we work, CMMB undertook a detailed readiness assessment between April 27 and May 22. Speaking by phone with health facility in-charges, CMMB monitoring and evaluation officers administered a 29-question tool that assessed—among other topics—healthcare worker skills level and training (e.g., on waste disposal, infection prevention and control practices, and how to put on, take off, and dispose of PPE) as well as current availability of key supplies and access to replenishments (e.g., to hand sanitizer, disinfectants, masks for patients and providers, soap, respirators, gowns, gloves, and aprons). Excerpts from qualitative research are at left. Quantitative research revealed extensive gaps, as shown in two representative charts below.
Findings will guide upcoming CMMB support to health facilities.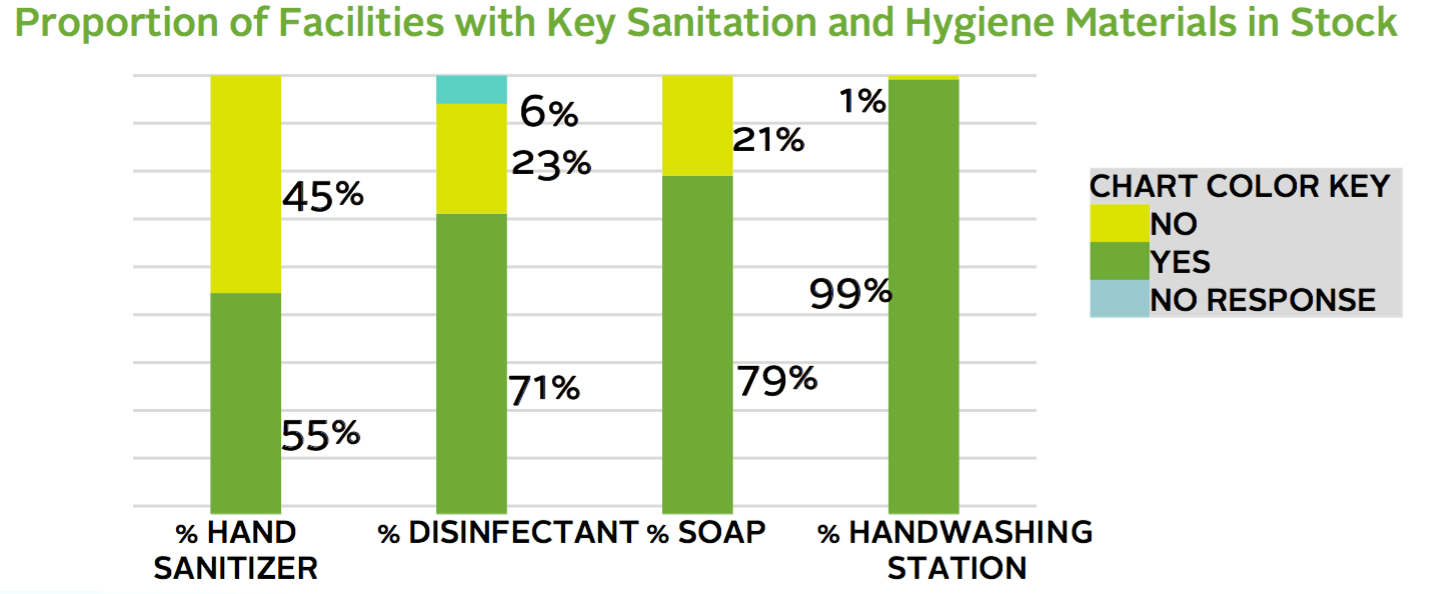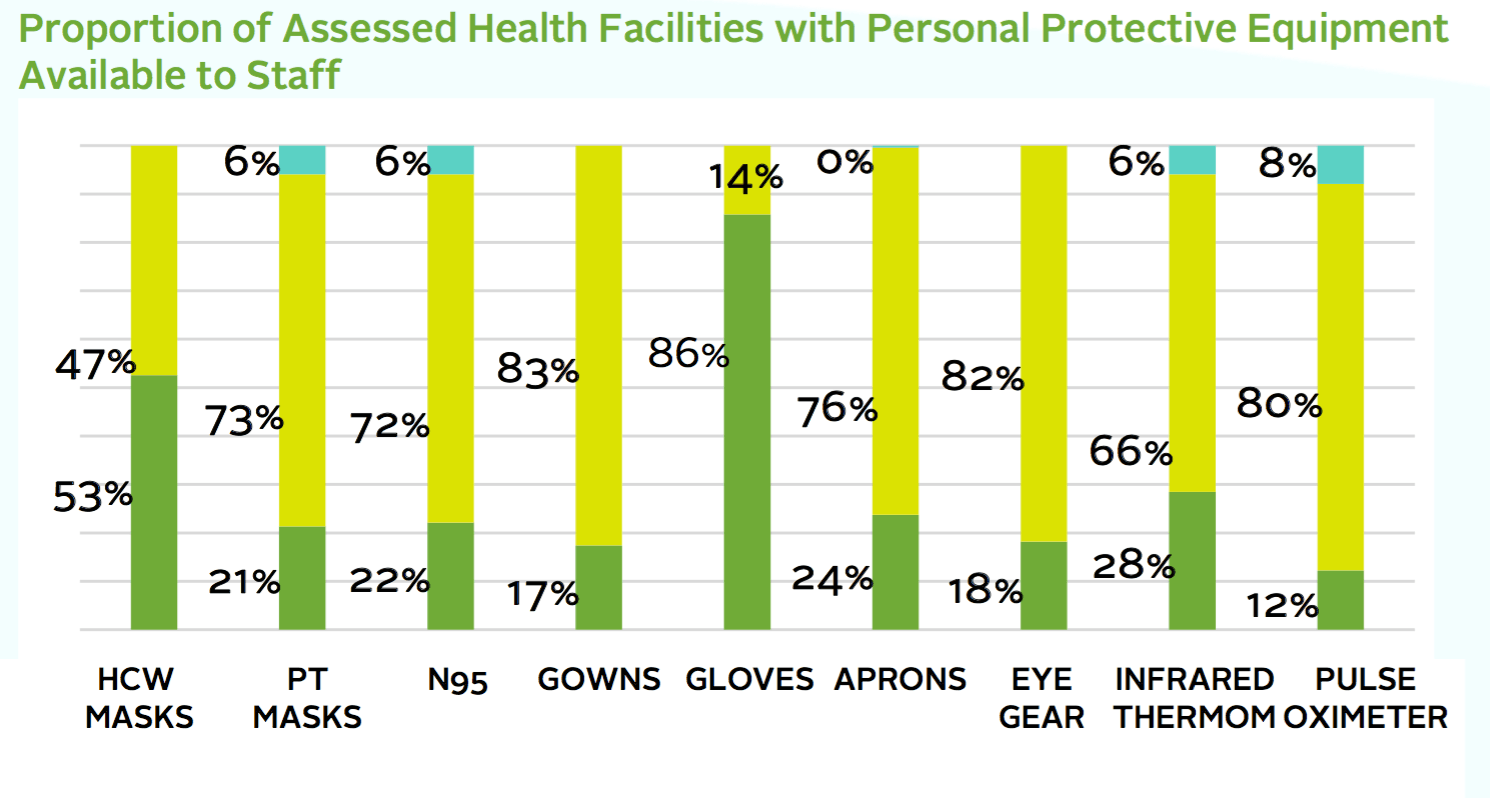 News From CMMB South Sudan

So far there have been no cases of COVID-19 in Yambio, our base, but air travel has recommenced, curfews have been relaxed, and other restrictions have been lifted to ease the hardship of families finding it difficult to meet livelihood needs. Meanwhile, case numbers are rising sharply; all 15 members of the nation's coronavirus task force tested positive.
At any time, CMMB staff expects to see a case in Western Equatoria, where we work, and there is widespread concern about how it can be handled. Tests are being processed by a single national lab in Juba; five new testing machines are being set up, including three more in Juba. So far, the Revitalized Transitional Government of National Unity forged by president Salva Kiir and opposition leader Riek Machar, has not formed state governments, and that has left a leadership void when leadership is sorely needed. Prevention is critical; treatment options are few, and the small size of families' homes makes quarantine impossible.
Each individual fears infecting loved ones and dreads having the family known as being positive for COVID-19—no community wants a sick person in its midst. The situation is further complicated by security issues involving the Democratic Republic of Congo, just across the border from Western Equatoria; armed cattle raiders have killed those who try to stop them. CMMB is working assiduously to help families avoid disease and to preserve hard-won gains in maternal and child health and HIV.
Leadership Role in the Era of COVID-19: CMMB's roster of clinicians, our extensive work in the area since before 2009, and the trust that we have built over that period have earned us the respect of the healthcare establishment, so we have been active in steering policy as a member of the Western Equatoria task force on the COVID-19 response, working closely with the World Health Organization and with the Ministry of Health.
National Recognition: CMMB received national television coverage for its first triage site at Yambio State Hospital, opened May 4; new ones have opened St. Therese Nzara (May 28) and Ezo Hospital (June 1). Staff takes temperatures and asks screening questions. Handwashing stations set up during 2013–2018 Ebola outbreaks were temporary; the new handwashing blocks adjoining the triage centers are permanent, meant to last, and they are unique in the country, featured on national TV.
Effective Water, Sanitation, and Hygiene Efforts: CMMB's May 22 assessment of 11 supported health facilities, revealed that all health facilities surveyed had handwashing stations, illustrating the effectiveness of CMMB efforts around handwashing at health facilities. Additional handwashing stations have been installed in other key public areas, and CMMB is distributing 4,540,800 water purification sachets provided by Procter & Gamble to vulnerable pregnant and lactating women. Additional supplies are being sourced locally.
"We don't know when COVID-19 is going to end. It is increasing— not decreasing. We don't even know where we are in the curve." —Jacqueline George, Country Director, CMMB South Sudan
Training and Awareness Raising for Staff and Beneficiaries: Community health workers are at the core of our COVID-19 response. They are reaching out to the local population to ensure that families are alert to COVID-19 prevention, signs, and symptoms; know how to take care of those sickened; and understand the importance of continuing antenatal care and immunization. Our catchment includes 262,000-plus beneficiaries across Ezo, Nzara, and Yambio counties.
Preparing Isolation Centers: Asked to establish isolation centers in Western Equatoria's three counties, CMMB is putting together details while awaiting funding from government or multinationals. One will be in Yambio's old VIP Hotel, vandalized during the war and closed since then. The center's first PPE shipment, provided by UNMISS, has arrived. Other isolation unit sites are being sought.
Food Security—A Concern: Remittances long flowing from outside Western Equatoria have been affected by COVID-19, and the lockdown reduced family incomes at a time of skyrocketing market prices—the effect of border barriers and slowed movements of food into the country and even between counties. CMMB staff expects to see increasing food insecurity. Our ongoing nutrition activities are providing targeted supplemental feeding for those who are malnourished and for people with HIV and therapeutic feeding to children under five with severe acute malnutrition, with funding from World Food Programme and UNICEF respectively.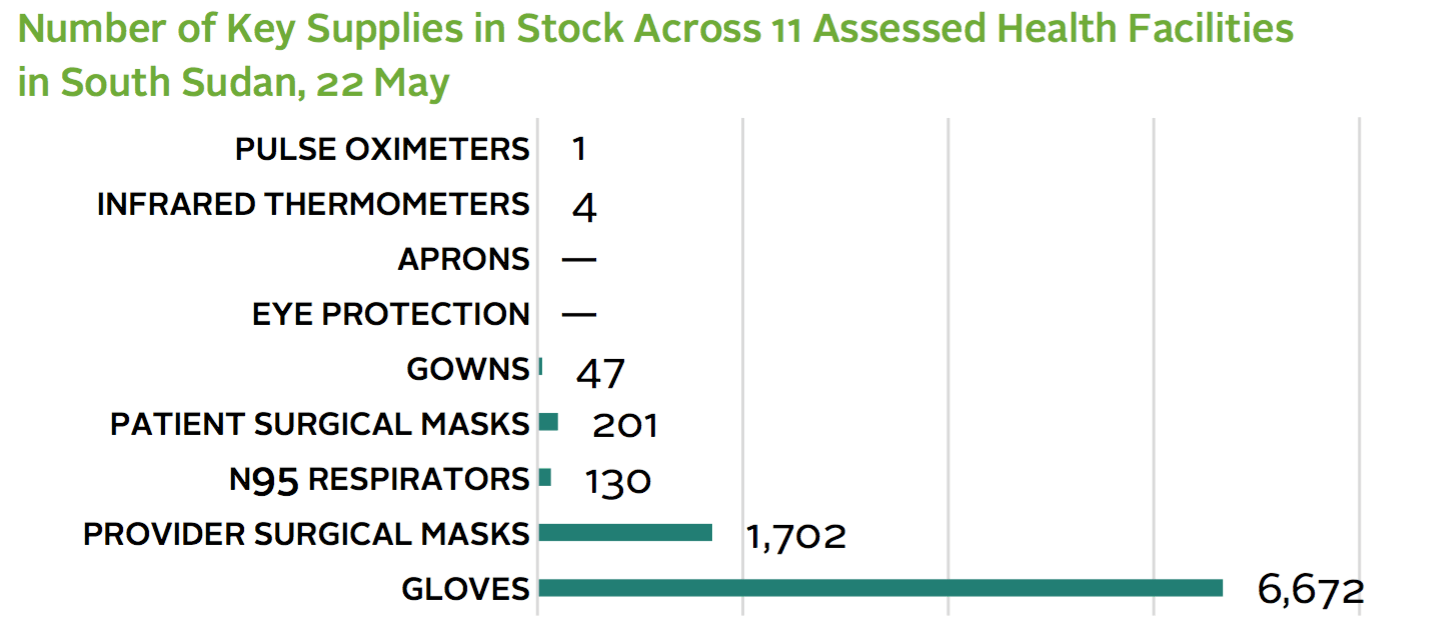 Meeting Immediate Needs: Regional healthcare providers and others look to CMMB for guidance and materials in case of outbreak. Government has asked for sanitizers and PPE. Our facility readiness survey documented the great need. Although sufficient stocks of gloves were available, many items key to healthcare provider safety were not. CMMB staff have procured some items locally; two shipments assembled by CMMB's Medical Donations Program arrive in country on June 5 and 18, with blood pressure monitors, infrared thermometers, N95 respirators and other PPE (e.g., gowns, gloves, aprons, surgical masks), antiseptic wipes, and medical supplies and equipment.
The State of Antenatal Care (ANC): CMMB provides ANC in Ezo, Lirangu, and Nzara primary health care centers and in eight other facilities under Anisa, our HIV program, as part of preventing transmission of the virus from mothers to their infants. At smaller health facilities, mothers are linked to other sites for care, but the case load is smaller than usual.
Pregnant women have long been wary of seeking antenatal care at facilities, for reasons ranging from lack of transport to the fear that healthcare providers will ridicule them for their poverty or scold them for not coming earlier in their pregnancy. COVID-19 has exacerbated this situation. Some community health workers worry about becoming infected at clinics. Some admonish admonishing women to stay away as social distancing. No one wants to be found sick and quarantined.
"All CMMB staff use PPE, and we have procured masks for patients. The people we serve are among those most vulnerable to COVID-19." —Jacqueline George, Country Director, CMMB South Sudan
CMMB has responded. We have redoubled efforts to educate community health workers and stepped up technical assistance visits to health facilities, especially in remote areas, providing more staff training on PPE use and COVID-19 management. Plans are underway to give masks to all patients and to distribute more PPE to staff. Immunizations and antenatal care must continue.
Preparing HIV Clients: Immunocompromised patients are at high risk for COVID-19. To help those on antiretroviral therapy stay close to home, CMMB dispenses drugs in six-month quantities, and clinics practice social distancing and do viral load testing by appointment.
Quick Takes: News From Other CMMB Country Programs
Haiti: COVID-19 put a damper on May 18's celebration of 217 years of Haitian independence. Although many Haitians have begun wearing masks, the number of cases is climbing, with community spread as well as imported cases. More than 150,000 Haitians deported from the Dominican Republic, where COVID-19 is firmly entrenched, began crossing the border in early May. Some deportees, tested and found positive, have been asked to quarantine; many refuse or simply vanish. Testing for the public is available, but many do not avail themselves; stigma is rampant and stymies prevention efforts. The lack of infrastructure, medical supplies, and running water in rural areas has sparked recent incidents, and crime and unrest persist in cities, despite restrictions. Escalation is expected as conditions deteriorate, exacerbated by the gourd's plummeting value and by rising prices.
CMMB has dispatched two shipments of medicines and medical supplies to Haiti—one delivered in late April and one in late May. Equipment is being moved from the hospital to a new COVID-19 center, set up in a facility originally established a year ago to isolate cholera cases.
Kenya: Some urban areas have resisted testing, and along Kenya's lengthy, porous border with Uganda, churches, mosques, and enterprises are fully open, without restrictions. Fewer people are going to health facilities, fanned by social media stories and fearing they may be quarantined if they have a fever. It is challenging for CMMB-supported staff and community health workers, who themselves fear infection, to persuade others to visit clinics for life-saving antenatal care and child immunizations. The number of confirmed cases continues to increase, partly due to increased testing and partly because of higher infection rates. The dawn-to-dusk curfew has been extended.
Peru: The country has the world's 10th largest burden of confirmed cases and the second greatest in Latin America, and case numbers are rising. The quarantine extension, now to 102 days, has decimated family incomes, and the population is suffering. Staying home for Peruvians who are sick is challenging, given that houses are small, children are numerous, and need to go to market pressing. Intensive care unit beds are almost all full, and facilities are functioning with 40 to 50 percent of staff. Doctors, nurses, policemen, and other public servants have died. Even for individuals who would like to visit a health facility, it is not always easy. Although healthcare is ostensibly universal, logistics of distance and economic resources make it inaccessible to the poor.
Johnson & Johnson is providing CMMB with soap and other hygiene materials for nearly 1,500 beneficiaries, and CMMB is supporting food security for 160 community health workers and their families, whose incomes have dropped. CMMB's health facility readiness assessment showed a general lack of PPE for health professionals, hygiene materials, and even water availability within some health facilities.
As a quick, immediate response, Peru has obtained a comprehensive set of PPE (e.g., hair nets, masks, protective lenses, facial protectors, gloves, overalls) as well as disinfectants, hand sanitizer, and soap for nearly 200 healthcare providers, but some items are hard to find and very expensive. In addition, CMMB Peru has initiated a series of virtual workshops to strengthen the mental health of 120 healthcare providers and 160 community health workers for whom the pandemic has compounded job stress. Most program activities are being supported by phone, including capacity building and networking with community health agents.
"One takeaway from the pandemic so far is what a good team we have and how many stepped up to interact with communities and stakeholders so that we can learn what is needed on the ground and what we should focus on in order to play our role." —James Kisia, Country Director, CMMB Kenya
Zambia: In its response to COVID-19, the nation is seeking a balance between economic realities and epidemiological management. In early May, Zambia's president proclaimed the new normal, opening schools for children in grades scheduled for moving-up exams (seventh, ninth, and twelfth grades) as well as restaurants, cinemas, and gyms. Still, some families have refused to send their children to school, restaurants are still not full, and shops do not admit those not wearing masks. Testing has been decentralized to hotspot areas and among those considered vulnerable (e.g., border areas and specific areas in Lusaka and Copperbelt). CMMB has resumed many project activities—for example, continuing to lead trainings for healthcare workers and community health workers in the CHAMPS in Mwandi District.
About CMMB
A century-old organization rooted in Catholic social values, CMMB is deeply committed to redressing health inequities for women and children worldwide. Toward our vision of a world in which every human life is valued and health and human dignity are shared by all, and inspired by the example of Jesus, we pursue our mission to work in partnership globally to deliver locally sustainable, quality health solutions to women, children, and their communities.
Evidence and best practices ground our work and data drives learning, so that we are continuously improving our healthcare delivery. In addition to ongoing programs, CMMB quickly responds to crises around the world, from conflicts to natural disasters, by providing donated food, emergency supplies, and medicines to communities and health facilities. In delivering these services, CMMB collaborates with hundreds of local and international partners.
Read CMMB's COVID-19 Situation Report From May 5th