COVID-19 Situation Report – May 5th, 2020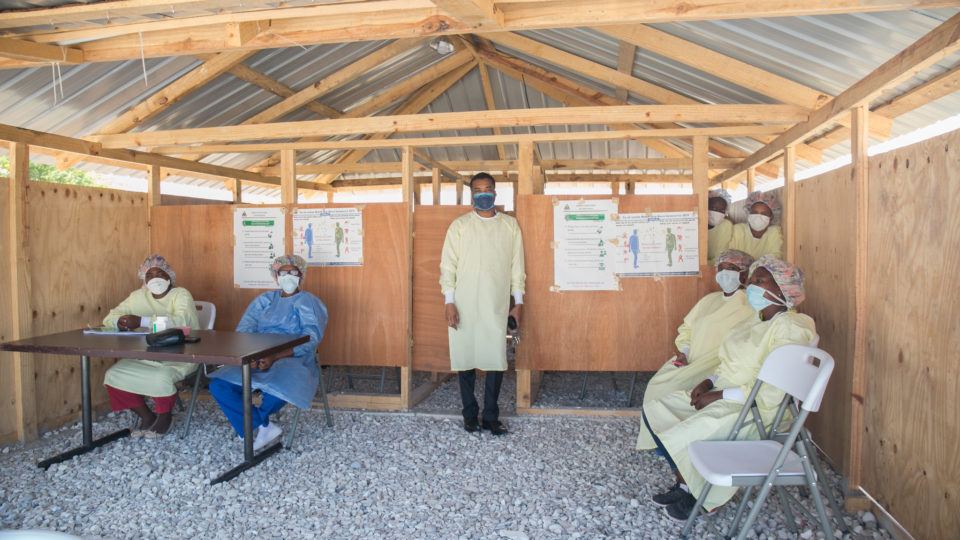 Every two weeks, CMMB will be publishing a situation report on our global response to COVID-19 in our country offices. This report will outline the work happening in each of our five country offices, as well as global efforts. Here you will find the first situation report, published on May 5th, 2020.
---
Update on the CMMB Global Response to COVID-19 in Haiti, Kenya, Peru, South Sudan, and Zambia
As COVID-19 threatens areas with fragile governments, fraying healthcare systems, and populations already made vulnerable by malnutrition and by malaria, HIV, and other communicable diseases, CMMB is working both to prevent transmission and to ensure that health workers and other staff can safely and effectively continue ongoing projects within pandemic constraints.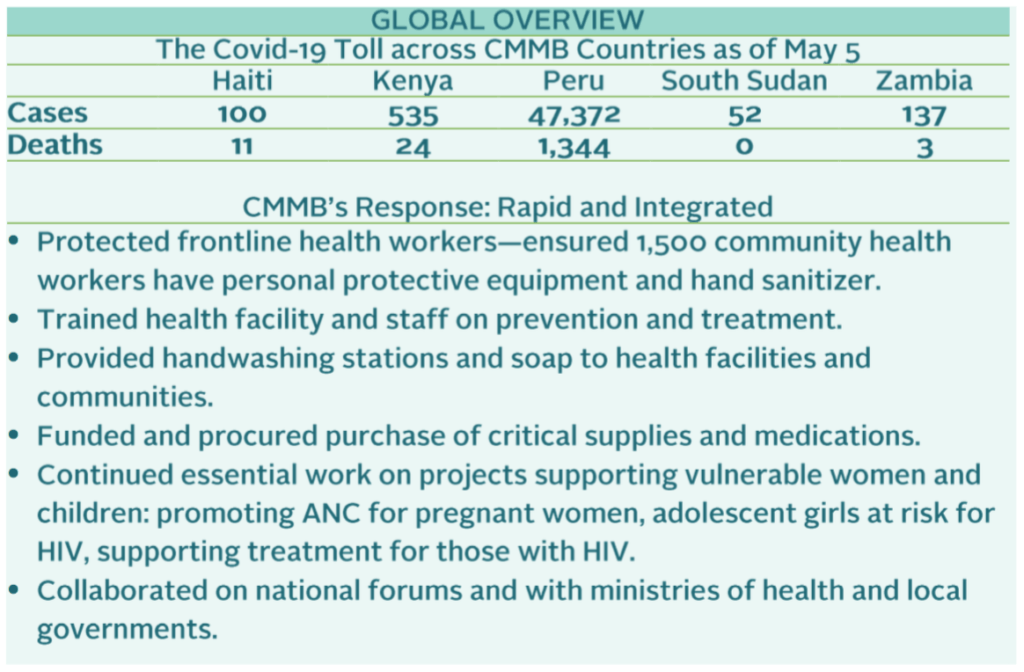 Preparing Community Health Workers: CMMB's global response ensures that 1,500 community health workers have the personal protective equipment (PPE) and hand sanitizer they need to stay safe as they travel on foot and by bicycle to teach families in even the most remote localities about COVID-19. To facilitate this teaching, CMMB has developed materials covering handwashing, use of face masks, social distancing, and the higher risk of COVID-19 to the elderly and those with comorbidities.
Readying Health Facility Staff: These workers have been trained on managing COVID-19 cases based on guidance from the World Health Organization (WHO) and the U.S. Centers for Disease Control and Prevention (CDC), plus training on CMMB-provided equipment.
Supplies and Medicines: To prepare health facilities for escalating caseloads, CMMB has funded the purchase of antivirals, analgesics, and antibiotics as well as hand sanitizer and PPE. The CMMB Medical Donations Program has dispatched several shipments and others are being readied in response to country office requests for oxygen concentrators, masks, and tubing; manometers; infrared thermometers, pulse oximeters, N95 respirator masks and other PPE items.
Community Health Workers—Vital to Families' Health
In less-developed nations, community health workers are the primary healthcare system's foundation. Key functions:
Support COVID-19 triage and testing.
Help organize and manage community isolation wards.
Distribute soap.
Help households construct handwashing stations.
Identify likely COVID-19 cases and trace patient contacts.
Urge home isolation where feasible.
Over the long term, the trust that this work builds will pave the way for future vaccination campaigns.
Soap and Water Across Countries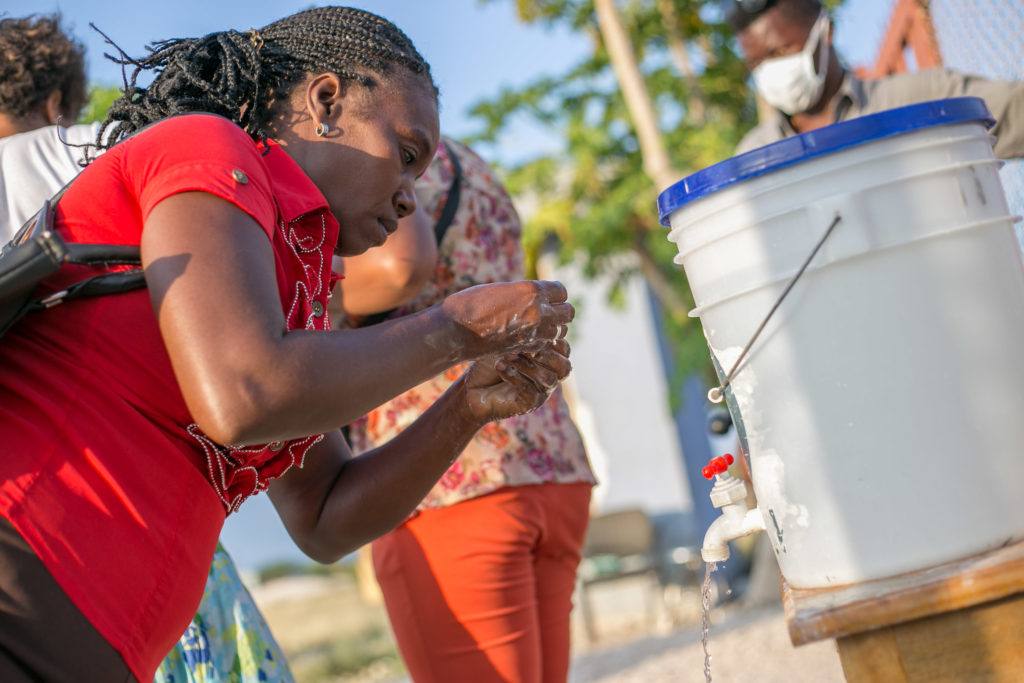 Rural health facilities typically lack water and soap for handwashing. For these, CMMB has constructed water storage tanks and rainwater catchment systems. Where whole communities lack water, CMMB has installed simple handwashing stations and boreholes. Investments in water infrastructure will have impact for years.
HAITI

Most cases are in Ouest, the département where Port-au-Prince is located, with some in Nord-Est, where CMMB implements the Santé project with Caris Foundation for USAID; and in Sud-Est, site of the Bishop Joseph M. Sullivan Center for Health (BJSH), the 50-bed community referral hospital that CMMB opened in 2017, with support from Mercy Health. Schools have been closed since March 20; many ignore the 8 pm–5 am curfew and overall stay-at-home orders. Stigma drives skepticism and disregard for social distancing and other protective protocols. Practical issues impede restrictions: Lacking funds to buy food to last for days, families flock to markets daily and crowd transit vehicles that have been filled with textile workers since factories reopened April 20. Gang violence, attacks on journalists, and the kidnapping of a hospital medical director have stoked public unease.
BJSH: Staff has built a triage center to screen patients; a treatment center built in response to last year's cholera epidemic is now being used for COVID-19 patients requiring hospitalization. All arriving patients are required to wash their hands; handwashing stations are strategically sited around the grounds. Staff wear masks and gowns, and BJSH has sufficient supply, awaiting only oxygen concentrators and tanks. All patients presenting with respiratory symptoms at hour-distant Gris Gris health center are referred to BJSH.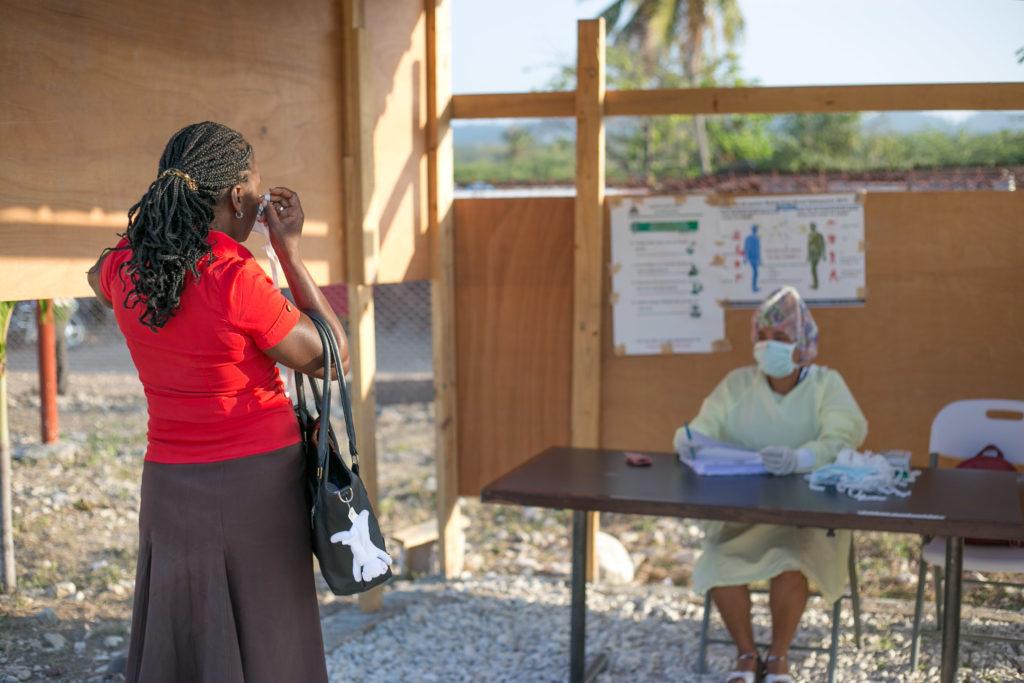 Impact in Sud-Est: Many homes visited by CMMB-supported community health workers (known as agents de santé communautaire polyvalents, or ASCPs) lack soap and water, and ASCPs are touching base with families by phone given current limited hand sanitizer supplies; until they are refreshed, some newly pregnant women may be missed. Rally posts, where many children get routine health checks, are still being held but to eliminate crowding, families are asked to make appointments rather than drop in. CHAMPS livelihood-building activities have been ongoing, but family incomes have stalled as a result of slowdowns at the local marketplaces where goods are sold.
ASCP Trainings: Early trainings by CMMB prepared 388 ASCPs and 985 health facility staff with knowledge of on COVID-19 signs and symptoms, prevention, and treatment, well before the emergency was declared.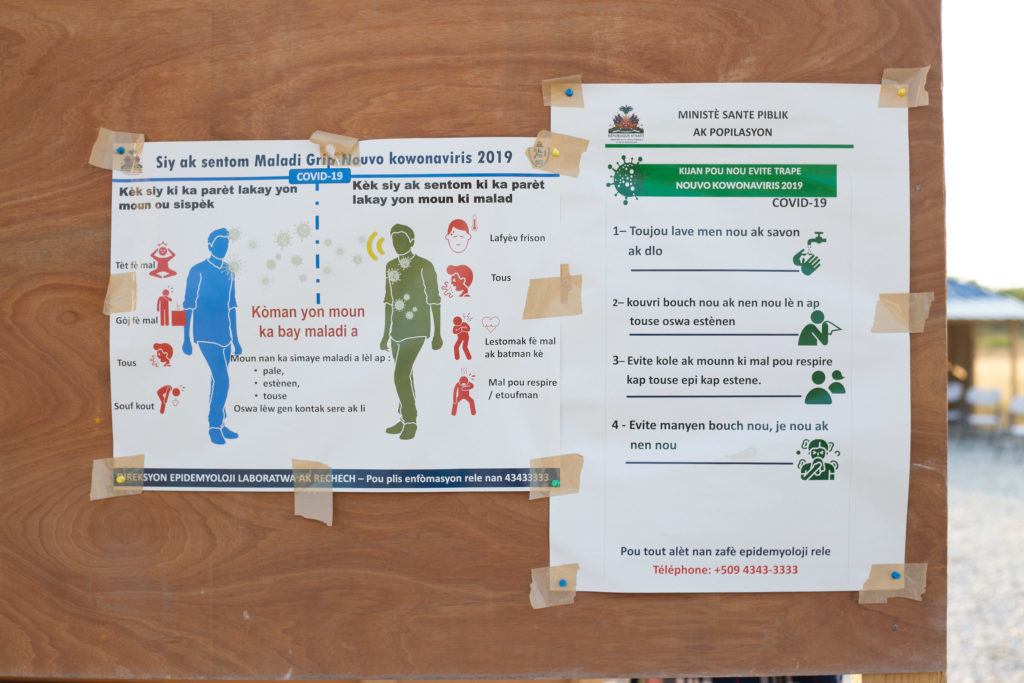 Vaccinating Children: Treating HIV. Santé project workers have met resistance to routine immunization, with families fearing that an untested COVID-19 vaccine will be administered without their consent. The CDC-supported ALESIDA project continues providing technical assistance to its 22 supported health facilities but via WhatsApp rather than in person.
KENYA

Kenya confirmed its first case of COVID-19 on March 13. Restrictions on in-country movements, in effect since April 6, have been extended until mid-May. Transport is running and supermarkets and open-air markets in Nairobi's vast slums bustle, but Kenyans are required to cover their faces and have rioted over lack of hand sanitizer. On April 25, a mandatory 7 pm-5 am curfew was extended 21 days, enforced by security forces firing tear gas. CMMB has engaged with the National Ministry of Health's COVID-19 taskforce and will continue to support it.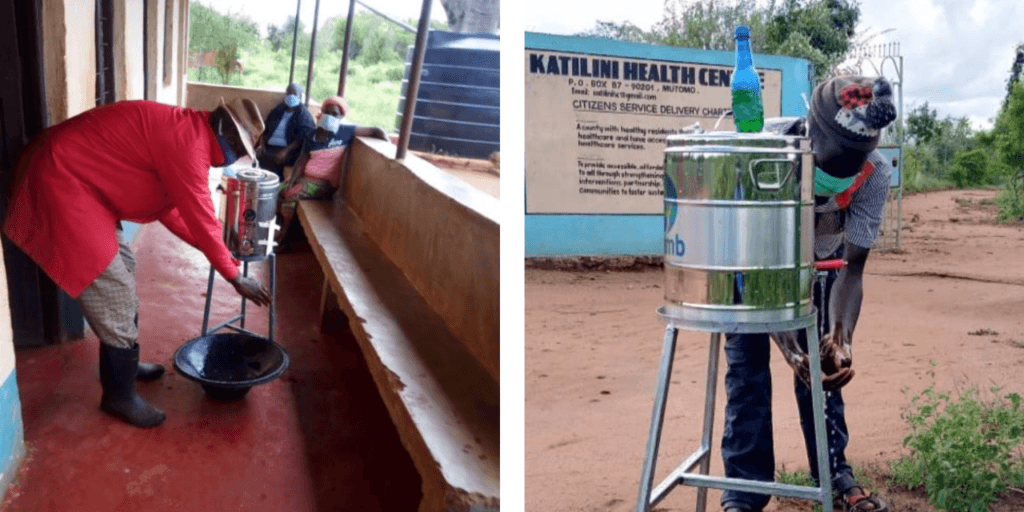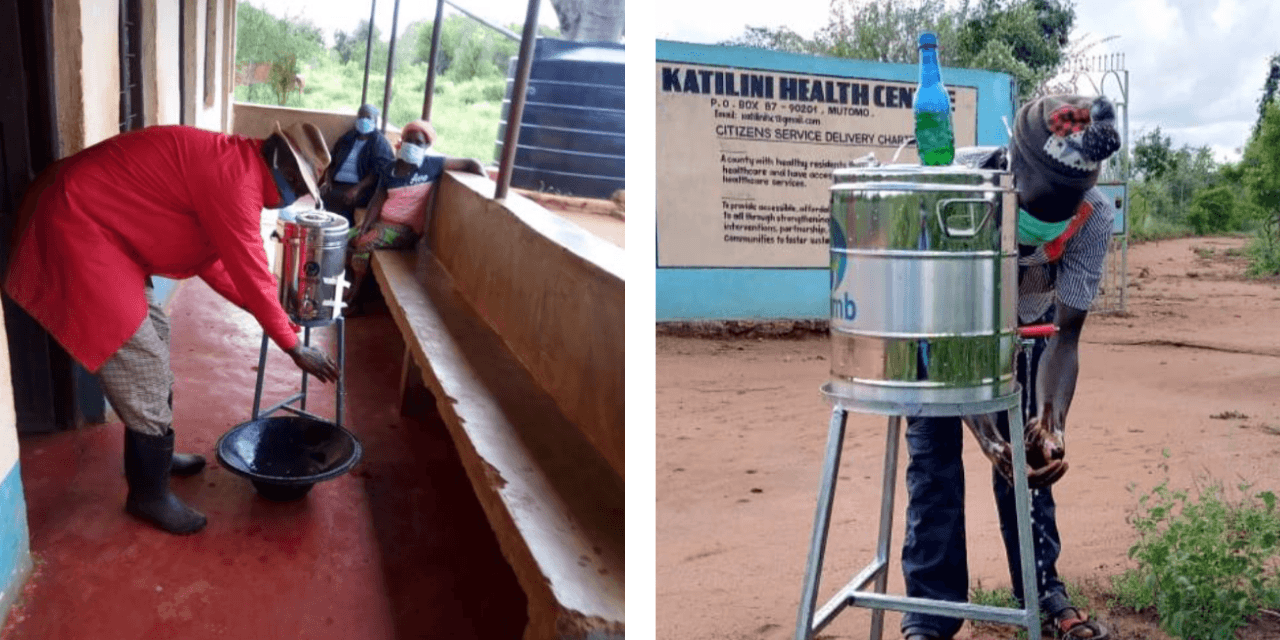 Pandemic Response with County Government: A rapid assessment on health facilities' preparedness, undertaken for the county health management team, informed the subsequent CMMB response: CMMB developed informational materials on COVID-19 in print and video, with office epidemiological surveillance and infection prevention and control specialists sharing their expertise; these were then used to train volunteers. CMMB also helped the county secure radio airtime for COVID-19 messaging and health talks. To reinforce public health prevention messaging, CMMB placed banners and posters in health facilities and public places (e.g., bus stops). We also supplied:
Thermometers
Surgical face masks – 1,184 boxes
Disposable gloves – 1,375 boxes
Disinfectants – 199 containers
Liquid soap – 1,362 containers
Disposable full body suits
Antibiotics
Oxygen
PPE will be used both by those providing patient care and by community health volunteers involved in community surveillance and prevention messaging.
Community Education and Mobilization on Prevention Measures: In remote communities, 965 CMMB-supported community health volunteers provide a critical platform for community education and surveillance. They have been trained to raise awareness; build resilience; provide direct services; identify mild to moderate cases; and support home isolation, prevention, and close monitoring. In addition, 95 rapid response teams were trained on surveillance, contact tracing, and case management.
Training Healthcare Workers: To build their capacity, CMMB developed training curricula: two trainings on basics (one for community health workers, the other for healthcare professionals) as well as a training on masks and other PPE and a training on maternal health and pregnancy in the COVID-19 era. Training materials were provided for all; two trainings were also delivered via Zoom—the healthcare worker training by CMMB maternal and child health specialist Claudia Llanten, MD., and the pregnancy training by former CMMB volunteer Joseph Sclafani, MD. CMMB also supported the county to record trainings led by master trainers and distribute them to facilitate training of 90 HCWs from 14 health facilities: Our Lady of Lourdes Mission Hospital; Neema Hospital; the Kauwi Level 4 Hospital; and the Ikanga, Ikutha, Mwingi, Mutitu, Zombe, Kanyangi, Migwani, Tseikuru, Kyuso, and Nuu sub county hospitals.
Soap and Water: To facilitate cleanliness, CMMB rapidly procured and installed 59 handwashing stations and rainwater harvesting systems for three health facilities; originally procured for eight now-shuttered local schools, they were moved to health facilities and heavily trafficked public areas such as markets. Soap and hand sanitizer were also provided in these locations.
Ongoing Work Continues: Although planned mHealth rollout with Medic Mobile in Ikutha and Athi wards was postponed, selected community health volunteers received, prior to the lockdown, training as bicycle mechanics, capacitated to repair the transport that all volunteers depend on. The ongoing peer-to-peer Linda Uzazi (Kiswahili for "protecting motherhood") promotes ANC among pregnant women with a goal of ensuring four visits for antenatal care plus skilled delivery and child immunization.
It is effective, because the peer model allays the discomfort that some women feel when interacting with clinicians, so the work will continue for the duration of the pandemic, with handwashing facilities added at building entrances and in clinical examination rooms, to assuage client fears of contagion. Also continuing, with increased infection prevention measures:
Immunization and other essential child health services.
Provision of food to Angel Investor beneficiaries.
Distribution of P&G PUR water purification sachets by community health volunteers—but distribution will be to previously agreed pickup points or outside homes.
Cervical cancer screening services, supported by BMSF, will continue to be provided to walk-ins.
Distribution of HIV medications and counseling to people living with HIV under a Global Fund-supported HIV project.
Severe Social and Economic Disruption
COVID-19 has disrupted life across Kenya, but its impact is potentially even greater in Kitui, Siaya, and Nyamira counties, where CMMB works. Communities there already struggle to maintain basic health and clean water, and the need to devote resources to prevent and treat COVID-19 threatens to erode gains made in maternal and child health indicators. CMMB helps protect vulnerable families.
PERU

The government proactively locked down the country early in its epidemic and backed up the lockdown with arrests; aggressive testing has identified a large number of cases. An initial stay-at-home order was followed on April 2 by a controversial and ultimately unsuccessful eight days of quarantining men and women on alternate days. Current social isolation is slated to extend until May 10; schools will remain closed through December. People can go out—but one household member at a time—for groceries, banking, healthcare. A mandatory curfew—6 pm–5 am curfew (from 4 pm in some areas) and all day Sunday—is in effect and the use of facemasks in public is required. Fearing infection, people avoid hospitals.
Community Health Worker Trainings: Both Trujillo and Huancayo have provided basic training on COVID-19 to community health workers, their supervisors, and their community managers; all were alerted that isolation restrictions are mandatory and police enforced. Staff is developing new videos and slide shows to continue training and educate families.
Support for Families: The 138 community health agents that CMMB Peru supports are using phone chains to keep in touch with families; make referrals; and provide education on COVID-19 signs, symptoms, and prevention. Supervisory health specialists and project coordinators have reached out with 2,000 phone calls and WhatsApp texts. Many families, working in the informal sector, have lost income; community health workers are helping them obtain government aid and has been providing food support to them and to the community health workers themselves. They have also been given masks, liquid soap, and hand sanitizer for times they must go into the field.
Health Facility Care: 200 health workers from Huancayo and Trujillo have been outfitted with PPE; CMMB has given facilities water tanks, soap, and hand sanitizer. Staff are afraid and overwhelmed; in May, CMMB implements psychosocial support. Some facilities have suspended drop-in outpatient primary care and are accepting patients only by appointment or childbirth and in emergencies. Vaccination has been suspended.
Work with Children and Adolescents:  Supporting adolescents to make responsible choices, CMMB has embraced WhatsApp, Instagram, and other social media now that in-person activities are not an option. Caregivers of children with disabilities continue delivering therapy, guided by CMMB video calls.
SOUTH SUDAN

Conflict, floods, and a ruinous 2019 locust invasion left many families in a precarious position when a United Nations worker tested positive for COVID-19 on April 5. International flights were banned; borders closed; social events postponed and gatherings prohibited; a 7 pm–6 am curfew imposed; and surveillance teams deployed. To curtail virus spread to rural areas, interstate travelers must now obtain licenses for travel. Maintaining six feet of distance from others has been challenging, as socializing is a way of life—like daily shopping in markets. Rural residents are less aware of the importance of isolation than city dwellers. More than 5 million South Sudanese rely on food aid to survive, and COVID-19 is slowing down humanitarian supply it.
"The only vaccine is social distancing."—Riek Machar, first vice president, South Sudan
Leading COVID-19 Response Efforts in Western Equatoria State: CMMB has worked with government and international NGOs to develop a plan, lead coordination meetings, and fund and implement response activities.
Opening Hospital Triage Centers. CMMB has set up triage centers at Yambio State and Ezo hospitals, with another slated to open at St. Therese Nzara Hospital, where CMMB has recently completed a new operating theater, maternity ward, and blood bank.  The handwashing tap at the Yambio site can be opened and closed with the elbow. It is a permanent structure that will last beyond COVID-19, making handwashing a standard protocol for hospital visitors. Three radio stations broadcast the Yambio event.
Training Health Workers: All 10 boma health teams in Nzara County, including 30 boma health workers, have been trained on COVID-19 signs, symptoms, and prevention. Community health workers on other CMMB projects, including 305 nutrition volunteers and other health volunteers, have also been trained on COVID-19 prevention.
Ongoing Work: As CMMB staff prepare for a potential overload of health facilities' inpatient wards and reduction or pausing of outpatient services, CHAMPS maternal and child health services have been thriving; increasing numbers of pregnant women have flooded to Nzara Primary Health Care Center for antenatal care, continuously incentivized by the promise of useful mama packs. CMMB's large, CDC-supported Anisa project, focused on HIV prevention, care, and treatment, has ensured that all HIV clients have obtained a refill of their antiretroviral medications sufficient to last six months; and the project has ensured that supported health facilities have up to a 14-month supply on hand. The CMMB South Sudan nutrition project, funded by UNICEF, has also reviewed supplies to ensure at least 12 weeks' availability of nutritional supplements.
New Responsibilities for Boma Helath Teams 
Boma health teams in South Sudan's nascent Boma Health Initiative community health program have taken on COVID-19 response in addition to their mandate to provide health promotion and information dissemination and to implement integrated community case management (iCCM), providing basic diagnostic and curative services for common causes of child mortality.
ZAMBIA

On March 14, Zambia's government instituted mandatory 14-day quarantine for anyone entering Zambia from any country with confirmed cases of COVID-19 and announced mandatory isolation for any suspected or confirmed cases. Three days later, school closures were announced, and on March 18, the first two cases—a couple who vacationed in France—were identified. Additional restrictions limit gatherings to 50 people and shutter bars, casinos, cinemas, and gyms; restaurants provide only takeout. Church services are not forbidden, but many congregations do not meet. Travel to and from Lusaka—the COVID-19 epicenter—is discouraged. The Ministry of Health encourages people to avoid crowded places, observe social distancing, and clean their hands; mask wearing in public is mandated, and shops do not admit unmasked shoppers.
Community-Level Response: As the CHAMPS catchment has seen no cases, preparation and prevention are at the forefront. Across the area, 123 community health workers and 15 health facility staff have been oriented on COVID-19 signs, symptoms, and prevention using the materials created as part of CMMB's global response. With these materials, they will be able to sensitize village neighbors. Four handwashing stations were placed at the district entrance to screen travelers; 26 additional stations have been sited at health facilities, and 22 cases of hand sanitizer and 22 cases of soap have been distributed. PPE for the community health workers and MOH staff have been procured, as well as 10 infrared thermometers, oxygen concentrators, antibiotics and painkillers, and megaphones for use during facility-level sensitizations are on order.
Continued DREAMS, with Modifications:DREAMS centers, attempting to reduce HIV incidence in young women, have reopened for essential services, including distribution of HIV self-test kits and reproductive health needs, although service uptake has lagged as parents withdrew permission for attendance. Still, girls across all 15 DREAMS centers have begun sewing masks, and in one week, sewed 790, sold 271, and raised just over US$100 in one week. Participants wear masks and observe social distancing. Closure of community institutions that once served as safe spaces (e.g., churches and schools) has put a pause on that activity.
Protecting Orphans and Vulnerable Children: MMB's GHR-funded Kusamala project did door-to-door sensitization and approached community members at markets and water points and in stores and childcare facilities. Thirty project volunteers and five staff were oriented on COVID-19 prevention.
Other Ongoing Activities: Eight community radio programs on HIV, now incorporating COVID-19 awareness messaging, have aired in three locations. USAID has encouraged managers of USAID-funded projects to use project funds to procure adequate supplies and equipment to protect staff; similarly at one-stop centers implemented by the Sexual and Gender-Based Violence project, funded by the European Union, face masks and gloves were provided for health workers and other staff, along with handwashing facilities and hand sanitizer; and all project vehicles have been equipped with hand sanitizer. Because the project was to end just as COVID-19 arrived in Zambia, the donor provided a month-long no-cost extension. A training on Champions of Change for COVID-19 has been conducted, with distribution of necessary prevention supplies. Reporting of cases of violence has been encouraged by police, community radio, and printed media; phone counseling on stress management for caregivers coping with challenges has been provided; and the project-established linkage and referral network from church to community continued to be nurtured and used.
---
We continue our work with partners from around the world to provide those we serve with the knowledge and resources they need to stay safe. The support of our donors have made our ongoing emergency response possible, but the threat of COVID-19 is far from over.